Space City Open at Bogies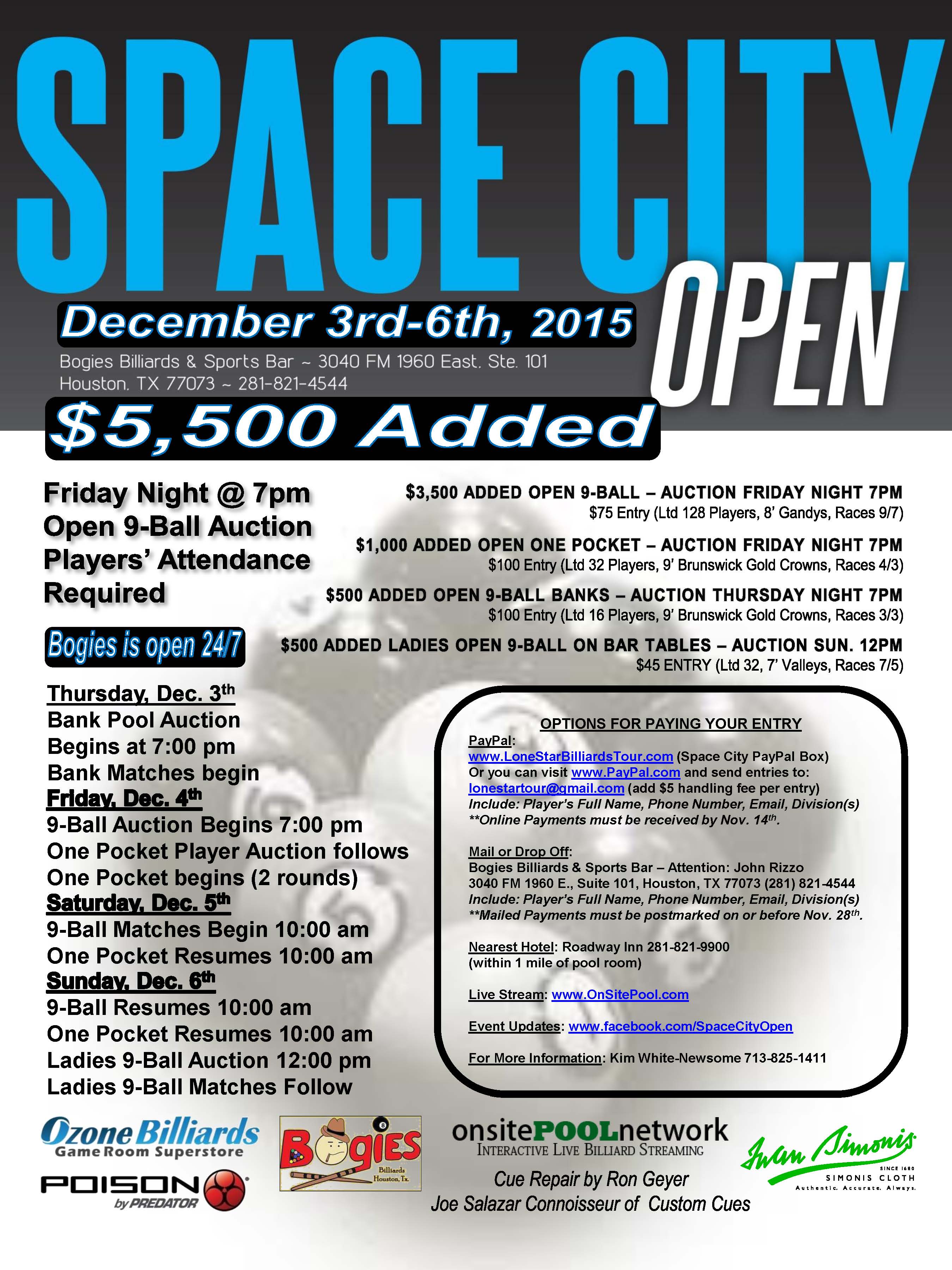 Space City Open IV Houston, Texas –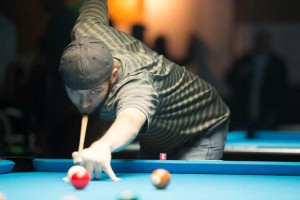 Photo:
Defending 9-Ball Champion, James Davis, Jr. – Photo Credit: Michael Moon Photography
Defending Space City Open 9-Ball Champion, James Davis, Jr., and One Pocket Champion, Manny Chau, are already confirmed for this year's Space City Open IV. For the fourth, consecutive year, the prestigious Space City Open will be hosted by Bogies Billiards and Sports Bar in Houston, Texas, on December 3rd-6th, 2015. Boasting former division champions Sky Woodward, Justin Hall, Jeremy Jones, and Charlie Bryant, this year's event is certain to showcase another all-star line-up!
Brought to you by Simplified Electronics, APA of North Harris County, Ozone Billiards, On Site Pool Network, and RE Visual Concepts, the "SCO" is currently $5,500 added and includes One Pocket, Open 9-Ball, Open 9-Ball Banks, and Ladies Open 9-Ball divisions. Paying out over $45,000 in 2014, this four-day, billiard extravaganza, showcases some of greatest pool talent in the country, features vending by Ron Geyer Cue Repair and Joe Salazar Connoisseur of Custom Cues, and always offers free admission to the public! Space City has become an annual, pool-playing tradition and attraction for billiard enthusiasts, across the country!
What's new this year? Prior to the event, all thirty-one tables will be recovered in brand new, tournament blue Simonis cloth. By popular demand, for the first time, the ladies open 9-ball will be played on 8′ tables, and tournament action will be broadcasted LIVE in HD on the new Space City Open website, www.SpaceCityOpen.com. Updates will be posted on the new SCO Twitter page at Twitter.com/SpaceCityOpen and the SCO Facebook page at Facebook.com/SpaceCityOpen.
Space City kicks off December 3rd with the 9-ball banks players' meeting, beginning at 7pm, with matches to follow. Paying an entry online is easy. Just visit PayPal.com and "Send Money" to lonestartour@gmail.com. Add $5 per entry when paying online; 9-ball $80/One Pocket $105/9-Ball Banks $105/Ladies 9-Ball $45. Players will receive a confirmation email. SCO divisions are limited and will fill up. Therefore, players are strongly encouraged to secure their desired division spot(s), online, as soon as possible. Entries may also be dropped off or mailed to the host location: Bogies Billiards, 3040 FM 1960 E., Ste. 101, Houston, Texas, 77073. SCO coordinator, Kimberly Newsome, will be addressing all inquiries regarding the event, including retail and advertising opportunities. Please contact Mrs. Newsome at 713.825.1411 or email spacecityopenevent@gmail.com.