Sweet Revenge: Immonen Demolishes Sigel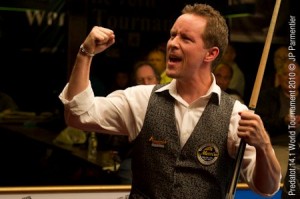 photo by JP Parmentier
Mika celebrates a very personal win over Sigel at the World Tournament
Clifton, New Jersey- Two days ago Mika Immonen took an extremely hard loss in the controversial match with legendary 3x World 14.1 Champ Mike Sigel. Last night Mika had an opportunity for payback, and the outcome was poetic sweet revenge for the Finnish champion. Mika was able to take out Sigel in magnificent style Saturday night in a packed arena for the live streaming of The Predator World Tournament of 14.1 produced by Dragon Promotions. This is the 70th edition of the event, making it the world's oldest tournament.
The World Tournament is being played on beautiful Brunswick Gold Crown tables and using Simonis Cloth. The event started play on October 6,2010 and ends on Columbus Day October 11th. The greatest straight pool players from around the world have arrived on USA's east coast again to New Jersey, and vying in this prestigious event to win the coveted title of World Straight Pool Champion. The event is co-sponsored by Amsterdam Billiard Club, Master Chalk, Aramith Balls, www.Ultimate10ball.com, and Accu-Stats.
Sigel ran 100&out against Immonen in a 100 to 11 route of the World #1 Immonen during the round robin stage. This put Mika in extreme danger of not qualifying. During this loss, Sigel made a questionable hit on the cueball. Mika called it a foul, Sigel disagreed. He continued his run and never gave Mika another chance at the table. Immonen refused to shake his hand afterwards.
In the aftermath review of the tape, Tournament Director John Leyman said it was a clear and obvious foul. At this point, it was too late.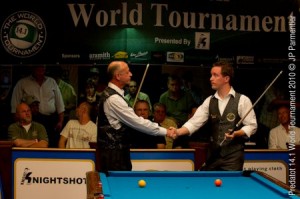 Mika gets over his last match with Mike and shakes hands before the match
The drama of the match ran to the next two days and when the draw for the next stage of the event was done, fans were salivating at the prospect of a Sigel/Immonen re-match.
"I definitely thought about a re-match with Mike the past two days after he beat me. Everytime I thought of that match, I got motivated in my last two matches to qualify. You can say I was ultra-motivated," said Immonen. Mika needed to win his last two to have a chance. He won by landslides in both giving his opponents hardly any chances.
In the showdown of Sigel vs Immonen Part 2, Immonen looked like a man on a mission. Sigel looked dismayed as Immonen ran rack after rack. The Iceman, as Mika is known, looked sure and steady every shot. In the end, to the roar of the audience, Immonen gave a fist pump and shout with his 150 & out perfect match over Sigel. 150-0 final score.
"This match will definitely be a crowd pleaser for the fans who get the DVD. We are going to put it in a two episode DVD," said Pat Fleming, owner of Accu-Stats.
Does Mika believe in poetic justice?
"Absolutely. Actually, those were the exact words ringing in my head during my three matches leading upto Sigel again. Poetic justice. It exists. I proved it.", said Immonen. This was Immonen's first 150 & out run on film, and even more special to do in a real match at The World Championship.
Immonen advances to the final 16 once again. Sigel also bounced back to win over Shaun Wilkie and qualified for the final stage. A possible Immonen vs Sigel Part 3 may be in the works before the World Tournament is over…
Live scoring and brackets will be hosted by www.azbilliards.com and live streaming of the event at www.accu-stats.com
Additional coverage at www.DragonPromotions.com Info contact worldstraightpoolchampionships@gmail.com