"1st Annual Richard Sweet Memorial Crowns Champions"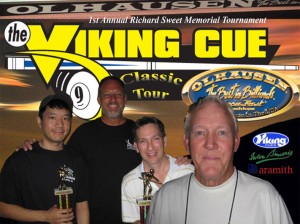 July 1st-4th, 2010- In honor of Richard Sweet The Viking Cue-Olhausen Billiards Classic Tour and Mr. Cues II in Atlanta, GA hosted the 1st Annual Richard Sweet Memorial the event drew in 414 entries and paid out $8000 in the three event series.
The event kicked off Thursday night with a $500 Guaranteed Prize Fund 8-Ball Mini Tournament with a field of 124 players which would be won by Cliff Joyner. Ike Runnels took 2nd Place and Shawn Putnam would claim 3rd. Friday night's $500 Guaranteed Prize Fund 9-Ball Mini Tournament hosted a field of 146 players. Keith Brinton from Florida defeated Larry Nevel in the finals to take 1st place. John Maikke claimed 3rd place in the event.
Payouts Thursday
1st Cliff Joyner$500
2nd Ike Runnels$100
Payouts Friday
1st Keith Brinton$500
2nd Larry Nevel$100
3rdJohn Maikke$50
The $4000 Guaranteed Richard Sweet Memorial 9-Ball Tournament kicked off on Saturday and finished up late Sunday night with a field of 144 players. The 2 day event was a race to 7 on both sides of the chart.
Tommy Kennedy would be victorious in his bid for first place making his way to the finals undefeated. Kennedy defeated the following on his trek to the finals: Alan Wong 7-3; Tim Miller 7-3; Don Dennis ; Travis Dorn; Jesse Middlebrook; Shawn Putnam; Larry Nevel 7-6; and in the first set of the true double elimination format that is standard for The Viking Cue-Olhausen Billiard Classic Tour Kennedy defeated Paul Song 7-2.
Paul Song would work his way back thru the one loss side after a loss in round one to Amy Chen 7-5; once on the one loss side Song defeated Brian Davis 7-3; Juan Espinoza 7-3; Alan Taylor 7-1; James Alverez 7-1; Craig Houghton 7-2; Travis Dorn 7-5; Jeff Crawford 7-1; Cliff Joyner 7-6; Dennis Spears 7-3; Jordan Grubb 7-3; Shawn Putnam 7-6; and Larry Nevels in the semi finals 7-5.
Live streaming for the event was provided by Ray Hansen. View videos of your favorite players at :http://www.poolactiontv.com/
On November 3th 2009 The billiards community lost a long-time member and supporter of our sport. Mr. Richard "Rich" Sweet, age 68, of Buford, GA.
Richard Sweet was born July 1, 1941 in Blytheville, AR. He was a 1958 graduate of Memphis Michigan High School and a veteran of the U. S. Army. Richard owned and operated Mr. Cues Billiards in Atlanta, GA
Richard was a true supporter of the sports of Billiards and showed a great love for the sport. Richard is greatly missed by all who knew him. He was always a joy to be around and a friend to all that patroned Mr. Cues II.
The Viking Cue 9-Ball Tour would like to thank Susan, Rick and Mandy Sweet for carrying on the legacy of Mr. Richard Sweet. Mr. Cues II Billiards in Atlanta, GA has always been the greatest room in the Atlanta area and it is obvious that nothing is going to change as The Sweet family carries on the tradition.
Rick Sweet also added he looks forward to carry on the tradition of hosting The Viking Cue 9-Ball Tour at Mr. Cues II he added it is one of the most organized and well run events as well as always a pleasurable event for himself, his staff and the players.
Thanks to all the players that came out this weekend. We are currently working on the details and finalization of the 2nd Annual Memorial Tournament for Richard Sweet the Dates will be June 30th – July 3rd, 2011. If you are not on the Viking Tours email list please go to www. maximbilliards.com and submit your email in the right upper corner of this website.
Payouts 9-Ball
1st Tommy Kennedy $2,400
2nd Paul Song1250
3rd Larry Nevel $750
4th Shawn Putnam $450
5/6th Jesse Middlebrook
Jordan Grubb $250Each
7/8th Dennis SpearsWes Davis
$100 Each
9/12th Jason Stemen
Cliff Joyner
David Cantrell
Randy Jordan
$75 Each
13/16th
Wes White
Jeff Crawford
Helena Thornfeldt
Horace Godwin
$50 Each
17/24th
Randy Couey
Travis Dorn
Aaron Frady
John Maikke
Isaac Runnels
Daniel Plumber
Matt Hardeman
JR Rossman
$25 Each