MARYLAND OPEN 14.1 STRAIGHT POOL CHAMPIONSHIPS
MARYLAND OPEN 14.1 STRAIGHT POOL CHAMPIONSHIPS
BIG DADDYS BILLIARDS, Glen Burnie, Maryland
June 19-20, 2010
Danny Harriman, wins 2nd year in a row

Players and fans began arriving into the Baltimore area as early as noon on Thursday & Friday June 17-18 for the Sixth Annual Maryland Open 14.1 Straight Pool Championships.  This event has become one of the most prestigious straight pool tournaments of the year in the U.S. and for the second year in a row has been held at a new family billiard venue, BIG DADDYS BILLIARDS, 7954 Baltimore-Annapolis Blvd., Glen Burnie, Maryland.  Under the ownership of Richard & Cynthia Molineiro, Big Daddy has become the premier east coast mecca for the beautiful and imaginative game of 14.1.  Previously the Maryland Straight Pool title has been won by:
Ryan McCreesh 150 defeated David Hunt 67. Aug 8, 2005
Ed Hodan 150 defeated Danny Barouty 89. Nov 19, 2006
Mika Immonen 150 defeated Mike Davis 59. June 10, 2007
Bob Maidhof 150 defeated Danny Barouty 140. July 12, 2008
Danny Harriman 150 Defeated Dave Daya 25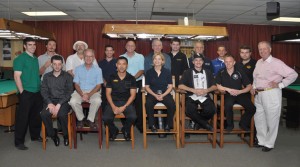 Maryland Open group shot of the 16 finalists, plus Peter Burrows ( Tournament Director ).
Left to right seated: Steve Lipsky, Ed Deska, Charlie Williams, Gerda Hofstatter, Shaun Wilkie, and Thorsten Hohmann.
Left to right, standing:  Brian Deska, Danny Harriman, Danny Barouty, Zion Zvi, Bob Maidhof, Bob Hunter,
Mike Davis,  Dave Daya,  Dan Heidrich, Mike Dechaine, and Peter Burrows, Tournament Director.
Photo's by Warren Kahle Photography
This year a 35 player field of the top Straight Pool players in the country began to filter into Maryland for Friday afternoon warm-ups, check out the venue, the tables and equipment, new Simonis 860 cloth, Centennial balls.  Players were anxious to get in a few hours of practice, as competition this year was going to be about the strongest ever.
Local tournament players once again provided in home congenial accommodations to many of the out of town players who come long distances to play.  Most know one another well and this makes for an enjoyable weekend of friendship, camaraderie and top notch pool all tied together.  Festivities this year got off to a gentle start at a player-guest reception on Friday evening hosted by tournament director Peter Burrows and his wife Pam at their home.  This provides a few hours of warm hospitality before the sparks began to fly on Saturday, and a nice chance for new comers and lesser know players to visit and share cordiality with great champions such as Bob Maidhof, Gerda Hofstatter, Danny Harriman & Thorsten Hohmann and others in the sterling field.  Jeanette, popular, sparkling and charismatic as always has always been a loyal participant in the Maryland Open, but this year was absent due to her happy œdelicate condition.  But her spot as the key female player was most ably taken by the comely Gerda who made it to the Sunday elimination round and there defeated Charlie Williams 125-75 before bowing to Dave Daya.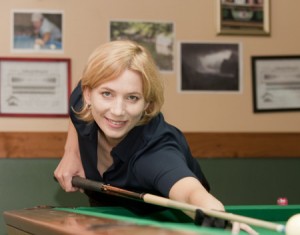 Having Ms. Hofstatter playing in a pool tournament in the Baltimore-Washington area is something of a coup. The Maryland Open Straight Pool Championship may not be a glitzy and large event, but in its own quiet way it has become a chance for the best straight pool players to meet and play with one another in a well designed tournament under quite ideal conditions. Prize money has grown as has the field of world class players.  We have made a concerted effort to attract top lady players to our tournament, and Gerda is certainly one of the most accomplished of the rare breed of lady 14.1 players.
Unfortunately few of the best women have strayed from their long time devotion to Nine Ball to gain the needed proficiency at the classic game of Straight Pool, but Gerda Hofstatter has come to love the game and made a great showing.
In past years the Friday evening pre-tournament reception also serves as the tournament draw ceremony, and so Gerda presided over festivities, which resulted in the draw for Saturdays seven flight/five players brackets. Flights & 35 player field, with shaded red players those who had the best Sat. W-L record and advanced to Sunday, the seven 1st & 2nd place players, plus the best two 3rd place players
I

THORSTEN HOHMANN

Jacksonville, FL

ED  DESKAPrince Frederick, MD
BOB  MADENJIAN

Brooklyn, CT

DAVID  HUNT

Richmond, VA

CHARLES EAMES

Wantagh, NY

II
MIKE  SIGEL

Frederick, MD

DANNY  BAROUTY

Hollis Hills, NY

BRIAN DESK Washington, DC
JEFF  KERR

Bloomsburg, PA

JIM  HELLER

Short Hills, NJ

III
CHARLIE  WILLIAMS

Orlando, FL

ZION  ZVI

Flushing,   NY

DAN HEIDRICH Webster, NY
NATE SULINSKI

Odenton, MD

PETER BURROWS

Annapolis, MD

IV
MIKE  DAVIS

Tampa, FL

BOBBY  HUNTER

Chicago, IL

ALAN  DUTY

Chantilly, VA

TIM SLAVIN

Upper Marlboro, MD

BEN  RISOLI

Putnam Valley, NY

V
BOB  MAIDHOF

Broomall, PA

STEVE  LIPSKY

Secaucus, NJ

DOMINIC  NOE

Abingdon, MD

ST.  BROWNSTONE

Temple Hills, MD

RANDY  JARAGOSKE

Wilmington, DE

VI
DANNY  HARRIMANL

Summit, MO

SHAUN WILKIE

Havre de Grace, MD

RICK MOLINEIRO

Pasadena, MD

JEFF CRAWFORD

Forest Park, GA

DON  WARDELL

Fortville, IN

VII
DAVE DAYA

Mount Carmel, PA

MIKE  DECHAINE

Providence, RI

GERDA HOFSTATTER

Charlotte, NC

ANDY  LINCOLN

Elkridge, MD

LARRY MOY

Croton-On-Hudson NY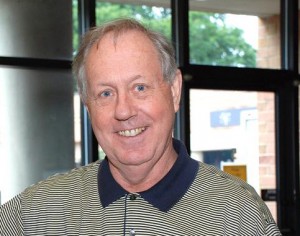 Director Peter Burrows
Encompassed in the informal players reception & cocktail party on Friday night was the Players Meeting, which Director Peter Burrows believes is always a welcome opportunity for players to voice their opinions of format, rules and anything else on their mind.  Peter always seeks feedback to make this is players friendly tournament.  One of those elements is no time clock, always a debate.  He notes,we honestly believe that players do play at their own pace, and generally this is a constant one. There will always be discrepancies and fluctuations, but a given player usually in my experience plays the way they play.  I have watched top 14.1 players for more than six decades since first seeing Mosconi play at the old Bensingers room on Randolph Street in Chicago in the late 1940s.  Pool players play at the pace they play at and the rhythm and tempo of one players game is what it is.  I just don't believe in a shot clock in Straight Pool.  The game is cerebral and players need time to think and analyze and I want to recognize that.  Some situations lend them selves to more rapid disposal of a rack, but others do not.  It you want a time clock play chess.
And Peter goes on to note that another deviation is the more modern usage of œcue ball fouls only and with a greater emphasis on player integrity which has been so widely adopted with great success in golf. Why do we need a white glove referee at every table?  Nice, classic of course, but simply not practical. Golf rules are many times more complex than pool, but the ancient golf rules are well known and players honestly adhere to them.  Pool can do the same.  And while were at it, let's dress the part. So the Maryland Open is a dress code tournament following the format of other world class events.  I think that is proper.  The dressier the better, what's wrong with that?  Pool guys . . . and ladies . . . are handsome folks . . . let's look the part! Dress up our game.  My gosh, wev'e got Ms. Lee the most stunning gal on the planet plus just a terrific player and advocate for our sport . . . She is playing right here in our midst, beating all of us like a drum, let,s follow her lead and look sharp!
The tournament format was a Saturday Round Robin of eight flights, five players to a flight playing four matches to 100 points.  The old fashioned straight pool format which Director Peter Burrows believes is not only fairest to the players allowing them to play a maximum number of matches, but also a format which is ideal for spectators.  They can watch their favorite locals or a top player play all day long, with no fear that they are going to get quickly eliminated in a one and done tournament.  From the players perspective they can get warmed up, familiar with the equipment and there is no tedious winners side delay which occurs in drawn out double elimination tournaments.  Non stop action involving everyone from dawn to dusk is a key positive in the round robin format!
After an evening of companionship and an hour of practice the action got off to a bright and early start 10 a.m. on Saturday morning, using the 14 tables and 35 players in a balanced round robin format, each player playing the other four in his flight on already pre-assigned tables and time slots, with an attempt that each player would play two of his matches on Diamond tables and two on Brunswick tables. The day consisted of five rounds and each player would have one round during the day when he had a bye. Some tough scheduling but meticulously managed by scorer & statistician, Dave Nangle.
For the most part early matches went according to odds with the strong national players pulling away in a field, which included such world-class straight pool notables such as Thorsten Hohmann, Charlie Williams, Mike Sigel and Miss Hofstatter. Included were the great NYC stalwarts Steve Lipsky & Danny Barouty, Zion Zvi & Dan Heidrich, four of the top 14.1 players in the country and long time tournament regulars in Maryland. In fact twice Barouty has played in the finals, coming in 2nd both times.  The young phenom playing out of Snookers Billiards in Providence RI, Mike Dechaine. Mike Davis who recently located to Tampa, FL made the trip to play, as did the great Danny Harriman the 2009 Maryland winner and sure the top American born straight pool player today.  1991 World Champion, and still great player and cue maker, Bob Hunter of Chicago.  From Pennsylvania Bob Maidhof of Drexeline Billiards, Drexel Hill, PA, the 2008 tournament winner who recently had a run of 316 balls! Bob was joined by Dave Daya the 2009 runner-up, and young top PA player Jeff Kerr.  The best of the local 14.1 players arrived to compete including the top Maryland pro, Shaun Wilkie who had the Sat. high run of 94.  Eddie Deska and his son Brian, who won the Maryland Qualifier two weeks ago, Dominic Noe, Andy Lincoln & Alan Duty all played well.  Room owner and houseman Richard Molineiro screwed the old cue together and had the high run of 52 on Saturday among the players who did not advance to the Sunday round, just edging out NY Ben Risoli who ran a 51.  These are just a few of the world class players that made up a truly great field.  Just a terrific assemblage of top players.
Each of the flights was balanced with top players, those likely expected to advance, usually playing their toughest opponents in the later rounds after having a chance to play a few games and get used to the tables and atmosphere. Strong local and regional players always surprise the front runners, and it never fails a dark horse has a great day at the expense of one of the favorites.  Two young hot shots, Brian Deska and Jeff Kerr handled Mike Sigel a pair of losses and he withdrew following the Saturday round robin matches.  Most of the other matches went according to expectations. Results . . .
Saturday round robin matches had been to 100 and the Sunday first two rounds were to 125. In the first round Mike Davis, coming off a 3-1 record on Saturday was thrilled to begin play at ten a.m. on Sunday morning, an hour later than last year, and bested Danny Barouty 125-3. Mike Dechaine knocked off Bob Maidhof 125-75. Thorsten got warmed up defeating Bob Hunter 125-79.  Shaun began what was to be a great day by winning over Zion Zvi 125-43. Gerda hung tough in her opening match, besting the great Fla. player Charlie Williams 125-75 before losing her second round match to Shaun Wilkie 125-28.  Other Sunday matches . . . which lead up to the finals . . .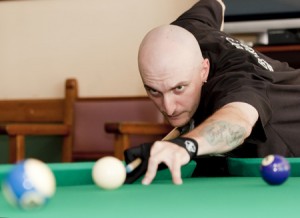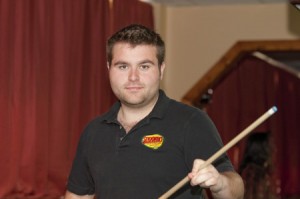 Shaun Wilkie  &  Mike Dechaine
The two semi final matches began about three p.m. on Sunday between  Shaun Wilkie & Mike Dechaine which was live streamed over the internet and Thorsten Hohmann, 2006 World 14.1 Straight Pool Champion vs. last years Maryland winner, Springfield MO great, Danny Harriman.  In the TV match following a strong opening break safety by Dechaine Wilkie faced a tough long shot down table which he slammed and missed driving the object ball into the pack.  One of those rare pool miracles occurred for Shaun, when the object ball caromed off the stack, went down to the bottom rail and all the way back up table, dodging balls along the way to roll into the originally called corner pocket!  Mike Dechaine was all smiles . . . Actually Mike was very gracious and following a 41 ball run off a fluke shot Shaun got stuck and allowed Mike right back into the see-saw match before Shaun finally was able to pull out the win.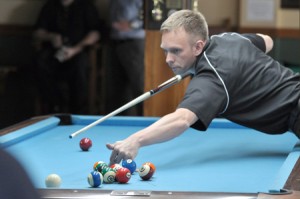 In the other semi final after back and forth early play Thorsten Hohmann ran 30 from the break and jumped ahead 59-6 before allowing Danny Harriman back to the table. But one last trip for Danny was enough, and given the chance last years champ was up to the occasion, running 119 and out to eliminate the great young German 14.1 wizard 125-59.
The final match began on the TV table at 6 PM and Shaun jumped ahead 94 to 37.  After a long run Shaun followed by an intricate safety battle which eventually left few options Shaun tried a tough combination.  Missed and Danny Harriman again got to the table . . . needing 113 to get out.  And guess what.  He got it again.  A great winner for Missouris Danny Harriman!  Gracious losers all the way around.  A terrific Maryland tournament once again.  Finals results . . .
Always lots of debate amongst players and fans as to 14.1 format . . . Is this the best way, an old fashioned round robin, let the cream rise and then a handful of players play on in a single elimination?  How many players, how many matches, how many points in the early and later rounds?  A lot of issues and things to think about as we look ahead to the 2011 Maryland Straight Pool Tournament but the overall consensus amongst fans and players was that this years Maryland 14.1 Championships is coming to the top of the heap around the country.
Results & Prize Money
| | | | |
| --- | --- | --- | --- |
| Place | Player | Prize | 2 Day Tournament Record W-L |
| 1 | Danny Harriman | $ 3,500 | 8 – 0 |
| 2 | Shaun Wilkie | 2,500 | 7 – 1 |
| 3 | Thorsten Hohmann | 1,300 | 7 – 1 |
| 4 | Mike Dechaine | 1,300 | 7 – 1 |
| 5 – 8 | Dave Daya | 700 | 6 – 1 |
| | Mike Davis | 700 | 4 – 2 |
| | Gerda Hofstatter | 700 | 3 – 3 |
| | Zion Zvi | 700 | 4 – 1 |
| 9 – 16 | Bob Maidhof | 400 | 4 – 1 |
| | Steve Lipsky | 400 | 4 – 1 |
| | Brian Deska | 400 | 4 – 1 |
| | Ed Deska | 400 | 3 – 2 |
| | Charlie Williams | 400 | 3 – 2 |
| | Dan Heidrich | 400 | 3 – 2 |
| | Bob Hunter | 400 | 3 – 2 |
| | Danny Barouty | 400 | 2 – 3 |
| HR Sat | Shaun Wilkie | 100 | 94 |
| HR Sun | Danny Harriman | 100 | 119 |
| Best 2 HR | Mike Davis | 100 | 91 |
| Best HR NQ | Rick Molineiro | 100 | 52 |
| | | $ 15,000 | |
Congratulations to all who played, helped, came to watch and viewed the internet links And especially congratulations to Danny Harriman and to the other three finalists, Thorsten, Shaun Wilkie & young Mike Dechaine.  And to hosts Richard & Cynthia Molineiro and to the many sponsors and supporters, most particularly SIMONIS CLOTH and APA and Nathan Sulinski.
Photos: Warren Kahle Photography, Annapolis, Maryland