Day Four of the World 8-Ball Championships
Day Four of the World 8-Ball Championships
-Jerry Forsyth-
WPA Press Officer
The World 8-Ball Championship in Fujairah, UAE, held the round of 32 first today. This is single-elimination so that any loss means the end for the losing player. It is a race to ten games with the winner breaking. Our first round featured half of the remaining field and there are very few players left who cannot be mentioned as possible candidates to take it all.
The first player eliminated today was Scott Higgins. He ran into an extremely sharp Ronnie Alcano and got buzz-sawed 10-3. Alcano simply gave him no air. It seemed that every time Alcano had a shot he ran out the table, including at least six break and run performances.
To prove the toughness of the remaining field, Mika Immonen (Current US Open and World Ten Ball Champion) was the second man eliminated today. He was pitted against Russian superstar Ruslan Chinakhov and was out of the match early as he found himself down 3-1. To his credit, he then fought back to a tie at 3 games apiece but then Chinakhov buried him with runs and Immonen rarely came to the table with a shot.  It soon went to 9-4, and then to 9-5. Immonen then scratched on the next break and Chinakhov cleared the table to send the number one ranked player in the world to the door.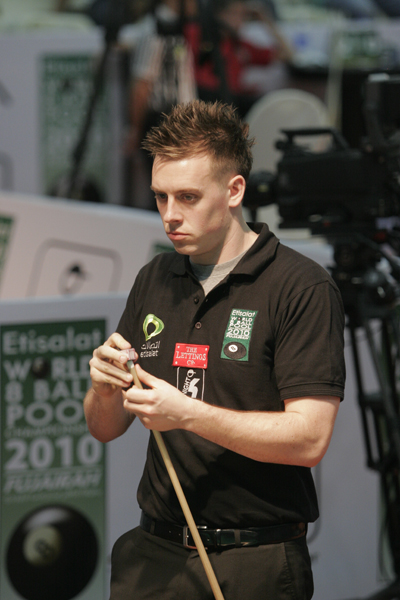 Karl Boyes
Karl Boyes certainly game with his game today. He steamrolled Masaki Tanaka 10-3 and played brilliant safeties when he needed in order to allow Tanaka no quarter. Stephan Cohen, the current World 14.1 Champion, used his skills to dismantle Pei Wei Chang 10-5 in a match where he was never under threat. Cohen, despite his credentials, still somehow manages to fly under the radar and players do not understand his power until it is too late and their fates are already sealed. Cohen does nothing to change this. He never brags about his wins, he just quietly hangs around and awaits the next match with a slight grin on his face, a grin that allows him to continue to appear non-threatening. In a pillow fight, his is the pillow with the brick in it.
Vicencio Tanio is another player who does not get the attention his game deserves. He faced an extremely tough Jalal Alsarisi and just kept edging his lead out there until he won the match 10-6. Dennis Orcullo and his countryman Lee Van Corteza had a real nail-biter of a match. They stayed neck and neck throughout with neither man ever enjoying more than a one game lead. Finally it came down to a 9-9 game with Orcullo breaking. Orcullo made thre balls and then played safe but Van Corteza escaped that and cleared the table to claim the win 10-9. At about the same time Yukio Akakariyama finished off Francis Crevier in a match that saw Crevier suffer more than his share of bad luck. At one point Crevier executed a lovely thin cut shot on the eight ball only to watch in agony as the cue ball also found a pocket and cost him the point. The final match of the first session stayed close but Jeff de Luna found strength when he needed it and ran through the last rack to take the win at 10-8.
The second half of the opening bracket found Ralf Souquet in top form. He ran seven racks that this reporter witnessed and kept Huidji See firmly planted in his chair for most of the afternoon. Souquet whitewashed the unfortunate See 10-0. Finishing quickly thereafter Ko Pin Yi finished his lessons on Raymund Faraon 10-1 by running the last nine racks in a row and Joven Alba easily handled Oliver Medininilla 10-3. Marcus Chamat, he of the big heart, toasted American hero Shane Van Boening 10-1 to secure his place in the sweet sixteen and Darren Appleton showed no mercy as he blasted past John Morra 10-4 to grab his chair there as well.

Antonio Gabica
Antonio Gabica was the next man to progress as he stormed past Marlon Manalo 10-6and Niels Feijen did the same as he doubled the effort of Basher Hussein 10-5. Our final man to move on was Andreas Roschkowsky who fought a close one with Matues Sniegocki to emerge victorious 10-7.
The sweet sixteen round is always a round of great interest. All of the players have proven themselves to be 'on game' and all are playing with the knowledge that they have the power to be hoisting the trophy at week's end. This round is broken into two sessions of four games per session.

Jeff de Luna
Two giants of the game were the first to be eliminated. Ronnie Alcano lost 10-4 to Vicenio Tanio and Lee Van Corteza got ousted 10-2 by Jeff de Luna. Ruslan Chinakhov continued his fine work this week by downing Yukio Akakariyama 10-7 while Karl Boyes stayed alive with a 10-6win over Stephan Cohen.

Ruslan Chinakhov
Joven Alba made one of the greatest comebacks of the event when he was down 6-1 to Antonio Gabica and rallied to win their match 10-7. Andreas Roschkowski began his match with Marcus Chamat with both men close in the early stages. But he pulled ahead and never surrendered the lead past the halfway point to win 10-6. Darren Appleton and Pin Yi Ko had a very long match lasting over 2¾ hours that saw Appleton winning 10-8 after Ko jumped the cue ball off of the table on his break shot.
Our final result came after a marathon match between Niels Feijen and Ralf Soquet that lasted nearly 3½ hours. The break haunted both men and neither could ever establish a comfortable lead. Most of the match was spent with only a point or two difference between them though at one point Feijen did lead 8-5 before Souquet began reeling him back in to lead 9-8. But Souquet's next break came dry and Feijen had an opportunity to take the match to double-hill. He would not disappoint and when he cleared the table both men stood only one rack away from the win. Feijen had the break shot and when he made a ball on the break the handwriting was on the wall.  He cleared the table take the win and progress while our defending champion was left to wonder what might have been.