Americans Lead as Sixteen Winners Advance
Americans Lead as Sixteen Winners Advance
by Cristina De La Garza
The sixteen winners still in contention for the Predator World Tour Spain event have earned free hotel and airfare for the next Predator World Tour event which is tentatively scheduled for Sao Paolo, Brazil in the summer of 2010. Eight countries will be represented in the final stage of the tournament that began in Lloret de Mar, Spain but the Americans out number them all. Six players will make the trip from the USA to the next event to fight for the title with players from Sweden, Germany, Netherlands, Portugal, Afghanistan, Mexico, Spain and the Philippines.
Still on the hunt for his second Predator World Tour title, David Alcaide had an impressive showing in his home country. After suffering a first round loss, Alcaide came back strong with several wins to secure his spot in the final sixteen. World Champion, Mika Immonen, dominated tournaments throughout 2009 but had a disappointing finish in his first event of 2010 as he was eliminated by Mexico's Ernesto Dominguez and settled for 17th – 32nd.
The support from players was overwhelming and everyone in attendance was flexible in meeting the unforeseen challenges that were presented. "I would like to thank the organization because I think it has been very generous of them to propose this new prize for 16 players and give us a chance to complete the tournament in Brazil. I wasn't planning on going to that event but now I'm excited that I get to play two events there," noted Huidji See of the Netherlands who defeated France's Stephan Cohen in the last elimination round.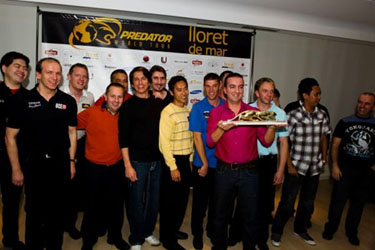 Final 16 Players (in order of bracket placement)
Corey Deuel (USA)
Marcus Chamat (Sweden)
Rodney Morris (USA)
Thorsten Hohmann (Germany)
Niels Feijen (Netherlands)
Henrique Correia (Portugal)
Aziz Hamrah (Afghanistan)
Johnny Archer (USA)
Ernesto Dominguez (Mexico)
David Alcaide (Spain)
Huidji See (Netherlands)
Oliver Ortmann (Germany)
Tony Crosby (USA)
Steve Moore (USA)
Charlie Williams (USA)
Lee Van Corteza (Philippines)
17th – 32nd
David Alcoberro (Spain)
Fernando Bohorquez (Spain)
Noel Bruynooghe (Belgium)
Carlos Cabello (Spain)
Stephan Cohen (France)
James Davis Jr. (USA)
Jeffrey De Luna (Philippines)
Francisco Diaz (Spain)
Oscar Dominguez (USA)
Vincent Faquet (France)
Corey Harper (USA)
Raul Hebles (Spain)
Mika Immonen (Finland)
Nuno Santos (Portugal)
Jayson Shaw (Scotland)
Mike Sigel (USA)
The Predator World Tour will officially announce the next event in the coming months. For more information about the Predator World Tour visit www.Predator10Ball.com.
The Predator World Tour recognizes the following sponsors: Aramith, Atlas Billiard Supplier, Bilhares Carrinho, Billiard Master, Guitart Hotels, Kozoom Multimedia, Poison Billiards, QKS Cases, Simonis Cloth, Tiger Products and Uni-Loc.