LoreeJon WIns -Diamond Women's Open 9-Ball Professional Players Championships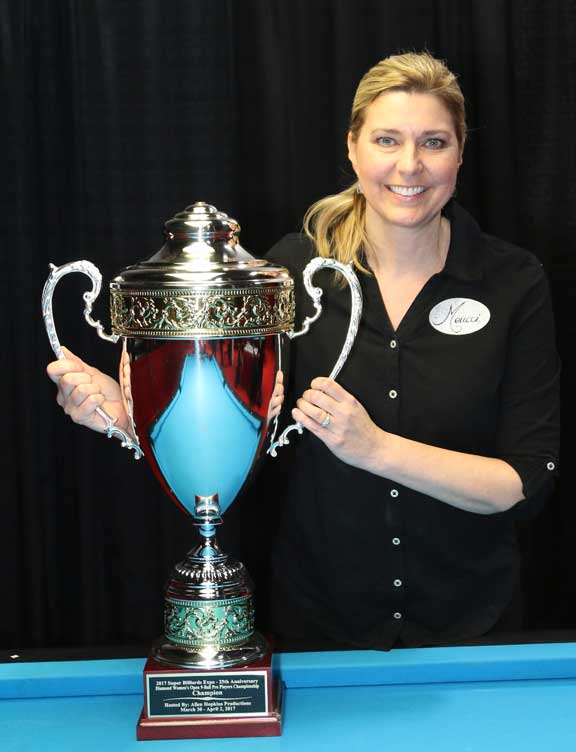 The Women's Open event was scheduled for two days, Saturday and Sunday. This was double elimination format race to 9 until the final 8, which would be single elimination race to 11. There was a full field of 32 players with a $300 entry. This was rack your own, alternating break and the 9 on the break was not a win but spotted.
The redraw on Sunday would pair off four women from the no-loss side (Karen Corr, Brittany Bryant, Emily Duddy, Heather Cortez) against four women from the one loss side, (LoreeJon Hasson, Jennifer Barretta, Vivian Villarreal, Rhio Anna Flores). In this first round of single elimination, LoreeJon defeated Karen Corr, Vivian Villarreal defeated Brittany Bryant, Rhio Anne Flores defeated Emily Duddy and Jennifer Barretta. The finally four would see LoreeJon and Vivian in a tight battle going to the hill with LoreeJon winning. The other match looked like a run away with Flores on 9 going to 11 and Barretta 3 games back. But Barretta showed a lot of heart and composure as she kept taking down one game at a time. Barretta no give up play gave here the win over Flores 11 to 9.
This set the final which would be the last event to start. The match as close then LoreeJon took a lead. With LoreeJon needing just two games for the win when Barretta picked up her play. Jennifer was on a runout with the 8 and 9 the only remaining balls on the table. The 8 was on the rail and Jennifer missed the cut down the rail leaving an easy out for LoreeJon. The next rack would seal the deal for LoreeJon and crowning her Champion. Congratulations to LoreeJon Hasson the 2017 SBX Diamond Women's 9-Ball Champion.
Pro Pool Diamond Events: Open 10-Ball, Women's Open 9-Ball and Open 1-Pocket
Professor Q Ball 3-Cushion Qualifier for Nationals- Team Exhibition, Challenge Matches and Clinics
Open Pro-Am Bar Box 9-Ball
Amateur Events: Open Amateur, Women's Division, Seniors Division, Super Seniors Division
JR Events: Juniors 17 & Under and Juniors 12 & Under