Derby City Classic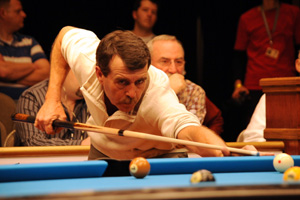 BRUMBACK STILL THE BEST BANKER
Brumback repeats as bank champion at the derby city.
A field of 356 bankers started the event, with all the big names.
John Brumback came through the field as he beat; Shannon Daulton, Rafael Martinez, Efren Reyes, George Breedlove, Glen "piggy banks" Rogers, Shane Van Boening, Sy Brown, Baeu Runninger, Ed Deska, Scott Frost, and William Hash.  It was no walk in the park for John, as he had to get by Efren Reyes twice in the semi's and the finals.
For the second year in a row Brumback has gone undefeated.  With a field that size it is really a feat.  His banks and position play were flawless.
In the match he played against Scott Frost, he won the lag as he did through out the event and broke, ran out the first rack.  That seemed to scare Scott as he began playing safeties, hoping for a Brumback mistake, but he was up to the task.  It was a little harder but he won the match anyway.
You have got to feel for Efren Reyes as he has finished 2nd three or four times in the banks.  He gets his foot in the stirrup, but can't swing up and ride.
Larry "the truth" Nevel came in third with 4 byes in a row in the 10th,11th,12th, and 13th rounds to finish 3rd after Efren got by him in  14th round.
Money list
1st John Brumback $10,000
2nd Efren Reyes $5,000
3rd Larry Nevel $2500
4-5th Rafael Martinez $1,375
Alex Pagulayan
6-9th Chris Bartram $850
George Breedlove,
Shannon Daulton
Truman Hogue
10-16th Bill Bailey $550
Danny Harriman
Neil Jacobs
Michael Laney
Clent McCollough
Steve Moore
Mark Slye, Jr.