15 RACK 10-BALL POOL LEAGUES
15 RACK 10-BALL POOL LEAGUES
1634 18th Street
Denver, CO. 80202
Contact: Melissa Little at 720-296-5395
Email: Melissa@melissalittle.com
Adam Ellis Wins 15-Rack Qualifier to the Derby City Classic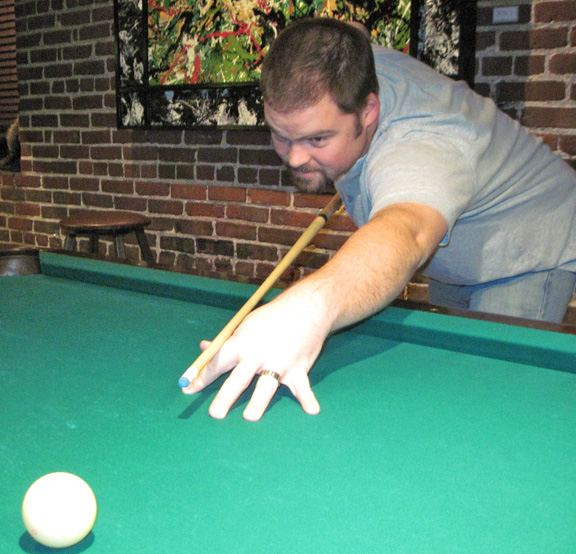 Denver, Colorado December 9, 2009
After 10-weeks of playing Viper's "15-Rack" 10-ball leagues, Adam Ellis came out on top with 955 points winning paid airfare and entries into all the events at the 2010 Derby City Classic in Louisville, KY. Ellis also won a custom pool cue made by Jacoby and a custom rack made by Delta-13.
Avery Pier came in second with 950 points claiming the runner-up spot. Cathy Crump fought hard all session and will be awarded the "highest finishing female" award.
The $300 added "end of the session" tournament is scheduled for Saturday, January 9th, 2010 and all of the qualified 15-rack players will be present. The tournament will be broadcasting live starting at 12:00 PM via www.15rack.com and www.melissalittle.com and will be hosted at The Wynkoop Brewing Company located at 1634 18th Street, Denver, CO.
The next session will start the weekend of February 7th, 2010 and will offer six -paid entries into the Open Colorado pro qualifier (April 17th & 18th, 2010) for the CSI US Open10-Ball Championships to be held this May in Las Vegas, NV during the BCAPL national 8-ball championships. The summer session will feature a Men's US Open qualifier and the winter session will feature paid spots into the 2011 Derby City Classic. The top-2 ladies at each session will receive paid entries into the 2010 WPBA Amateur National Championships to be held in November 2010 at the Wynkoop.
For more information please visit www.15rack.com
Melissa Little, WPBA touring professional/house pro at Wynkoop is the owner/operator of 15-Rack pool leagues. 15-rack is based on a 10-week session of 10-ball "the ghost", handicapped, with no membership/green fees pool league.  Players can also visit the website to view stats to promote growth within their pool games. Each week the league gives out weekly gift bags that include gift cards to places like www.pooldawg.com, www.wazeesupperclub.com, www.impulsetheater.com, and Charlie's billiards.