The first set of finals in the BCAPL National 8-Ball Championship
Grand Masters Divisions Field Fierce Finals
The first set of finals in the BCAPL National 8-Ball Championship was the men's and women's Grand Master divisions which took place Monday, May 11.
Both the men's and women's brackets were full of known names and tremendous talent. Literally several hundred other players and spectators lined the walk areas and stands over looking tables 1-10 in the Riviera Grand Ballroom to watch such names as top U.S and international professional players such as Shane Van Boening, Roberto Gomez, Allison Fisher, and Kelly Fisher just to name a few.
It is tremendously rare for spectators such as the spectrum of amateur players who play in the BCAPL every year to see up close pros of this caliber to play 8-ball, much less on 7′ tables.
The matches were often close but last night the finals took place in both the men's and women's divisions and in both finals it was the case of the widely known vs. the lesser known.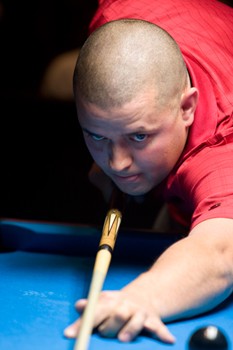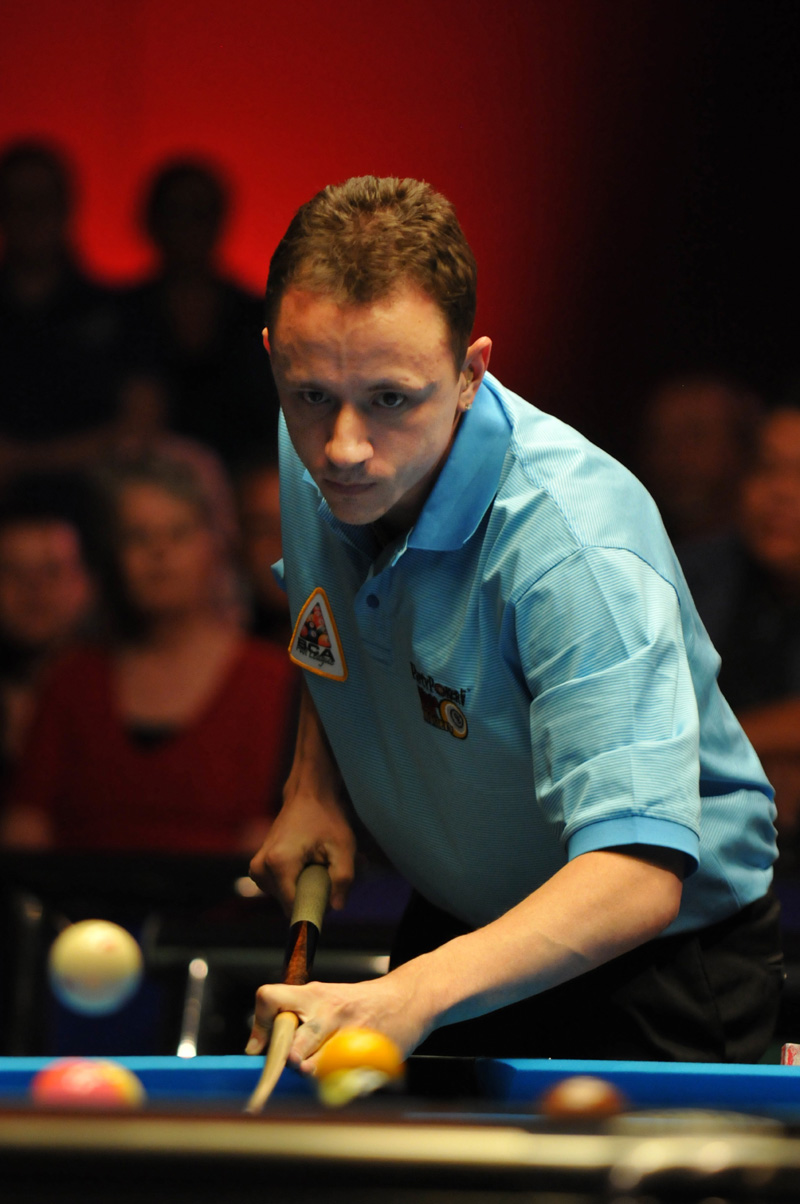 Simon Pickering Shane Van Boening
In the Men's Grand Master Division, Shane Van Boening came from the one loss side to take on Simon Pickering who was undefeated coming into the final race to seven. The men's field was so thick with well known professional players that many people found themselves asking, who is Simon Pickering? Well, conventional wisdom would have had Van Boening winning the match, but it was not the case. Pickering, who hails from British Columbia, Canada has played the past 12 years in the BCAPL National 8-Ball Championship. Last year he tied for 5-6 in the Grand Master division.
The Women's Grand Master division pitted one of the strongest U.S regional women players in the county, Julia Gabriel against one of the fastest rising women professional players in the world, Yu Ram Cha from South Korea.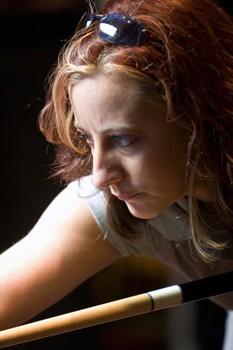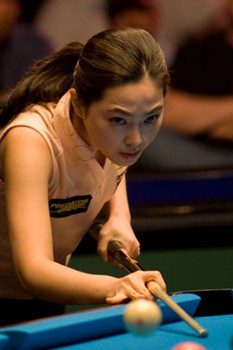 Julia Gabriel Yu Ram Cha from South Korea.
Gabriel has been a top player in the mid-west and at times playing over the years on the WPBA. Cha is currently tied for 5th in the Women's Professional Billiards Association (WPBA) rankings with Sarah Rousey of the USA and Xiaoting Pan of China.
Gabriel sitting in the hot seat needed to win one race to 7 to Cha's two races. Both women played well and in the first set it looked that Gabriel would take Cha. The two sets were close, but it was Cha who prevailed taking first place.