World Champions Ready for Yalin World Championship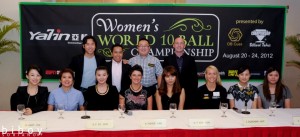 World Champions Ready for Yalin World Championship
9 World Champions will play for the World 10-ball Championship in Manila this week. w/ Charlie Williams (Dragon Promotions), Marcel Sabio (Championship Cloth) Eric Ding (Yalin Billiards) Shane Sinnott (OB Cues) . Photo courtesy Emille BBoy Soriano
Manila, Philippines- A total of 9 World Champions from Korea, Philippines, China, Austria, England, and Taiwan will be vying for this year's Yalin Women's World 10-Ball Championship. The press conference held at Crowne Plaza featured a Q&A with the stars with media from all around the world including journalists from China, Japan, and Philippines. Out of the 9 World Champions, only three of them have a title in this event which are Rubilen Amit (2009), Jasmin Ouschan (2010), and Kelly Fisher (2011).
This is the biggest sports event of the year for women, as host country Philippines will be featuring the best players from Italy, Japan, China, Canada, Australia, Indonesia, South Korea, Russia, South Africa, India, Iran, Netherlands, Sweden, Venezuela, England, Norway, Taiwan, Austria, and Singapore.
"This is my first international event overseas where my coach hasn't been with me. But we still talk everyday and he reminds me what I need to do. He has been coaching me since I was four years old, so I already know what he wants me to do", said Jasmin Ouschan of Austria in her fourth appearance here at the World 10-Ball.
"The talent in pool was much higher than I thought when I first came over to the United States. I didn't win as much as I thought I would. It took me a long time to win my first World Championship in pool which was here in Manila last year. It gave me a lot of confidence which has carried on since then", said Kelly Fisher of England who is the defending champion of the event.
"Am I here to win or have a good time? That's a good question. Actually it's my first time here in the Philippines and I brought my family and friends with me. So I feel very relaxed and very happy to be here. I think I'll play well because of that", said Xiao Ting Pan of China, the country's top star and former World 9-Ball winner.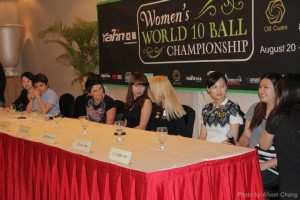 The ladies were witty and entertaining during the dinner and press interviews
"Winning the World 10-Ball Championship was a life changing moment. At the time, the win helped me and my family financially, so the timing couldn't have been better for us", said Rubilen Amit who went on to win two more huge title with Efren Reyes at the World Mixed Doubles in back to back wins.
"I want to win this World 10-Ball more than any other event. I always want to win the biggest tournaments, and have not been able to win this yet", said Korea's Ga Young Kim, a former 2x World 9-Ball champion.
10-Ball has now been established as the toughest game in professional pool and preferred over 9-Ball amongst pros due to the higher level of skill and reduced luck factor of the game.
Other notable players in the field that have a good shot to win the much sought after title includes former World #1 Siming Chen of China, Chieh-Yu Chou of Taiwan, Pei Chen Tsai of Taiwan (last year's Silver Medalist), and Yu Ram Cha of S.Korea.
Dark horse talents that could surprise here at the World Championship include South Korea's Eunji Erica Park who has gotten two 5th place finishes, Filipina Iris Ranola a runner-up at the US Open, Brittany Bryant of Canada a former Junior World Champ, and Akimi Kajitani of Japan, a semi-finalist at the 2009 World 10-Ball.
Follow the ladies at http://www.facebook.com/womensworld10ball For more info email womensworld10ball@gmail.com Complete info and news visit http://www.yalin.cn/
Results and brackets can be found at www.womensworld10ball.com
Players from China, Japan, Taiwan, and Philippines also qualified in the heats that were open to any woman willing to take a shot at the world's biggest title in lady's billiards. A total of an elite 48 players make up the field of the Yalin Women's World 10-Ball Championship.
The Dragon Promotions produced 4th Annual Yalin Women's World 10-Ball Championship is the most followed women's event of the year. In the host country of the Philippines, it is the biggest female sporting event of the country. The event is supported by Asian table mammoth Yalin Billiards, advanced cue engineer OB Cues, long lasting Championship Tour Edition Cloth, top playing Aramith Balls, and #1 TV network broadcaster ABS-CBN. Star Billiards and Pool & Billiard Magazine are also proud supporters. This year's edition will take place August 20th-24th once again at Robinson's Galleria Mall, which has now become synonymous for creating the dynamic atmosphere of the coveted championship. Robinson's Galleria is connected to the host hotel Crowne Plaza Galleria. With massive media and global networks covering the Yalin Women's World 10-Ball Championship, it will continue as still the biggest and most watched women's billiard event in the world.
An elite 48 world class pros and international women superstars will attend the event to fight it out. With the one goal in mind: to become the World Champion of 10-Ball.
http://www.yalin.cn/
The Official Cue, Official Cloth, & Official Balls of the World Championship
10-Ball,The Toughest Game. Philippines, the Biggest pool fans.
Dragon Promotions, brings the Biggest TV and Media covered women's pool event.
The World's Greatest Female Players
The 4th Annual Yalin Women's World 10-Ball Championship
www.WomensWorld10Ball.com email womensworld10ball@gmail.com
www.dragonpromotions.com