Ozone Billiards Heads Official Sponsors of Predator International 10-Ball
Ozone Billiards Heads Official Sponsors of Predator International 10-Ball
Field
Atlanta, GA-  Ozone Billiards will be this year's lead sponsor as they
present The 9th Annual Predator 10-Ball Championship and a world class field
of 112 players at the Riviera Hotel & Casino May 11-16,2009.  Additional
marquee players such as World Cup Champion Rodney Morris of USA, French
Champion Stefan Cohen, highest internationally ranked Indian player ever Raj
Hundal, and top women's player Gerda Hofstatter of Austria have joined in
with many others in the field. Ozone Billiards is also joined by Simonis
Cloth, Diamond Tables, Laser Rack, Uni-Loc, and the event host BCA Pool
Leagues in this Dragon Promotions production.


"Ozone Billiards is one of the largest retailers of Predator products
worldwide, and so it's a great fit for us to be the presenting sponsor. Our
affiliation with Dragon Promotions has gotten stronger and better each time
and The Predator International 10-Ball Championship is one of the premiere
titles in the world to win with an international field filled with talent.
Almost every recognizable billiard star on Earth will be there, and we are
proud to help host the pros", says Shawn Gargano, CEO of Ozone Billiards.
As Ozone Billiards states, the field is stacked with pool studs such as
Player of the Decade Johnny Archer, US Open Champion Shane Van Boening,
Filipino sensation Alex Pagulayan, European powerhouses Oliver Ortmann and
Niels Feijen, and deadly ladies such as WPBA pros Vivian Villarreal and
Angel Paglia.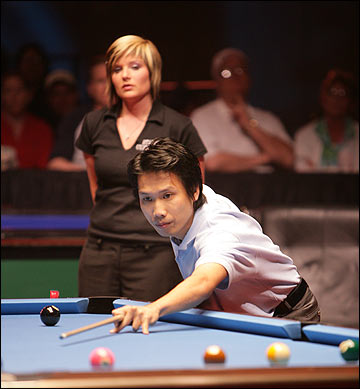 Simonis Cloth will be the Official Cloth of the event for the sixth straight
year while Diamond Tables will be played on again for the second year in a
row. The Laser Rack, an innovative new rack designed to create a straight
rack every time using laser technology, will be the new kid on the block.
Visit www.laser-racks.com  , www.diamondbilliards.com and
www.simoniscloth.com
Ozone Billiards has been providing pool players with top quality billiard
products for more than eight years. Its commitment to customer service has
helped Ozone Billiards grow to be one of the largest retailers of billiard
supplies in the United States. For more information about Ozone Billiards
and its product lines, visit www.ozonebilliards.com
For more info on The Predator International 10-Ball Championships goto
www.predator10ball.com and tickets can be bought in advance at
www.dragonpromotions.com