Brunswick Billiards Official Table of Pro, Amateur, & Junior Events
Brunswick Billiards Official Table of Pro, Amateur, & Junior Events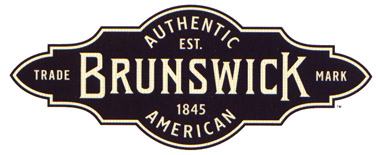 Orlando, Florida- Brunswick Billiards will be the official table used during the Mezz Classic 14.1 & 10-Ball Pro events, as well as the Ozone Billiards US Amateur Open and Simonis World Junior 10-Ball Open. Brunswick has supported professional pool and all aspects of the sport longer than any other company in pool history. Pros and amateurs from around the country and the world will come to Orlando August 5-9,2009 for all the events taking place at Corner Pocket Billiards. The Dragon Promotions productions are presented by sponsors Ozone Billiards, Mezz Cues, Brunswick Billiards, Simonis Cloth, Aramith Balls, Master Chalk, Laser Rack, Gambler, On the Snap Cue Repair, and House of Billiards.
"The Mezz Classic is a unique event in that it extends the competition across a variety of age and skill levels between juniors, amateurs and professionals – this helps transcend the sport of pool and connects generations, in-line with Brunswick's corporate vision" said Rob Sheets, Vice President, International & Commercial Sales, Brunswick Billiards.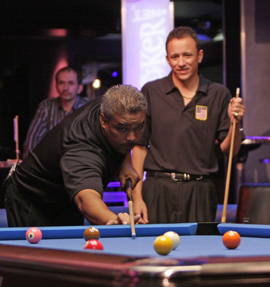 World Cup Champions Rodney Morris & Shane Van Boening will be two of the favorites during the Mezz Classic
From August 6-9, several matches each day will be featured live on www.hotticket.tv. After the event, DVDs of the aired matches will be available to fans and players. The Mezz Classic and Ozone Billiards US Amateur Open will also have event shirts, hats and memorabilia for fans and players to wear and enjoy made available from Gambler . Visit www.Gamblerclothing.com
Spots are still open in the pro events and players wishing to enter pro events can email mezzclassic@gmail.com . Amateurs can email dpamateurevents@gmail.com Fans can purchase tickets at the door at Corner Pocket Billiards during the Pro Straight Pool event and the Pro 10-Ball event . There are limited number of VIP seats available. All info on events please call 1-407-782-4978 Corner Pockets at (407) 282-5894 All info and fliers can be found on www.dragonpromotions.com
Connecting generations through superior craftsmanship and innovation since 1845, Brunswick Billiards has been the leader in designing the highest-quality billiards and pool tables and game room furnishings preferred by experts around the world. Based in Bristol, Wis., the billiards division of Brunswick Corporation (NYSE: BC), has more than 300 retail dealer locations across the United States and international distributors in more than 40 countries. For more information about Brunswick Billiards and its product line, visit www.brunswickbilliards.com.