NATIONAL ARTISTIC POOL TOUR PRESS RELEASE
Event: Dr. Cue Classic Artistic Cup V & Dr. Cue National Artistic Pool Lag II Finals
Note: The Cup V is an Artistic Pool Major stop on the exciting APTSA National Tour
Primary Financial Sponsors: Dr. Cue Promotions and Pockets Billiards  Venue:
Pockets Billiards     13430 S. Cicero Avenue         Crestwood, IL 60445 (Chicago suburb)
Dates:  December 8 – 11, 2011
Note: A complete date / time schedule and specific event details document will be sent to you upon request.  Please contact us by email for this information!
The Dr. Cue Classic Cup V is honored to be the "inaugural" Artistic Pool Major (APM) stop for the APTSA (Artistic Pool and Trick Shot Association) and its new and exciting "national" tour initiatives program. This event will use the standard 40-shot/challenge preliminary format with a "match play" shootout on the final day for the top 12 scoring players from the preliminary rounds.
Note: The first 4 Cup events were extremely successful with high percentage make rate artistic pool challenges, very attractive / guaranteed player payouts to all positions of finish, and a reunion – style atmosphere among all players, fans, and media / sponsor friends in attendance.
Special Note: The magnetic and creative APTSA National Artistic Pool Tour consists of 3 types of Artistic Pool events – 1) Artistic Pool Shootouts with 8 challenges, 2) Artistic Pool Room Cups with 16 challenges, and 3) Artistic Pool Majors with 40+ challenges.
ANYONE WANTING TO PARTICIPATE IN THE DR. CUE CLASSIC ARTISTIC CUP V MAY EMAIL OR PHONE US WITH HIS OR HER "INTENT TO ENTER".
Phone:  765.795.4968 (h) or 765.760.7665 (c)  Email:      drcue@artisticpool.org
Marty and I encourage each of you to attend this proven player / fan friendly event!!
Looking forward to hearing from you soon"¦   "Dr. Cue" & "Ms. Cue" (Event Directors)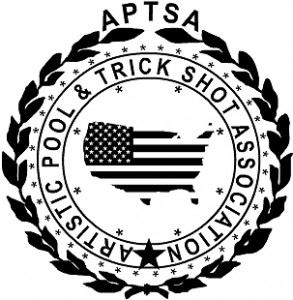 SPECIAL APTSA MEMBERSHIP UPDATE:
A "full" player membership in the APTSA is required to play in any approved "major" event that has been confirmed on the APTSA tour calendar online by the end of 2012.   The fee shall be $50 and may be paid in graduated stages for each player as follows:
1st APTSA "major" event played in — $20 "stage 1″ fee (paid by players entered in Cup V)
2nd APTSA "major" event played in — $20 "stage 2″ fee
3rd APTSA "major" event player in — $10 "final stage" fee
Note:  Players will receive full application of any prior APS and/or APRC fees paid toward the "stage" 1 guideline and will be considered "full" members upon their "major event" entry. In other words, if a player is already an APS $10 player member, he or she will pay $10 at the "stage 1″ event.  If a player is already an APRC $20 player member, he or she will pay nothing at the "stage 1″ event.  The 3-month "upgrade" provision of the original APTSA membership guidelines has been changed as follows: any level upgrade will receive full application of prior fees paid through the end of 2012.
Players will receive "full" ranking points in each APTSA event played in and "full" valued "other" perks will be granted upon paying the "stage 1″ fee.