2009 USBA National Semi-Final Results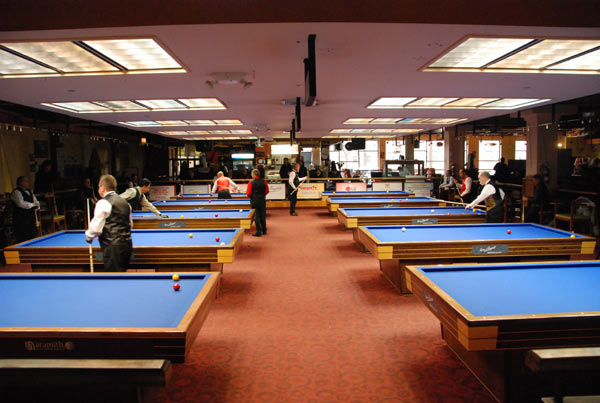 The semi final matches started right on schedule with the 20 players remaining after the qualification rounds. Each match presented the finest in 3- cushion poise and skill being demonstrated.
In the A Bracket Young Gull Lee posted a perfect 4 – 0 record, playing brilliantly as he defeated Pedro Piedrabueno, who otherwise demonstrated top form in each match of the tournament so far. Hugo Patino, Michael Kang, and Felipe Razon also went undefeated in their respective brackets.
Rounding out the field of 8 top players that would match up in the final round robin group were Pedro Piedrabueno, Sonny Cho, Mazin Shooni, and the 2008 defending champion Miguel Torres. Each of these determined competitors finished the semi-finals with win – loss records of 3 – 1.
The 3rd place finishers in each bracket would play in a single elimination shootout to determine the 9th thru 12th payout and ranking places. These players were George Ashby, Min Jae Pak, Jim Watson, and Bob Page.


Other player finish positions after completion of the semi finals were 13) Mark Jarvis, 14) Antonio Rivera, 15) Mike Bengels, 16) Darrel Stutesman, 17) Gilbert Najm, 18) Juan Elizalde Sauz, 19) Charles Brown, and 20) Tom Rossman.
Day 4 would start the finals with the "best of the best" striving to record their name in national 3 cushion history. Stay tuned…