Niels "the Terminator" Feijen elected to 2023 Class of the Billiard Congress of America Hall of Fame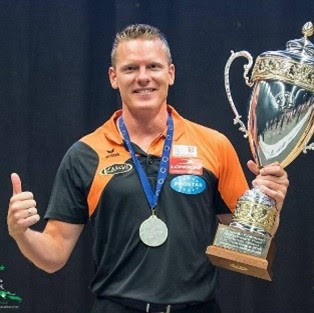 Superior, Colo., July 12, 2021 — The Billiard Congress of America (BCA) Hall of Fame welcomes one of the game's hardest working and most ferocious competitors when the Netherland's great Niels "the Terminator" Feijen is inducted into the sport's most prestigious club.
Feijen, 46, a two-time World Champion, was the clear choice of voters in the Greatest Players category and is the first Dutch-born player to be inducted into the BCA Hall of Fame.
Feijen will formally be inducted into the Hall of Fame on Friday, Nov. 3, at the Norfolk Sheraton Waterside Hotel in Norfolk, Va., in conjunction with the 2023 International Open pool tournament.
"Obviously, this is a huge honor," Feijen said when informed of his election. "To be in the same club with my heroes — legends like Efren Reyes and Earl Strickland — is an amazing feeling.
"It's something I really didn't think about at all until about five years ago. I was still focused on trying to win tournaments. Once I was on the ballot, I know I was close a few times. You hope, but you have to tell yourself, 'It will happen when it happens.'"
The road has been long and measured for Feijen, an avid athlete as a youth. After discovering pool in his hometown of The Hague at 16, Feijen's pursuit of greatness was relentless, with a stint in the U.S. as a 20-year-old, playing against the stars he'd studied on so many videos. In short order, Feijen began placing in the top 10 in numerous international events. His first major breakthrough came in 2008, when he won the WPA World Straight Pool Championship.
After finishing third in the WPA World 10-Ball Championship that year, and runner-up twice in the WPA World 8-Ball Championship (2010, 2011), Feijen finally captured his second world title at the WPA World 9-Ball Championship in 2014. He won the World Pool Masters in 2013 and repeated as champion in 2018. His biggest years were 2013 and 2014, a two-year stretch in which he added back-to-back World Cup of Pool runner-up finishes, back-to-back runner-up finishes in the Derby City 10-Ball Challenge and a pair of Mosconi Cup wins and MVP honors to his Masters and World 9-Ball crowns. He won the Derby City 9-Ball title in 2007. He has appeared in 14 Mosconi Cups, winning eight times and earning MVP honors four times. He is three-time European 9-Ball Champion, seven-time European Straight Pool Champion and European 8-Ball Champion.
"I remember my father asking me years ago what I wanted to do in pool," Feijen recalled. "I told him, 'I want to win a world title and get into the Hall of Fame.' Crazy that it has happened."
Voting for the 2023 BCA Hall of Fame was conducted by the USBMA Hall of Fame Board, which consists of USBMA members, elected At-Large members and living members of the Hall of Fame. In his fifth year on the ballot, Feijen was named on 29 submitted ballots (79%). American Corey Deuel was named on 17 ballots (48%). Jeremy Jones, JoAnn Mason-Parker, Stefano Pellinga, John Schmidt, Vivian Villarreal and Charlie Williams completed the 2023 ballot. To be eligible for consideration in the Greatest Players category, a player (a) must be 40 years old by Jan. 1 of the year of their inclusion on the ballot; (b) must have a professional playing career of at least 10 years; and (c) must have recorded significant achievements in U.S.-based and international events recognized by the BCA.