2022 THREE-CUSHION NATIONALS AND QUALIFIERS

The 2022 USBA national three-cushion championship will be held at 5000 Years Carom
Billiards in Morton Grove, Illinois, a Chicago suburb, from September 8 to 11, 2022. The players
meeting will be held on Wednesday, September 7 at 7:00 p.m.
The field will consist of a maximum of 42 players. The top four place winners from the
2021 national tournament receive automatic berths. Additionally, each prior champion has a
reserved spot. The remaining places will be determined by qualifying tournaments or by direct
entry.
The entry fee for a person who qualifies is paid by the qualifier organizer. For anyone
who plays in a qualifier and does not qualify, the entry fee for the nationals is $300. A person
can also enter the nationals directly for $510; however, players who played in a qualifier have
priority over players who did not play in a qualifier.
The nationals are open to USBA members who are citizens or permanent residents of the
United States. No exceptions. Each player must be willing and able to travel abroad to represent
the United States in the Pan American Championship and in the World Championship. A player
must play in the nationals to play in the Pan American Championship.
To become a member of the USBA, go to www.USBA.net. Membership is $50 per year
or $135 for 3 years.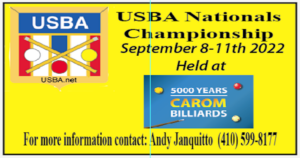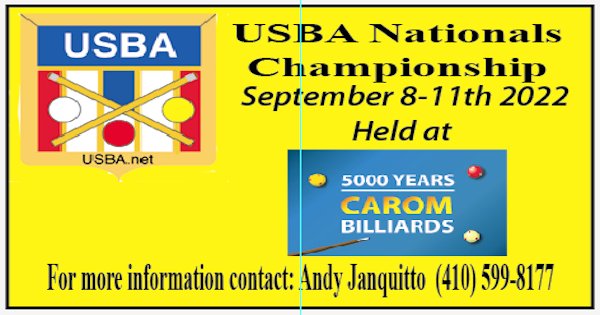 Qualifier format:
For a qualifier, the entry fee is $110. For every 5 players, there is 1 qualifier. For each
group of 5 players, the organizer sends to the USBA $350 ($300 entry fee for the qualifier and
$10 per player for the USBA sanction fee). The remaining $200 is used at the discretion of the
organizer (as prize money, for travel expenses, toward the entry fee of a second player, or to
offset costs and expenses). Example, with 10 players, there are 2 qualifiers. The organizer sends
$700 to the USBA ($600 for the entry fees for the 2 qualifiers plus $100 for sanction fees of $10
per player). The remaining $300 is used by the organizer. The organizer of each qualifier will
determine the tournament format, including the length of games, as well as the dress code. It is
recommended that games be at least 25 points.
Anyone interested in playing in the nationals or holding a qualifier, should contact the USBA by sending an email to secretary@USBA.net or by calling or texting 410 599-8177.
Send me your flyer for your National Championship Qualifier and i will place it up on my website.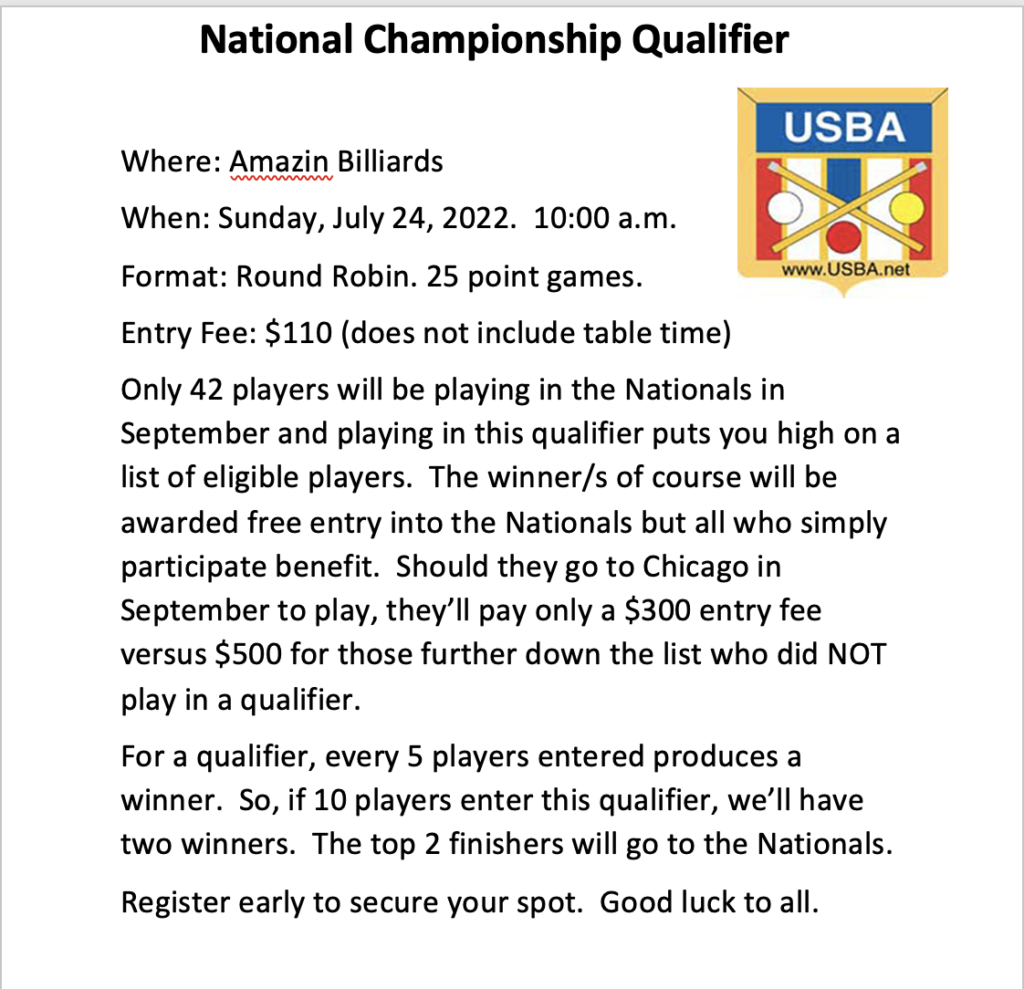 The following qualifiers have been scheduled: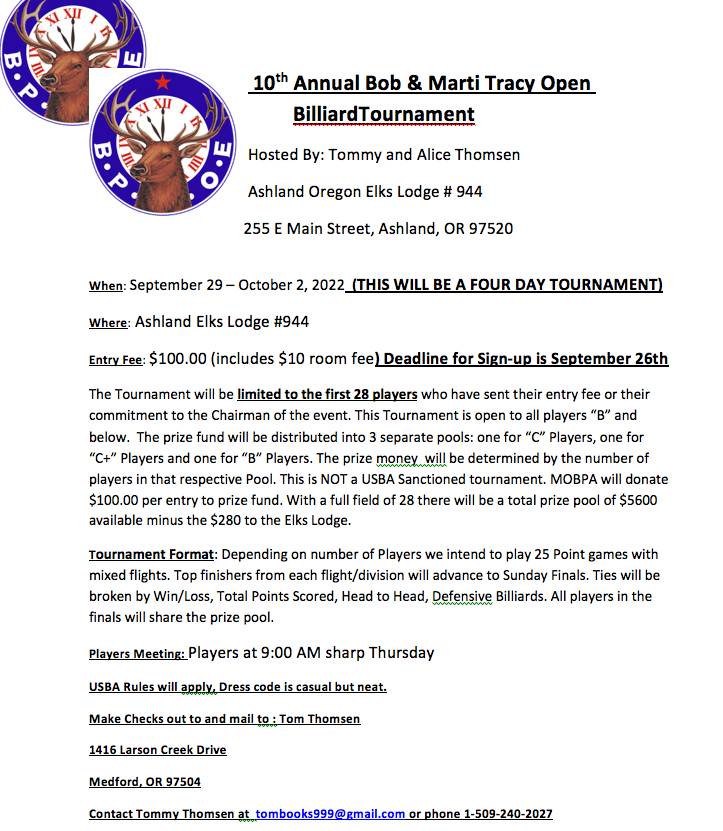 Tacoma, WA, August 19-21, 2022 at Elks Lodge # 174, 2013S. Cedar Street, Tacoma, WA. Contact Jesus Quinonez jrq@hotmail.com for more information.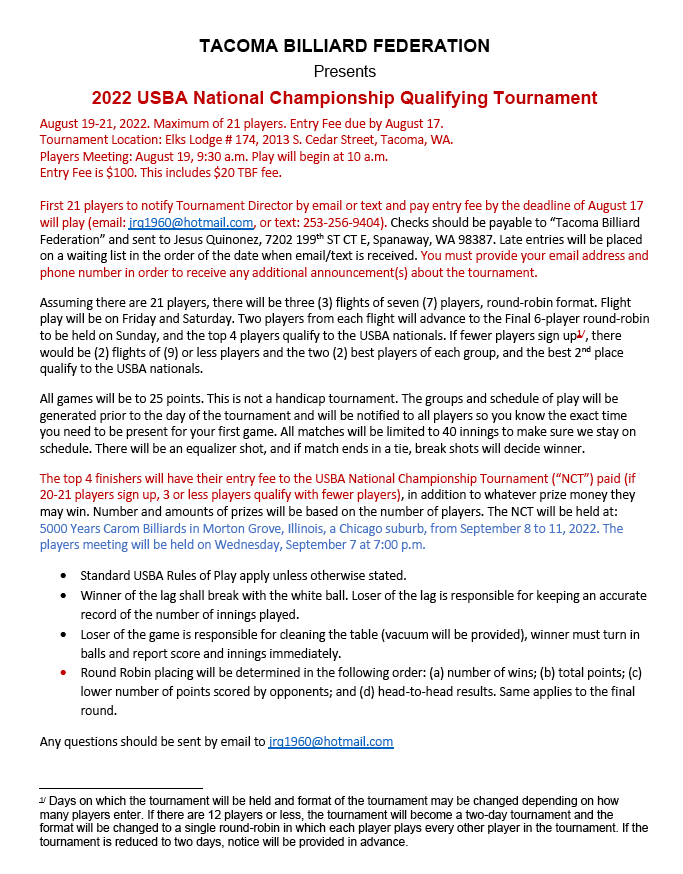 Qualifiers are also being arranged for New York, Chicago, Michigan, and Southern Florida. Details will be released when dates and locations have been finalized.