18th Annual Rally Event for TAP
March 13th – 16th, 2014 
In Conjunction with The Allen Hopkins Super Billiards Expo – New Jersey Expo Center – Edison, NJ
TAP, Pools Amateur Tour held their Rally in Edison, NJ Dream Team and Singles competitions in conjunction with Allen Hopkins' Productions Super Billiards Expo.  Players from the USA and Canada came to The New Jersey Expo Center, which hosted the largest TAP event and the largest consumer oriented billiards trade-show in the world.
This 18th Annual Rally Event for TAP, Pools Amateur Tour kicked off with Registration into the event starting Wednesday night.  Thursday morning the TAP National Meeting was held at the Sheraton in Edison in which TAP Licensees all met with the corporate office of TAP to go over all the new and exciting things TAP is going to bring to the player in 2014.
Thursday afternoon, TAP's Corporate office, the Schonter family and the TAP Family of Licensees and Players showed their respects to their beloved Founder and CEO Loyd Schonter, with a speech given by Kristen Schonter, Loyd's Wife and TAP CAO and Celeste Schonter, Loyd's Sister and TAP CAO.  A slideshow memorialized the life of Mr. Schonter from his childhood, family, Kristen and his family, the start of TAP and the many years following with his management team, staff and licensees throughout the years, industry leaders of which he had relationships with, and the last event the TAP Nationals in Chicago, IL.  Many spoke with the memorial coming full circle of the Schonters, Kristen, Celeste and Chuck dedicating and declaring the TAP battlecry, we will TAP ON !
Players entered the singles events which kicked off on Thursday night, under the 25th year Anniversary of TAP, which 2014 is.  8 and 9 Ball Dream Team events kicked off the morning of Friday, March 14th with the Round Robin to Single Elimination Format.
Winners were awarded starting Friday night in singles events and went through to Sunday in which all events finished up.
TAP would like to Thank McDermott Cues, our cue sponsor, who has been with us through this and many other events and unforturnately has also suffered the loss of their founder as well, Jim McDermott.  We appreciate you and our association with you.  POV Daniel Busch for Livestreaming the event, doing interviews and various other promotional activities.  We'd like to thank AZ Billiards, Pool and Billiards Digest, Professor Cue Ball, Billiards Digest, and several other media outlets for your releases and ads in your publications dedicated to Loyd.  And as always, Allen Hopkins and his staff who TAP was happy to work with again this year to make it all happen.
The Schonter Family/Corporate Office and Events Director Kelly Nace and all TAP Tournament Staff which is comprised of Licensees work hard year after year to produce the highest quality billiard events for players across the country.
We proudly announce the winners of this years event/s"¦.
Fat Alberts – Elite 8 Ball Dream Team Champions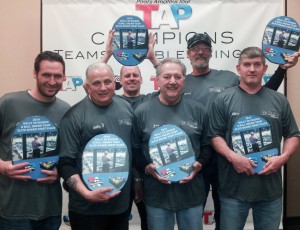 Murphy's Law – Championship 8 Ball Dream Team Champions
Breaking Bad – Best of the Rest 8 Ball Dream Team Champions
Team Stupid – 9 Ball Dream Team Champions
2 Singles Winner – Dottie Lavigne, Ohio
3 Singles  Winner – Lawrence Burgess, Pennsylvania
4 Singles Winner – John Howard, New Jersey
5 Singles Winner – Kyle Bubet, New Jersey
6 Singles Winner – Rick Barrette, Massachusetts
7 Singles Winner – Fred Schneider, New York
Go to TAP, LLC Pool's Amateur Tour on Facebook and see all results and pictures.
If you are interested in TAP and want to play, check out the TAP League Locator at www.tapleague.com and click on the league locator globe located on the right side of the website.  If there is not a TAP Operation in your area, find out how to start one by calling the sales department at 1-800-984-7665 ext. 2.  Join us as we TAP ON !