2011 Music City 9-Ball Open
2011 Music City 9-Ball Open
Nashville, Tennesses premier billiard club, JOB Billiard Club, hosted the 24th annual Music City 9-Ball Open held January 12-16, 2011.
Budweiser, Alex Brick Custom Cues, Diamond Billiard Products, Simonis Cloth, Nick Varner Cues and Cases, Joe Salazar Cues,AZ Billiards, and Accu-Stats Video Productions sponsored the event. JOB has a new owner this year, as Jim Blaylock has retired.
Ricky Gamble from Kingston, Tennessee, bought the club last August and has former WPBA Touring Pro, Peg Ledman as General Manager of the club.
We are certainly glad the new owner has carried on the tradition of the Music City 9-Ball Open.
Tournament Director Steve McDonald had a busy weekend as 83 open division players and 27 ladies division players showed up for the competition
that was held on 7-foot Diamond Smart Tables with Simonis Cloth. With 28 Diamond Bar Tables, JOB provides the perfect venue for the event, asthey can handle a large number of players with ease. And this was one of the strongest fields ever for this event in both the Open Division and the Ladies Division.
This year all the action was covered via live streaming by AZ Billiards and Accu-Stats Video Productions. Pat Fleming, Julian Robertson, and Jerry Forsythe did agreat job providing fans everywhere with live pool action from JOB Accu-Stats will have DVD available in a few weeks for some of the premier matches, a first for the Music City 9-Ball Open.
Action got kicked-off Wednesday night with a 9-ball, race-to-9, single elimination mini tournament. Reining Volunteer State Champion, Josh Neil, came out on top.
The main tournament format is 9-ball, race-to-11, double elimination in the Open Division and race-to-7 in the Ladies Division.
This tournament has always been a full double elimination event, and this year the Open Division went the full two rounds in the final with, Hall of Famer, Johnny Archer defeating Johnathan Hennessee, former Music City Open Champion, in two sets.
Nick Hickerson, former Volunteer State Champion, finished a strong 3rd, with Hall of Famer, Buddy Hall rounding out the top four.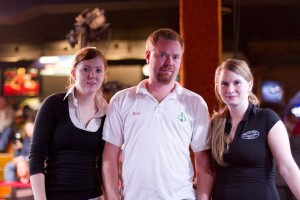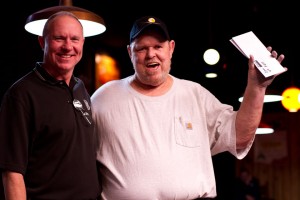 In the Ladies Division, WPBA Touring Pro, Brittany Bryant, went undefeated through the field to win over another WPBA Touring Pro, Nicole Keeney.
And yet another WPBA Touring Pro, Julie Kelly, played a great tournament finishing 3rd. Julie Kelly also played in the Open division finishing 13th,thus making a very busy weekend for herself. Lonnie Fox from Michigan rounded out the top four.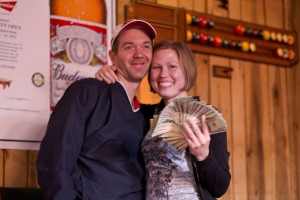 On Saturday night, JOB always has Midnight Madness at this tournament. This always proves to be a great event, as it is 8 players in a singleelimination format, race-to-11, winner take all. It is a $500 entry, so that makes $4000 to the winner. This year Johnathan Hennessee,defending Midnight Madness Champ from last year, won the Midnight Madness again, defeating Gabe Owen in the final.
World Champion and Hall of Famer, Nick Varner, was also on hand Saturday night selling his NV cues. So for a while Saturday night, we had 4 Hall of Famers at this event, Nick Varner, Buddy Hall, Johnny Archer, and Pat Fleming.
Raffle cues were given away just before the finals. The winners of the raffle cues were:
Jim Ward Alex Brick Custom Cue
Jim Whitney Nick Varner Cue
And as usual for JOB tournaments, Spider was there to take photos of all the action.
The following are tournament results: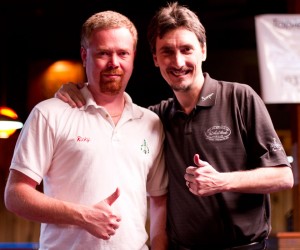 Open Division
1st Johnny Archer $3425
2nd Johnathan Hennessee $2445
3rd Nick Hickerson $1345
4th Buddy Hall $980
5th/6th Shane McMinn / Gabe Owen $735 ea
7th/8th John Gabriel / Chuck Raulston $550 ea
9-12 Gabe Appollos, Bobby Earl
Shawn Putnam, Randy Vaughn $245 ea
13-16 Phillip Livingston, Stevie Moore
Julie Kelly, Shane Winters $120 ea
Ladies Division
1st Brittany Bryant $840
2nd Nicole Keeney $630
3rd Julie Kelly $420
4th Lonnie Fox $310
5th/6th Kristan Tidwell / Amy Accera $210 ea