Tri-State Tour at Steinway Billiards in Astoria Queens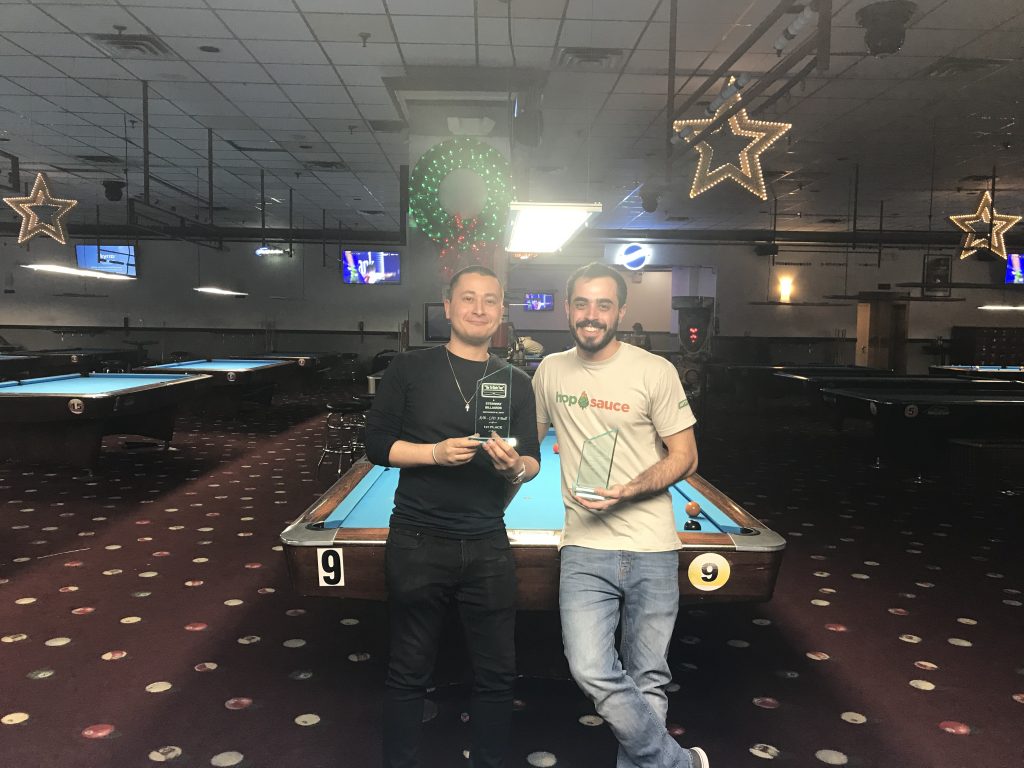 L2R
1st Max Watanabe
2nd Matt Klein
Sunday December 8th Steinway Billiards in Astoria Queens played host to its second tournament in as many days when 28 players came out to play 9Ball in the Tristate Tour's last event before the holiday season.
  The battle for the trophy would start early when two local player and friends would meet in the first match. Max Watanabe and Matt Klein the two highest ranked players at the event would match up with Max coming out the victor 7-4. Max would then move thru the field defeating Joe Mazzeo 7-5, Debra Pritchett 10-8, and Chris Schmidt 7-5 before moving to the hot seat.
 On the lower bracket heading to a matchup with Max would be Zain Sundraram who would start his day defeating recent winner Jason Goberdhan 6-0, Bob Toomey 6-1, Jim Gutierrez 6-3 , and Jose Ramos 6-1. He would then fight it out with Max, falling 8-6 due to the more experienced safeties played by Max Watanabe.
 Meanwhile on the one loss side Matt Klein would start a 8 round slog leading to a final tally of 63-42. This would include matches over Mikhail Kim 7-5, Steve Kalloo 7-3, Luis Lopez 9-7, Debra Pritchett 10-9, Eddie Medina 7-3, Chris Schmidt 7-3, and Jose Ramos 8-5. He would then match up in what would be the last match of the day that seemed destined to go to the person who made the fewest mistakes, Zain Sundraram. Zain and Matt would fight back and forth with Zain reaching the hill first with some incredible firepower and smart play but would let the tiniest of openings for Matt in the next rack allowing Matt to take control of the table and finish it off sending it to a hill-hill matchup. Again the rack would come down to offense vs defense and Matt would struggle to maintain control of the table. He would finish it off and so leaving the upcoming Zain with a highly respectable 3rd place.
  Max Watanabe and Matt Klein would then decide a chance to get out earlier than normal and some good nature ribbing on both parts would decide to split with Max Watanabe holding the trophy and bragging rights for now.
| | | |
| --- | --- | --- |
| 1st Place | Max Watanabe | 600 |
| 2nd Place | Matt Klein | 320 |
| 3rd Place | Zain Sundraram | 220 |
| 4th Place | Jose Ramos | 130 |
| 5th/6th Place | Chris Schmidt | 75 |
| 5th/6th Place | Adrian Daniel | 75 |