Ruslan Chinahov, Winner of the American Straight Pool Championship 14.1
15th Annual 2019
AMERICAN 14.1 STRAIGHT POOL CHAMPIONSHIP
Q Master Billiards, Virginia Beach, VA
Oct.22-26, 2019
Last year the American 14.1 shifted from long time venue, Diamond Billiards, Midlothian, VA to Carom Café, Flushing NY, and this year's 15th annual tournament moved to the famed Barry Behrman room, Q Master Billiards, Virginia Beach, VA., today managed by Barry's nephew, Gary Ornoff. What a job, what a venue. If you haven't visited Q Master, it is not to be missed. Our tournament staff and all the players unanimously agree that Q Master was far and away the best venue so far for the highly regarded American 14.1.
This year's 15th annual American Straight Pool was once again highlighted by a modest $300. entry fee, 42 players $12,600., and ADDED $30,000., 2 ½ x entries! with a first place $10,000.
Players began arriving into NY on Monday evening for some early practice on the beautiful Diamond tables. Best we've ever had, uniform, identical, perfect; all recently covered with Simonis 860 blue cloth and Tournament Pro Aramith balls and measle cue balls. Round Robin on Tuesday with a 42 player field divided into six flights each headed by a top player. Players came from around the globe including most of the world's top echelon of 14.1 aficionados and to insure fairness each flight was selected in the random blind draw at the players meeting.
As you see from charts, the round robin progressed very much according to Hoyle with each player playing six matches to 125 with others in their group. There were no unexpected upsets and the anticipated top 4 players in each flight advanced to the Single Elimination, guaranteed $700 (finish 17-24) even if knocked out in the first round. The six bracket winners plus the next two best were seeded #1-8 and received a first round bye in the elimination round and guaranteed $1,000. (finish at least 9-16). The other 16 players were seeded #9-24 based on W-L record and ball differential. See Elimination chart.
There were certainly some pleasant surprises with the 14 tight 4 ½" Diamond tables playing absolutely perfect and the $100. prize payout for any runout of 125 or 150 being tapped again and again! Players trying to break the bank on tough Diamond tables! And almost did. Just ask Ruslan Chinahov, the great young Russian player and eventual winner, who came over to the high run desk to collect his high run prize again and again! Great tournament Ruslan!
The Annual AMERICAN 14.1 STRAIGHT POOL CHAMPIONSHIP has become an integral part of the late October pool scene and this year's new venue, Q Master Billiards, long known as the home court of Barry Behrman's legendary U.S. Open, has now taken its place as one of the nation's premier rooms for the beautiful game of 14.1. Supported by Gary Ornoff and his terrific dedicated staff plus a superb free live stream table managed by Jake Lawson & BSN Billiard Sports Network's state-of-the-art video equipment with top notch pros doing colorful commentary, this year's tournament flowed smoothly and without incident throughout the five days. If you watched in person or viewed any of the live streaming you could not miss the high quality of this year's 15th annual American 14.1 championship.
Compliments are in order for the strong showing by some of the world's top 14.1 players. Max Lechner. Wow! Just a beautiful game and a great tournament in his first visit. Young Mr. Marco Teutscher came all the way from Auckland, N.Z. and played strong every match before finally succumbing to the great Alex P. 150-137 in the semi-finals. And how about tournament winner Ruslan Chinahov! All of us who watched this young man stand in awe of his magnificent game. Superlative in every way.
Just so many terrific matches by the world's greatest modern day 14.1 players. All who watched would surely agree. Congratulations and a tip of the old fedora to everyone who helped make this year's 15th annual American 14.1 Straight Pool Championship a huge success. Thanks to our many dedicated sponsors, Ivan Lee and Simonis Cloth and Aramith Balls, Predator Group & Karim Belhaj. Dennis Walsh & Derby City 14.1. Bob Jewett, Berkeley, CA, Peter & Sandy Sears, Madison, WI, Nate Sulinski; Erik Addington, Rebecca Burrows, George Hart, and our tournament committee, Andy Lincoln, Michael & Darren Frank and our many generous sponsors. Our deep thanks and appreciation to gracious Gary Ornoff, Q Master Billiards   What a beautiful job they did. Superlative in every way! Thank you! And to Jake Lawson & BSN for his great work with out free Live Stream.
Congratulations to our winner, 2018 American 14.1 Straight Pool Champion, currently ranked the No. #1 player in the world, Eklent Kaci who defeated all time great and always gracious and humble many time Champion, Thorsten Hohmann. Their final match to 200 began Friday evening at seven and was nip & tuck for three hours. Exciting for sure. Key scratches along the way by both players with virtually no balls being simply missed. Thorsten, had two runs of 125 and the tournament HR of 144, but his late unfortunate scratch lead to his only loss over four days opened the door for Eklent who ran 80 plus out to take the title.
Peter Burrows, Chairman
2014 American 14.1 Straight Pool Championship
410-757-3488; peterpool@comcast.net
Credit picture to Tony Fox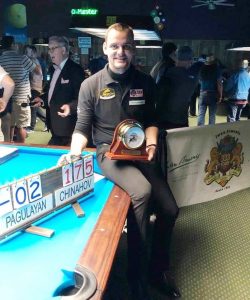 Tournament winner Ruslan Chinahov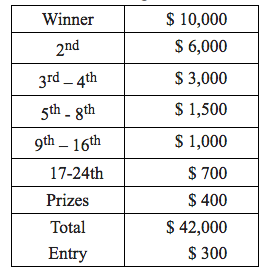 Finally, we must give thanks to the dozens of top pros for their continued patronage of our tournament for without them we would not have a chance to witness their magnificent skills in this beautiful and historic game of 14.1. Their time and schedules are valued and each one made a yeoman effort to come to Virginia and play. God willing we hope to see everyone back again next year, October 2020.
To players who could not make it this year, you were missed and we hope that you'll return 2020, same time, same place! See you then. Peter Burrows