Jayson Shaw WinsThe International 9-Ball Open Norfolk, Virginia, USA 2019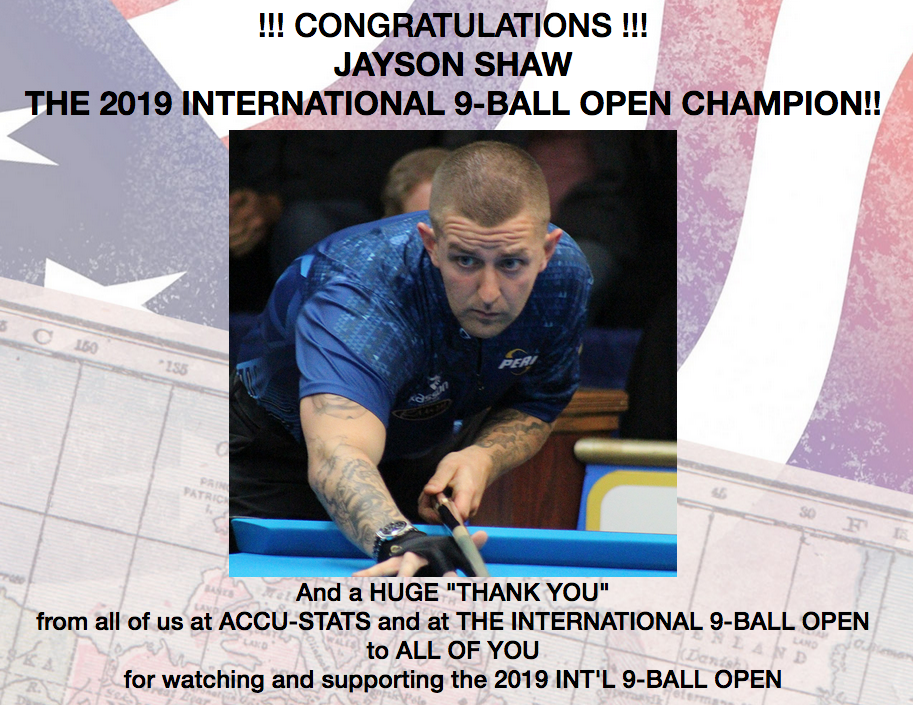 Courtesy AZB Staff
Jayson Shaw
held off multiple runs by Austrian newcomer
Maximilian Lechner
to capture first place at the International 9-Ball Open on November 2nd at the Sheraton Waterside Hotel in Norfolk, Virginia.
Shaw had one blemish on this record, an 11-5 loss to Ko on day four of the event. He recovered from that loss with wins over Franciso Sanchez-Ruiz,
James Aranas
, Alex Kazakis,
Justin Bergman
and Joshua Filler to earn his place in the finals.
Shaw got off to a slow start in the finals, as he missed a 4-ball in the first rack and didn't get back to the table until rack three. As would be expected though, Shaw's "big game" experience soon gave him an edge. Shaw came back to 2-2 and 3-3 with keen defensive play,  "out-moving" Lechner in multiple safety battles.
Shaw took his first lead at 4-3 and he quickly extended that lead to 6-3 and looked to be in control of the match. Lechner took advantage of a rare bad safety from Shaw in rack ten to get back to 6-4 and then had back to back early 9-balls to tie things back up at 6-6.
Nerves seemed to get the better of Lechner at this point in the match, as a poor safety in rack thirteen and a missed ball in rack fourteen turned control back to Shaw. He then extended his lead back to three at 9-6 with his first break and run in rack fifteen.
Lechner had another run in him though, as he drew back to within one rack at 9-8 down. The players exchanged racks for a 10-9 scoreline and then nerves once again reared their ugly head as Lechner missed a long 2-ball with a wide open table and Shaw cleared the rack for an 11-9 lead. Lechner would come to the table again in rack twenty one with a wide open table, but a miscue led to a 12-9 Shaw lead.
Lechner came with yet another run, taking racks twenty two and twenty three for a 12-11 scoreline.
Rack twenty four would be one for Shaw's highlight reel. Shaw jumped out of a Lechner safety to pocket the 1-ball and followed that up with another jumpshot to make the 2-ball. Shaw then navigated a difficult table to run out for the 13-11 victory.
The win was worth $30,000 for Shaw, while Lechner took $18,000 for second place. Joshua Filler finished in 3rd and earned $12,000 in prize money.
 Any Questions? Contact:
Pat Fleming
Accu-Stats Video Productions
PO Box 299
Bloomingdale, NJ 07403
973-838-7089
pat.fleming@international9ballopen.com