Tri-State event on June 9, 2019, at Cue Bar, Bell Blvd., Bayside, Queens, NY.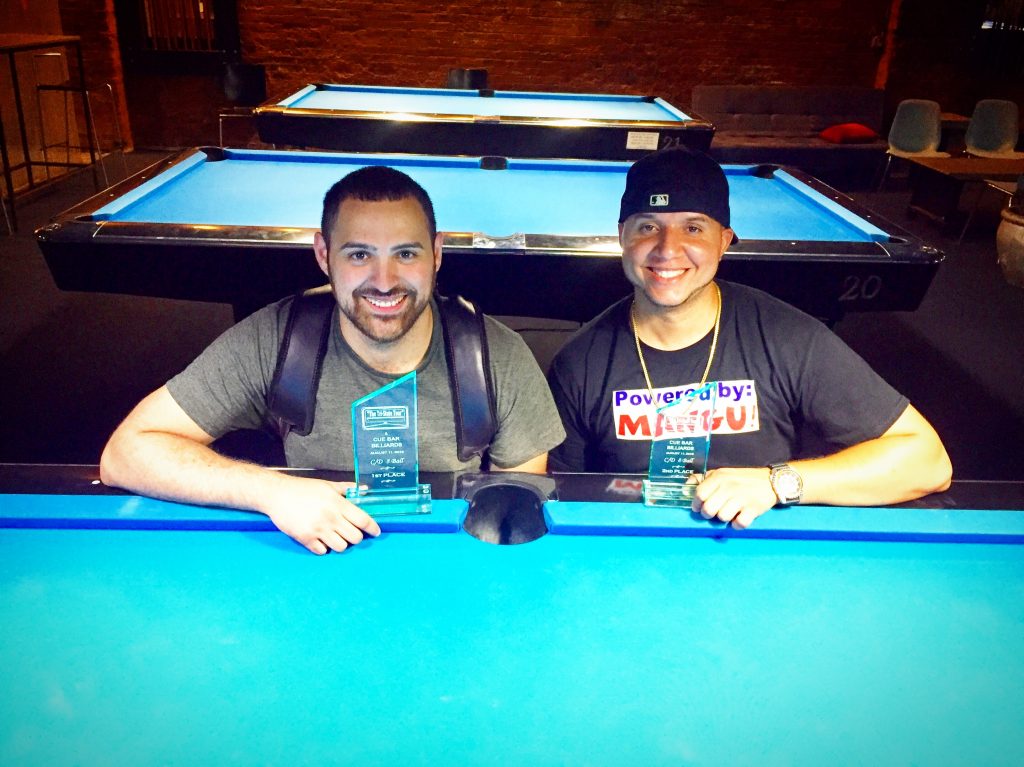 Photo of the following players left to right

1st  place        Omar Hulse
 2nd place       
Euryel Castill
Omar Hulse undefeated in Tri-State at Cue Bar Lounge & Billiards, (Bayside, Queens, NY) tournament. Omar's winning trail to victory included wins over Rick Rodriguez 5 – 1; Mike Strassberg 5 – 2; Allison LaFleur 5 – 2; Ambi Estevez 5 – 3; and Jowen Pichardo 5 – 3 for the Hot Seat. The Final between Omar Hulse and Euryel Castillo see sawed; however Omar took advantage of a missed shot and claimed the victory 5 – 3. The next Tri-State event will be on August 17, 2019 at Steinway Billiards, Astoria, Queens, NY. Please provide a thank you to Ozone Billiards, Sterling-Gaming, Kamui Tips, Phil Capelle, Pool & Billiards, Professor Q Ball, Bender Cues, Paul Dayton Cues, Bludworth Ball Cleaner, Joe Romer Trophies and Quick Slick for their sponsorship leading to this event.
| | | |
| --- | --- | --- |
| Place | Player | Cash |
| 1st Place | Omar Hulse | 500 |
| 2nd Place | Euryel Castillo | 300 |
| 3rd Place | Jowen Pichardo | 180 |
| 4th Place | Allison LaFleur | 100 |
| 5th/6th Place | Suzzie Wong | 70 |
| 5th/6th Place | Ambi Estevez | 70 |