AUSTRIA ARE BETVICTOR WORLD CUP OF POOL CHAMPIONS AGAIN-RECORD VIEWERS TUNE IN TO BETVICTOR WORLD CUP OF POOL
RECORD VIEWERS TUNE IN TO BETVICTOR WORLD CUP OF POOL
The 2019 BetVictor World Cup of Pool enjoyed record viewing figures on Sky Sports, Matchroom Multi Sport is pleased to confirm.
Viewership across the six-day event rose considerably on 2018 figures as pool fans tuned in to see Austria win the title for a second time, emphatically defeating Philippines in the final at Leicester's Morningside Arena. In addition, the tournament reached over 1million fans globally on Facebook.
The BetVictor World Cup of Pool was broadcast live in over 100 countries around the world, including on DAZN in America, Germany, Canada, Austria, Switzerland, Brazil, Japan, Italy and Spain.
Matchroom Multi Sport Chief Operating Officer Emily Frazer commented: "The BetVictor World Cup of Pool is a unique and world class event showcasing the best teams Globally in 9-ball pool. With a tweak in the break rules for 2019, we challenged all 64 players as well as ensured close, tense matches which proved for enjoyable and wider viewership.
"Making World Cup history of tripling our peak UK viewership from previous years we are now setting the bar high at the level of the Mosconi Cup a couple years back. This event has great potential to grow further and this proves we're on the right track to making that happen!"
The BetVictor World Cup of Pool is sponsored by Rasson Billiards, who supply the Official Table; the cloth is supplied by Iwan Simonis and the Official Balls are Super Aramith by Saluc. Predator are the Official Cue of the event and Kamui the Official Chalk and Tip.
AUSTRIA ARE BETVICTOR WORLD CUP OF POOL CHAMPIONS AGAIN
The Final
Philippines 3-11 Austria
Austria are BetVictor World Cup of Pool Champions for a second time after storming to an 11-3 victory over Philippines at the Morningside Arena, Leicester, live on Sky Sports and DAZN.
Mario He and Albin Ouschan were exceptional in the final, delivering blow after blow to the Filipino pairing of Jeff De Luna and Carlo Biado.
Both teams had won this event previously; Philippines in 2006, 2009 and 2013 and Austria in 2017. Ouschan and He lifted the trophy that year and made the final 12 months ago, but this was the first time the Filipino pairing of Biado and De Luna had reached the title match together.
Austria had defeated Croatia, Hong Kong, Greece and Spain to reach the final and only conceded eight racks from the quarter-final until the moment they lifted the trophy.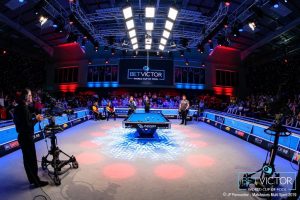 Philippines – who defeated Czech Republic, Albania, Canada, and Netherlands en-route – won the lag in the final and De Luna took the attacking shot on a risky 2-ball cut. When he missed it, Austria pounced to draw first blood. Ouschan then failed on an open 1 and Philippines cleared, only for De Luna to send the cue off the table when breaking in the third and this time it was Austria who completed the set.
Another mistake by 2016 World 9-Ball champion Ouschan allowed Philippines to level again. From that stage, though, Austria opened up a big lead, winning on Philippines' break and running out from their own to get 4-2 ahead. Their clinical shooting took them to 6-2 but Biado responded when he needed to with a nice 5/9 combo.
Austria, though, weren't going to allow their opponents back into it and quickly took out two more games for an 8-3 lead and soon they had 9. He then took out a 2/9 to take his team to the hill and Austria claimed their second BetVictor World Cup of Pool title in the very next rack after De Luna missed a 3/7 and Austria cleared for the win.
"I feel really great, I am really happy to win," said He. "It means the world, especially playing with Albin. We play great together and it is a joy for me to play with him.
"I was a little nervous in the first round but Albin helped me out and after that I played really well. I didn't feel like this when we won in 2017. It is a great feeling, and also because I had to miss the Mosconi Cup.
Ouschan added: "I was quite nervous and didn't feel great in the final but Mario played super strong all tournament, it is great to have him. I made some positional errors but he helped me out; he played so strong, especially in the final. I am more than happy to win again.
"There is no secret. We practice doubles three days a year, so there is no big secret but we are a good pair. We know each other very well and travel around the world together all year. Maybe that is the secret, I don't know but we are good friends and we make the perfect pairing."
The BetVictor World Cup of Pool was broadcast live in over 100 countries around the world, including on Sky Sports and DAZN.