Added Attraction Florian'Venom' Kohler & Mazin Shooni Champion
https://www.youtube.com/watch?v=ct25Pg_peZ0
Famous Trick Shot artist Florian "The Venom" Kohler will entertain pool and 3-cushion billiard players at the fabulous Casino Del Sol!  "Amazin Mazin" Shooni will follow with 3-cushion lessons free for all.
Billiards has never seen such a spark of energy and excitement,
until viral sensation emerged on YouTube 11 years ago. With
well over 100 million views on YouTube and over 670,000
subscribers, Florian "Venom" Kohler gave pool and billiards
what it needed to make a resurgence in main stream media.
Florian Kohler is also a multiple Guiness World Record holder,
Longest Usable Pool Cue, Most Pool Balls potted into the
middle pocket over an obstacle in one minute, and Highest
Jump Pot of a billiard ball. Florian is best known for his
spectacular artistic billiard displays on Venom Trickshots I & II.
In the last year, he has ventured into the world of 3-Cushion
Billiards"¦not only is he learning the game, but also creating
trickshots on the carom table.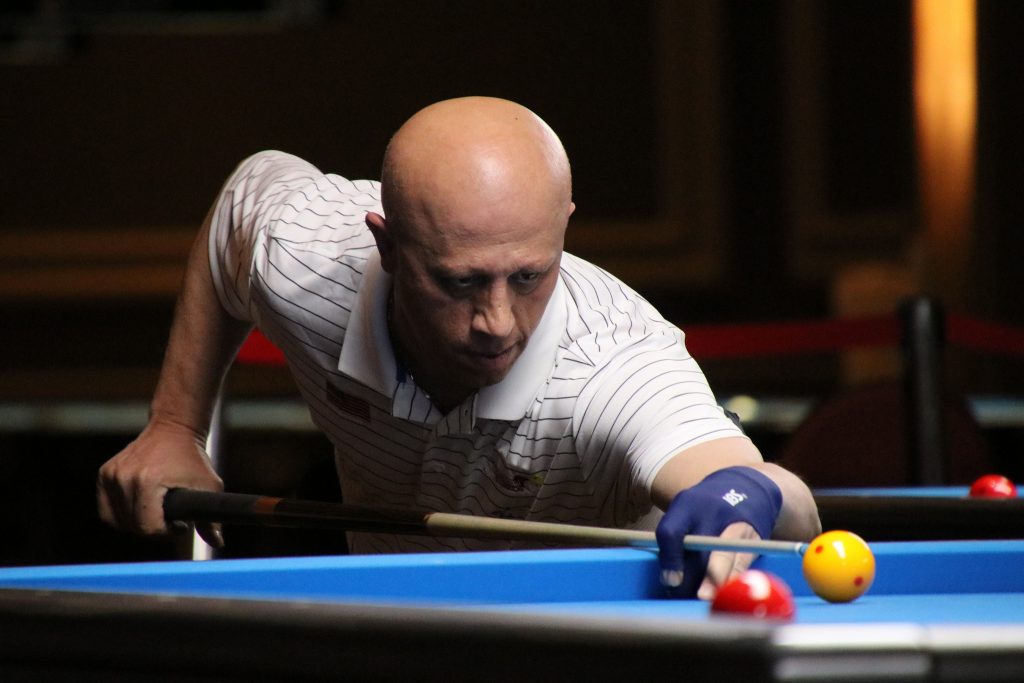 3-Cushion Billiards in the United States is fortunate to have a player and leader with such pride and passion in the game and our country, as Mazin Shooni.
Mazin has been playing billiards all his life, across the world and country in tournaments from Detroit, Los Angeles, Las Vegas, Florida, the East Coast and Hawaii. As the 2006 National Champion, no one knows more about billiards than him. As the USBA president, he has to expand billiards in America and put together many events. He has coordinated numerous National Championships, Amateur Events, Scotch Doubles tournaments and many exhibitions to attract more players to the game of caroms.

And the winners are
1st   Bilal Khalifa  / Vicky Pineda
2nd  Ricardo Carranco / Allen Castillo
3rd   Khalil Diab / Diab Najm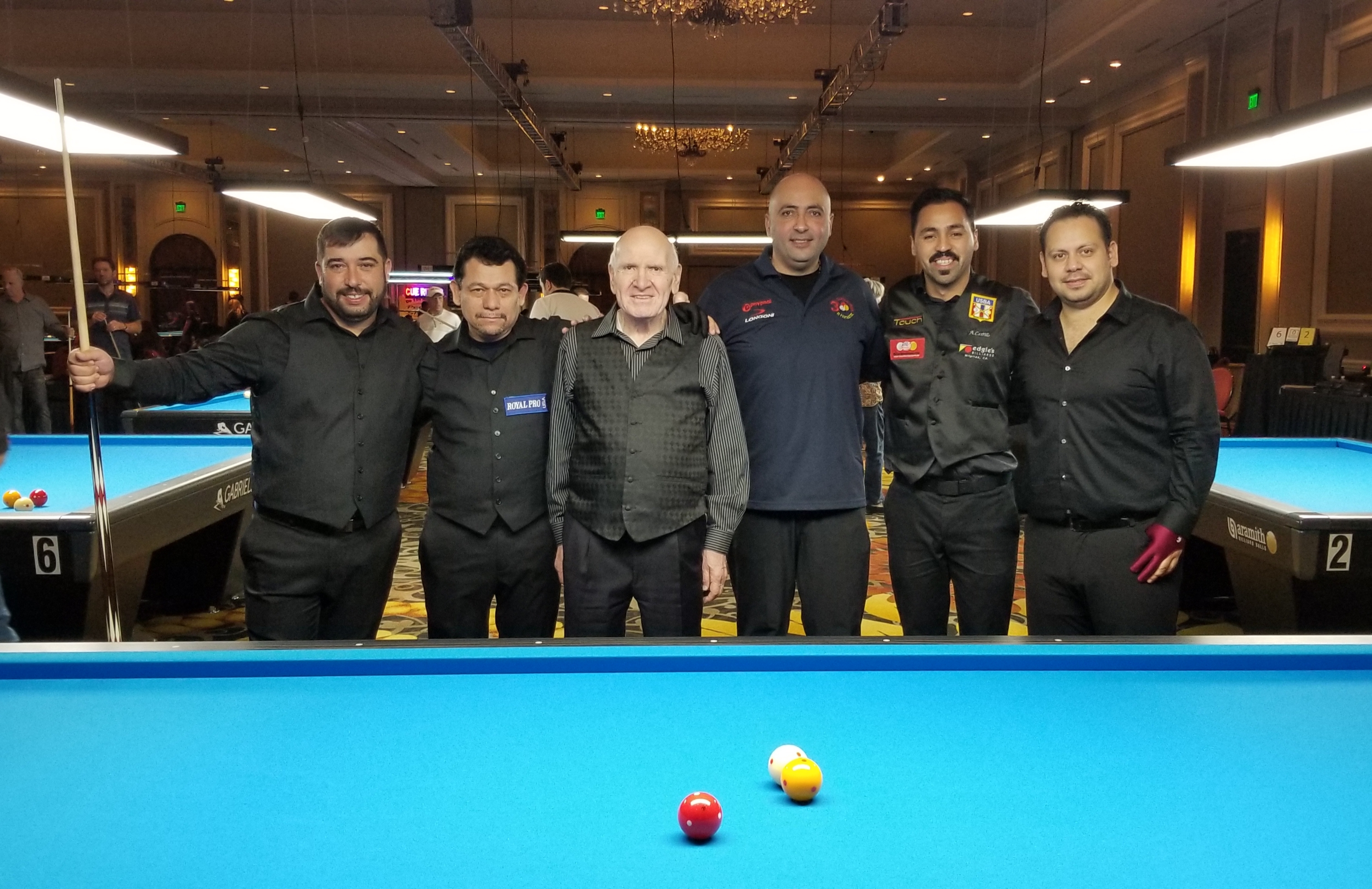 Left To Right Bilal Khalifa, Vicke Pineda, Khalil Diab, Gilbert Najm, Allen Castillo, Ricky Carranco
PRELIMS CHARTS BELOW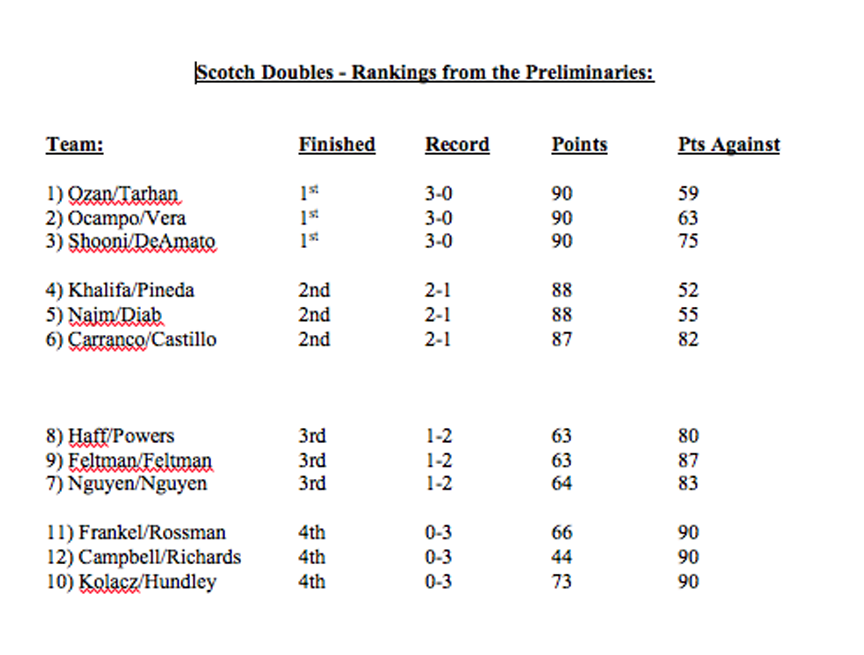 Prize Breakdown:
1st place team — $3000
2nd place team — $2000
3rd place team —  $1000
4th place team — $500
5th place team — $500
6th place team — $500
Hi-run of tournament — $500