2018 partypoker Mosconi Cup XXV – Day 2
Europe 4 – 6 USA
Match 6        Jayson Shaw 5 – 2 Shane van Boening
Match 7        Feijen & Kazakis 3 – 5 Woodward & Van Boening
Match 8        Albin Ouschan 5 – 3 Corey Deuel
Match 9        Kaci & Shaw 2 – 5 Thorpe & Styer
Match 10      Eklent Kaci 3 – 5 Billy Thorpe
THERE WAS more drama on Wednesday evening at the Alexandra Palace as the partypoker Mosconi Cup continued with five more matches. In the end it was another 3-2 session win for Team USA and at the half-way stage, the seemingly impossible American victory is now a possibility.
USA captain Johan Ruijsink said, "After the first match we showed we were a team by picking up the next point immediately and get back in the lead.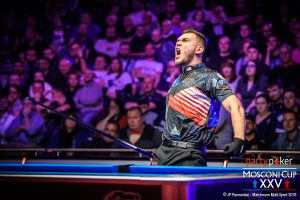 "It was a nervous day because it was important that if we won two days, and I know a lot of people wouldn't have thought this before we started, but we now actually have a chance to win the Mosconi Cup.
"That's how important it was. We don't care what they do, we don't care what the audience does, we don't care about anybody, we just care about us," he added.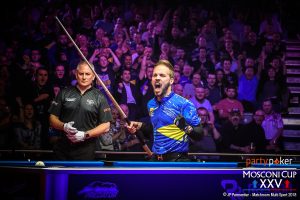 With another 2,000-plus crowd in attendance the atmosphere was like nothing else seen in pool and in a high-tension opener, Jayson Shaw avenged his 0-5 defeat to Shane Van Boening the previous night with a superb 5-2 win against the American. The Scotsman's adrenalin was coursing as he entered the arena and it ultimately worked for him as he fired up the crowd up to new heights.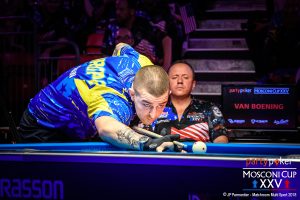 Every step of the way Shaw urged the huge crowd on, celebrating every success and when he downed the final 9 there was pandemonium as the overall score moved to 3-each.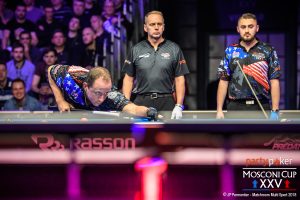 Van Boening however, had a trick up his sleeve as he returned in the next match accompanied by Skyler Woodward to secure an outstanding come-from-behind victory over Niels Feijen and Kazakis. Trailing 1-3 things. looked ominous but the American duo clawed back the racks as the Euros wilted.
That restored the American's one-point lead before Albin Ouschan put in an ice-cool performance to beat veteran Corey Deuel 5-3 and get the crowd back on song.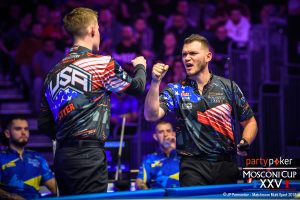 Commented the Austrian star, "I felt really good. Jason gave me so much power in the previous match against Shane so I was feeling really good and I was ready for it. I could never do what Jayson does [around the table], because for him it gives him extra power but for me it gives me extra pressure. I am just staying calm like an iceman."
Parity didn't last long as the stylish youngster Tyler Styer, coupled with Billy Thorpe, dominated to beat Klenti Kaci and Jayson Shaw to put the US 5-4 ahead. Kaci was a bundle of nerves and made some telling mistakes whilst his fellow debutant, Styer was as cool as he was in his singles win against Niels Feijen the day before. The Wisconsin native was calmness personified as he coached his partner through some tricky moments and the US duo thoroughly deserved the point.
The final match was a telling win for America as Billy Thorpe completed a miserable double for Klenti Kaci to give the USA a two-point lead at the halfway stage. Kaci never looked at ease in the arena and made a couple of glaring misses to assist Thorpe.
The Ohioan though, played with fire as he sensed Kaci's discomfort as the match slipped away from him. In a night of celebrations, Thorpe's relief at the end was as good as anyone's.