THE 7th ANNUAL MARTI & BOB TRACY MEMORIAL
3-CUSHION BILLIARD TOURNAMENT
October 5 – 7, 2018. Thirty-two 3-cushion billiard players from six states were invited to compete in the above mentioned tournament. These players were divided into four groups of eight. Within these groups (red, white, blue, and yellow) we ran a round-robin competition. These groups were composed of "B" players, "C+" players, and "C" players. Two "B" players and two "C+" players from each group were selected to advance to the final round-robin competition. Three of the best "C" players went to a mini round-robin final competition. One hundred and forty-four matches were played on our six Gabriels billiard tables, four of which had their rails recovered that previous week. The hectic schedule was well rewarded by the $6400 prize fund. Each group ("B", "C+", and "C") were given various amounts based on how many of each group participated (see payouts below).
In the "B" division first place went to a Turk living in Seattle, Ertan Tarhan. He and a player from Milpitas, California (Eduardo Avila) had tied in wins and losses and total points but Ertan had defeated Eduardo 20 – 19. Another very strong player from Milpitas, Allen Castillo, finished third and yet another player from Milpitas (Tony Jimenez) finished fourth.
In the "C+" division it all came down to the last match. (Brad Kille of Washougal, Washington had already captured fourth place). Galen Lee from Union City, California was undefeated going into that match. His two main opponents, Bob Hilton (an Ashland Elk) and Rudy Vigil (also an Ashland Elk) had one loss each. Rudy finished with a win giving him a 6 – 1 record in the finals. In his loss he had scored 14 points. Bob had scored 8 points in his one loss but had to defeat Galen to get first, second, or third. If Galen lost but scored 15 or more points he would finish in first place; if he scored 9 points but less than 15 points he would finish in second place; if he scored less than than 8 points he would finish third.
And sure enough he only scored 7 points so Rudy Vigil won first place and Bob Hilton won second place with Galen finishing third! WAY TO GO ASHLAND ELKS!!
In the "C" finals Richard Kenney from Meridian, Idaho finished third. In second place was Duke Clark of Clearwater, Florida. First place was awarded to a total newcomer, Bill Villireal, of Sacramento, California.
My wife, Ashland Elk Alice Thomsen, did most of the scoring and kept the players aware of when they were were up. Our Ashland Elks maintenance man, Raymond Hanson, was a Godsend. He helped us set-up and tear-down tables, made sure water was available to all and kept the coffee coming all three days. A big thanks to Raymond. The Ashland bar manager, Paul, and his great staff also helped keep the tournament running. The Ashland Elks gave us a great buffet on Saturday evening that was well attended by twenty-two of our players. Thanks to the cooks and staff for that lovely meal.
RESULTS –             CLICK ON LINKS TO SEE CHARTS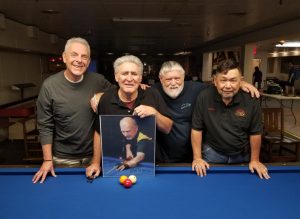 Tracy Tourney 2018 B Finals
"B" division
1st – Ertan Tarhan $1009
2nd – Eduardo Avila$ 729
3rd – Allen Castillo $ 505
4th – Tony Jimenez $ 337
High run – John Fleming $20
5th – 8th – Homero Landa; Neal Olson; Mark Hansen; Jim Henrickson
They each received $50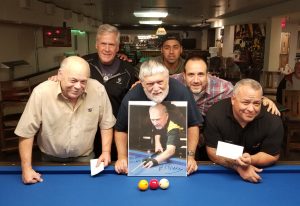 Tracy Tourney 2018 C+ Finals
"C+" division
1st – Rudy Vigil $ 831
2nd – Bob Hilton $ 611
3rd – Galen Lee $ 435
4th – Brad Kille $ 303
High Run – Bernie Pettipiece $20
5th – 8th – Bernie Pettipiece; J R Greenlee; Marc Smith; Tim Poole
They each received $50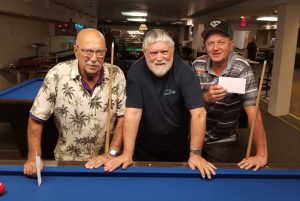 Tracy Tourney 2018 C Finals
"C" division
1st – Bill Villireal $ 570
2nd – Duke Clark $ 460
3rd – Richard Kenney $ 350
High Run – Duke Clark $ 20
Respectfully submitted,
Tom Thomsen, Ashland Elk
tournament chairman