JO Ladies Tour 4th Stop: 3rd Annual Emma Davis Memorial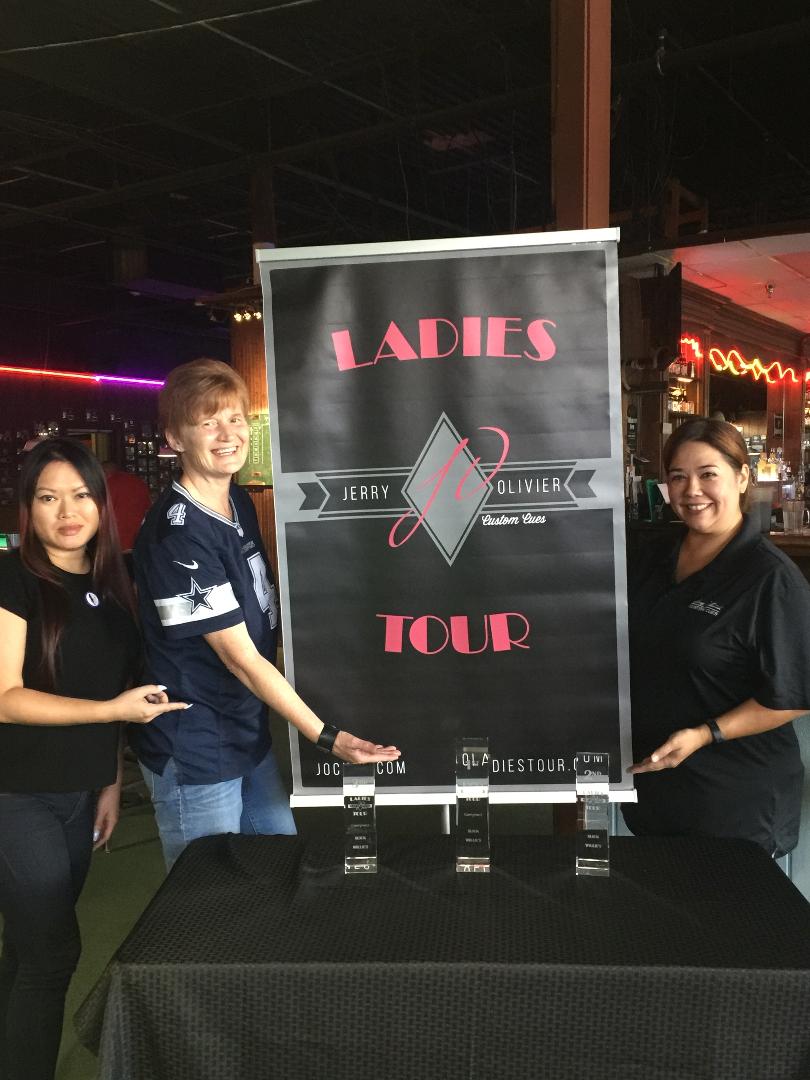 Main Event Top Finishers (L-R): Tam Trinh(3rd), Orietta Strickland (2nd), Michelle Cortez (1st)
On the weekend of September 15-16th, 2018, thirty-seven women descended onto the great state of Texas's capital to battle for the top prize at the Jerry Olivier's Ladies Tour's 4th Stop, held at Slick Willie's on Burnett Road. The September event in Austin is significant to the members of the JO Tour, as it is the stop where we take the time to remember one of our own, Emma Stewart Davis who, three years ago, left us unexpectedly. We know you're watching, Emma!
On hand to show his support for the women and to provide cue repair services, was renowned cue maker and tour sponsor, Jerry Olivier. Jerry has always been a staunch supporter of women's billiards and it was no different this weekend.   Thank you, Jerry, for all that you do! You can check out his cues on jocues.com or talk to him about having a custom cue made!
At the pre-tournament player's meeting Saturday morning, it was revealed that one of the original Hunters/OB/JO Cues Tour Board Members was resigning. After dedicating 20+ years to the tour, Shayla Neris decided it was time to close this chapter in her life and forge on as a full-time player. "It was just time" Shayla says, "but I'll be back as a player and not on the board!" We will miss her and the time and effort she has devoted to helping make this tour a success!
Onto the battles"¦ with $2000 added to the prize money, the women were ready to fight. Saturday began with 37 but ended with 12. On the A side, the returning Sunday matches would be Natalie Mans (Houston) vs Michelle Cortez (Austin) and Jennifer Kraber (Austin) vs Tam Trinh (Austin). Natalie's quest started with wins against Margaret Fox (Austin) 7-6, Tina Soto (Dallas) 7-4, Veronica "Pistol" Perez (Austin) 7-5, and Teresa Garland (Houston) 7-5. Michelle took on the always tough opponent "Bye," Tera Saunders (Dallas) 7-2, Gail Roles (College Station) 7-3, and Darcy Durham (Austin) 7-0. Jennifer's day consisted of Nicole Menitz (Austin) 7-3, Kitty Poutthaung (Dallas) 7-4, Orietta Strickland (Dallas) 7-5, and Kimberly Brown (Waco) 7-1. Tam stacked up wins against the always tough "Bye," Melissa Smith (Denton) 7-6, Kim Pierce (Austin) 7-5, and Belinda Lee (Houston) 7-5. The one-loss side had 8 women returning on Sunday. Matchups were Yvonne "The Casher" Asher (Houston) vs Kimberly Brown (Waco); Rachel Hurst (Austin) vs Belinda Lee (Houston); Kelly Isaac (Waco) vs Teresa Garland (Houston); and Orietta Strickland (Dallas) vs Darcy Durham (Austin).
With the one loss side returning at 10am on Sunday, Yvonne defeated Kimberly 7-3, Belinda defeated Rachel 7-4, Teresa defeated Kelly 7-6, and Orietta defeated Darcy 7-1. However, they did not leave empty-handed as they shared the winnings for 9th through 12th at $35 each. Free play for the weekend! On the No Loss Side, Michelle was victorious over Natalie 7-2 and Tam over Jennifer in a hill-hill thriller. As those matches progressed, the one loss side women were at it again and this time it would be Belinda barely edging out Yvonne in another hill-hill thriller and Orietta defeating Teresa 7-5. Yvonne and Teresa, both members of the JO Ladies Tour Board and sponsored by Jerry Olivier, went home with the 7-8th place finishes at $95 each. (Yes, Yvonne "the Casher" Asher lived up to her new nickname"¦)
The fight to advance past 5-6th matched up two friends who are also road partners and opponents who had already faced each other the day before – Belinda vs Natalie and Orietta vs Jennifer. Belinda and Orietta ended up victorious in those matches, 7-3 and 7-4 respectively, but Natalie and Jennifer earned $170 each for their 5th-6th finish.
The hot seat match was a great display of Austin women's billiard skills. Michelle and Tam battled it out, trading blows until it was another hill-hill matchup. In the end, Michelle was victorious. Meanwhile on the other side, Belinda and Orietta had to face each other and after the score was tied 4-4, Orietta made a charge and beat Belinda 7-4 while earning a 9 ball on the snap lottery ticket! Belinda went home with the 4th place prize at $335.
Tam went to the one loss side seeking revenge but she had to go through Orietta first. Orietta would prove that she's 2017 Tour Champion for a reason and beat Tam 7-3. In a true double elimination format, Orietta would have to defeat Michelle twice in order to go home as the winner. Michelle had other plans – she beat Orietta 7-3 and called it a day earning her the nickname Michelle "The Conqueror" Cortez. Congratulations to Michelle! This is her second win in three years at this particular stop! For their efforts, Tam went home with $450 for 3rd place, Orietta went home with $600 for 2nd, and Michelle, went home with the top prize of $770! Not bad for a weekend of doing a labor of love!
Not to be forgotten were the women of the "Best of the Rest" Tournament held on Sunday. Twelve women returned to duke it out and the winner was Gail "Thunder" Roles (College Station). Board member Monica Anderson (Dallas) came in 2nd. Austin's own Kim "Texas Heat"Pierce, who is also a Jerry Olivier sponsored player, finished 3rd and Tina Soto (Dallas) 4th. Congratulations to these ladies for taking another shot and winning!
Second Chance Top Finishers (L-R): Monica Anderson (2nd), Gail Roles (1st)
As always, the stop was a combination of fun, laughter, and serious concentration to hone in the pool skills. We look forward to seeing everyone at the Championship Stop at Legend's Billiards the weekend of November 3-4, where the hosts Mindy and Craig Cohen have generously added in an additional $1000 to make it a total of $3000 to the prize fund!!! So come on out and join us! We welcome players of all skill levels and look forward to meeting new players! More details of the final stop will be out soon so be sure to check out the website joladiestour.com for the most up to date information! Tickets are available for cue raffles! Please contact Yvonne Asher for more details!
Final Results:
JO Ladies Tour 4th Stop (Emma Stewart Davis Memorial)
Main Event:
1st             Michelle Cortez            $770
2nd             Orietta Strickland      $600
3rd             Tam Trinh                     $450
4th             Belinda Lee                    $335
5th-6th      Natalie Mans                  $170
Jennifer Kraber            $170
7th-8th   Yvonne Asher        $95
Teresa Garland                    $95
9th-12th    Kimberly Brown    $35
Rachel Hurst                        $35
Kelly Isaac                             $35
Darcy Durham                       $35
Best of the Rest:
1st            Gail Roles                    $95
2nd            Monica Anderson         $65
3rd            Kim Pierce                      $40
4th             Tina Soto                        $20