TEAM EUROPE ARE CHAMPIONS of the partypoker Mosconi Cup 2017
Filler beats Hatch 5-3 in a thrilling final match of the partypoker Mosconi Cup XXIV. Team Europe win for the 8th successive year!
More Mosconi Glory for Europe
 Europe 11 – 4 USA
IT WAS MVP JOSH FILLER who delivered the final blow as Team Europe wrapped up a comfortable 11-4 win to retain the partypoker Mosconi Cup for a record-breaking seventh time. Needing just one point after dominating the opening two days of the tournament, it was 20-year-old Filler who beat rival Dennis Hatch to seal the deal for Europe.
Despite an ominous feel about the arena, the fans turned out in their droves to the Mandalay Bay Convention Centre to witness a glorious celebration as the European team revelled in their magnificent victory. CHECK OUT THE PHOTO'S
 For European captain Marcus Chamat it was win No.3 after taking the helm in 2015 and he seems to have the magic touch.
"I am overwhelmed! The way we played, the way we came as a team and stood beside each other from the beginning," said an emotional Chamat.
 "The American team tried hard and did good. It was a battle and things could have gone the other way in the middle of yesterday.
 "In the end, hard work pays off – successful people work hard and that is what these guys did."
 For Joshua Filler it was a dream end to a dream debut as his captain presented him with the Most Valuable Player Award.
 Filler, who ran undefeated through the tournament, winning two doubles and two singles matches, was delighted; "It couldn't get better than this. This is the best team with the best team spirit. I am lucky I have this team, they are always supporting me and without these guys we wouldn't win the Mosconi Cup eight times in a row."
 For the American side, it was another humbling defeat. Captain Johan Ruijsink it was a bitter blow after putting in so much preparation with the team over the preceding months.
 He said, "We took a different approach as to how we prepare and we did well but when we came out there we didn't bring enough quality to beat Europe."
 Follow the Partypoker Mosconi Cup on www.mosconicup.com and @mosconicup across social media.
DAY 4
This was the line-up for the final day of partypoker Mosconi Cup XXIV. First to 11 points wins the Cup!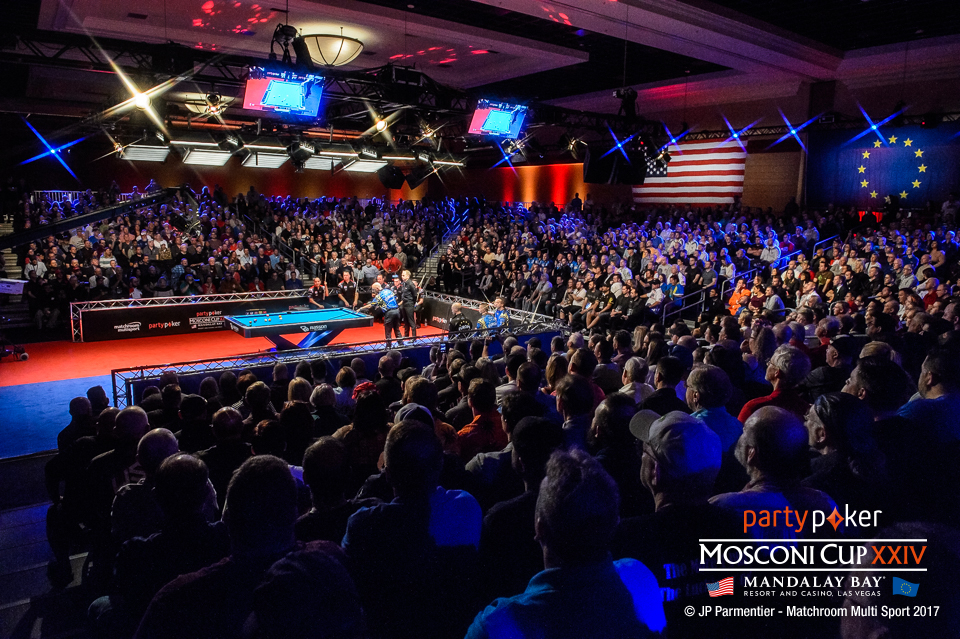 TEAM EUROPE hold a comfortable 4-1 lead after the opening day of the 2017 partypoker Mosconi Cup after controlling most of the play in a session that had the distinct feel of one-way-traffic. Only Shane Van Boening's win over Jayson Shaw in the final match saved the USA from a total white-wash as well as giving his side a glimmer of hope for tomorrow's matches.