Chinese Billiards Market is Soaring
Chinese Billiards Market is Soaring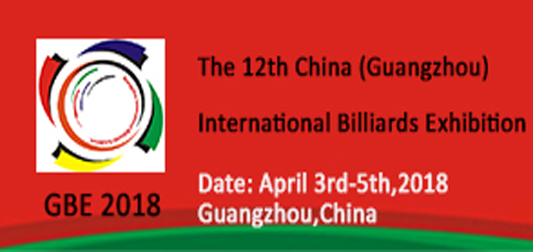 By GBE Committee
Will Chinese billiards market sink or soar? Maybe that would be a big headache for Chinese billiards insiders decades ago, but for now, the future for billiards development in China is encouraging and assuring, which could be well illustrated from reasons below.
Hard Power in Billiards
More than 120 million Chinese reportedly have been much engaged in playing this sport in 2017. Allured by such tremendous and profitable market, the billiards accessories suppliers at home and abroad manage to take a share of it.
To enlarge the market share in China even all over the world, China Guangzhou International Billiards Exhibition(GBE) must be the first choice for insiders. That GBE's loyal exhibitors like worldwide brands Cyclop, Aramith, Strachan 6811, Simonis, Leo, Riley Cue, McDermott Cue, Ball Teck Korea, Meilin, ect choose it is the best prove. Of course, you will see them on GBE2018 because they have booked or reserved the booths for 2018.
Undoubtedly, the booming of billiards market in China also benefited from the profound changes on billiards culture and awareness.
Soft Power in Billiards
Driven by the extraordinary achievements made by Chinese snooker players like Ding Junhui, Liang Wenbo, Chinese billiards culture is intrinsically underscored! More and more competitions are set in order to ramp up the billiards culture and prosperity.
According to the statistics issued by China Billiards Association, there were 6 out of 18 world-known snooker competitions held in China in 2016, including China Professional Tour, World Open, Shanghai Masters, Haining Open, International Championship, China Championship.
A host of domestic billiards events are also outlined every year. In Jiangsu province, the Jiangsu Billiards Association plans to recruit more than 100 teen pool players each year, aiming to boost the provincial pool industry development. In other provinces, their concerted efforts on billiards are also thrilling and inspiring by kicking off a series of events, comprising of the China Region Qualifier for 2017 ShiJiaZhuang Chinese 8-ball International Open, The Eleventh National Youth American Billiards Championship, ChengXing Global CVB Snooker Challenge, EverGrande 2017 World Snooker China Championship, etc.
It is convinced that Chinese billiards industry still has a long way to go and enormous space to develop! For the ten years to come, the billiards market development goes beyond imagination along with the mounting number of billiards enthusiasts.
For more billiards updates or Chinese billiards market reports, please reach at http://www.gbechina.com/.
GBE Organizing Committee
Person:Amy Lai
Phone:+86 20 2917 8996
Fax: +86 20 8257 9220
Mobile/WhatsApp/Wechat:+86 188 2506 6363
Email:gbeexpo@yeah.net; grand3@grahw.com
Website: http://www.gbechina.com/index_en.html