Jae Ho Cho Wins 2017 Verhoeven Open Tournament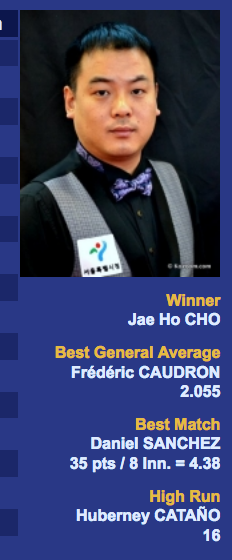 Click to view Final 2017 Verhoeven Open – Final Ranking Top 16 Players
Click to view Final Results -1/4 Semi & Final Rounds Main Events
---
Thanks to Kozoom for live-stream and replays. Thanks to 3CushionBilliards and Professorqball.com for hosting results archive. Thanks to Charles Brown, Tournament Director.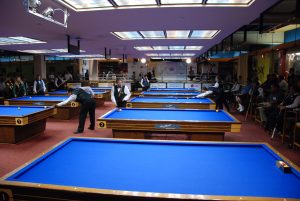 Click to review 8 Semi-Final Groups results  Completed
Click to review Rankings after Semi-Finals
Click to review 16_player_SE_MainTournament_REV01
Semifinals 56 Players- 8 groups of 7 players Round Robin -35 point matches
Top 2 from each group advance to the Finals based on Win/Loss, Average Finals 16 Players Single Elimination (Knockout) 40 point matches.



CLICK ALL CHARTS TO ENLARGE
 Click link below to view all 22 Qualifications result charts
CLICK ON LINK BELOW TO SEE RANKINGS AFTER THE QUALIFICATIONS
RankingQualifications_2017_NY_REV02

2017 Verhoeven Open Tournament Format Qualifications 132 players – 22 Groups of 6 Players – Round Robin – 25 Point Matches Top 2 from each group plus the 3 best 3rd place finishers advance to the next round based on: W/L, Total Points, Head to Head, Points Against (if needed) Additionally, there will be 1 Lotto and 2 Auction spots