GTS Pool Ministry in Africa
Below is our GTS Africa report.  We need prayer as we are winding down and making plans to return for future GTS pool ministry.  Please read below and pray.  Thanks, The GTS Staff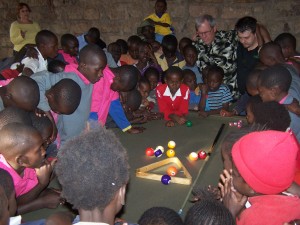 GTS Africa Update 6-15-10 in Nairobi, Kenya – Today I taught two classes at the East Africa School of Theology where we are staying on "Leadership" and "Cross Cultural Communication".  God is doing an amazing work here at the school and in the Kenya Assemblies of God.  Yesterday I had the privilege of dining with the Bishop who overseas thousands of AG churches in Kenya.  He has given his blessing to work with all under him in the country of Kenya.  They have invited us to work with some of their minissionaries on the ground in North Kenya near Somolia where it is mostly Muslim.
The Bishop and those along side him are excited about what God will do with pool ministry and GTS in Kenya.  Last night my GTS partner Jason Lynch  trained two Bible college and GTS students to set up and repair pool tables and tonight we will continue to train them to do GTS pool ministry.  Now the students have a way to make money as pool table set-up and repairs are in high demand.  One of the student trainees remarked, "now I can get married because I have a source of income".
Two days ago there was a terrorist attack close to where we are staying and 7 people died and hundreds were injured.  O ne of the church people where I am staying was killed so it hit close to home here in Nairobi.  Please pray for God's protection and the work of the ministry to continue strong.  Thank you for your prayers.  Blessings, Steve
GTS Africa 6-12-10 in Nairobi, Kenya: Today was very busy as we did a pool tournament and GTS Show in the Mathare slums in Nairobi and then a GTS show before the finals of the Kenya national college pool championship in downtown upscale Nairobi.  Tomorrow I will be preaching at two churches and sharing my testimony and then off to the host pastor's house for a Sunday afternoon meal.
GTS Report from Nairobi, Kenya 6/11/10 by Steve Lillis:  Today we trained our two newest members of our GTS Team here at the East African School of Theology.  Two young men who are students at the Bible College both have backgrounds with pool and have answered God's call to be trained to be Evangelists with pool here in Africa.  This is a special answer to prayer.
Jason Lynch and I both did several GTS shows during the day as this was the schools all sports day and they brought in a pool table in from the outside for us to use.  Tomorrow we will be heading to the Mathare slums to hold a pool tournament for the slum childen who love the game.  Tomorrow night Jason and I will head to the Village Market in Nairobi to do GTS shows at the Kenya college pool championships.
GTS Report 6/9/10: We have just completed a tour of the interior of Tanzania visiting two schools: Nassa Theological College (NTC) and Marjahiata Bible Training School (MBTS).  We have proposed a Gospel Trick Shot Scholarship Program at one of the schools and hopefully our first student will be one of the pool competitors who came to Christ on one of the islands last week during the sp ort's crusade.  Tomorrow we will be heading back to Nairobi, Kenya for more GTS Shows and another school visit.
GTS Africa Update 6/7/10: We just left the islands of Lake Victoria in Tanzania near Mwanza were we had athletic competitions including a pool tournament, challenge matches, and GTS shows.  They love pool all over the islands and they want more next year!
After two days of competition I had the privilege of being the closing speaker at the Sunday morning service and had a alter call with the GTS Shot called "TRUST" with about 35 island natives coming forward near the pool table to put their trust in the Lord Jesus Christ.  Praise God!  We still have 4 more days in Tanzania and then off to Kenya where plans for more of the same are taking place in and around Nairobi.  Please pray!  Steve Lillis