Ride The 9 Tour 2016-2017 Season Finale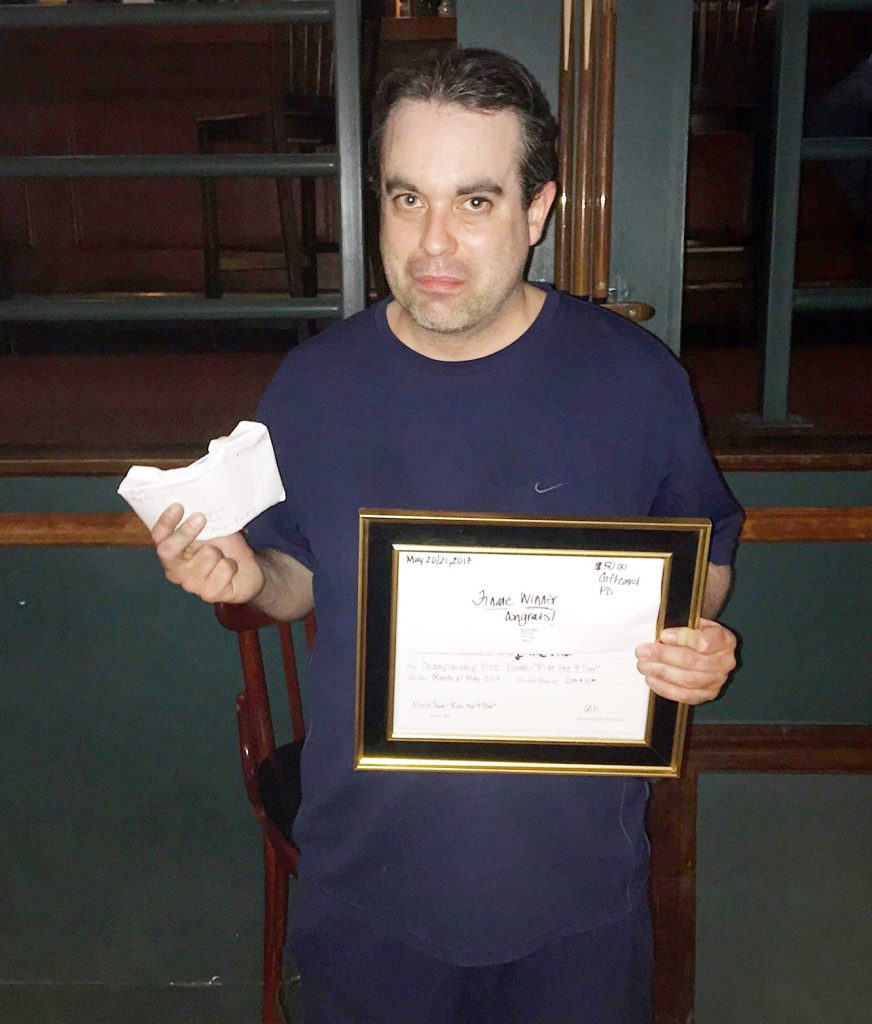 1st place winner: Billy Lanna
Thank you to Bo's Bar & Billiards for hosting the Ride The 9 Tour 2016-2017 Season Finale. We also thank all of the players who came out yesterday in support of the tour.
Without you, none of this is possible. We started the day with 26 players chomping at the bit to play some serious pool, with added money to fuel the fire and desire. Just a side note, if we had only gotten the base field of 48 players, 1st Place would have been OVER $2,000.00!!
We also gave away $1,000.00 in gift cards, shirts, glasses, patches, stickers, awards, and much, much more.
On to the meat and potatoes.
1st: Billy Lanna – $1,200.00
2nd: Mike Pettit – $800.00
3rd: Keith Platt – $400.00
4th: Keith Musto – $250.00
5th/6th: Chris Leal / Al McGuane – $125.00 / $125.00
Calcutta:
1st: $600.00
2nd: $450.00
3rd: $300.00
4th: $140.00
Mike Pettit started out strong in the upper right bracket, powering through his first three matches before being sent over to the one loss side in a close match with Keith Platt.
Keith ran through four matches, beating the likes of Dave McConnell, Jiten Patel, and Billy Croke, to get to the Hot Seat Match.
On the bottom right bracket, Billy Lanna, AKA "Billy The Kid", showed why he is a fearsome competitor, grinding through a tough field with Chris Leal, Tim "Buzzsaw" Perry (our April 30, 2017 tournament winner), and our own Ty Speedwell and Al
McGuane, to land in the Hot Seat Match. No easy feat!
There he handed Keith Platt his first loss, and planted himself in the Hot Seat. On the left side of the bracket, Bill O'Mara turned out four in a row after losing his first match to Mike Pettit until meeting Keith Musto, and ending up 7/8th.
Keith Musto came to play! After being sent over to the one loss side by Mike Pettit, Keith was on a mission, slaying giants the likes of Tim Perry and Al McGuane who came in 5/6th, until he was stopped once again by Mike Pettit, landing in 4th place.
On the lower side of the left bracket, Chris Leal showed fierce determination after losing his first match to BTK, winning five in a row before meeting Mike Pettit and finishing 5/6th.
Mike went on to win the grudge match with Keith Platt leaving him in 3rd place, before ultimately succumbing to BTK, and leaving with a well-deserved 2nd place.
Congratulations to Billy "BTK" Lanna, who went undefeated and showed the heart of a lion, and the grace of a gentleman!
Just to remind everyone, our Kings/Queens Class Tournament is going off next
Sunday, May 28, 2017!