Inaugural Molinari Players Championship Supports the BEF!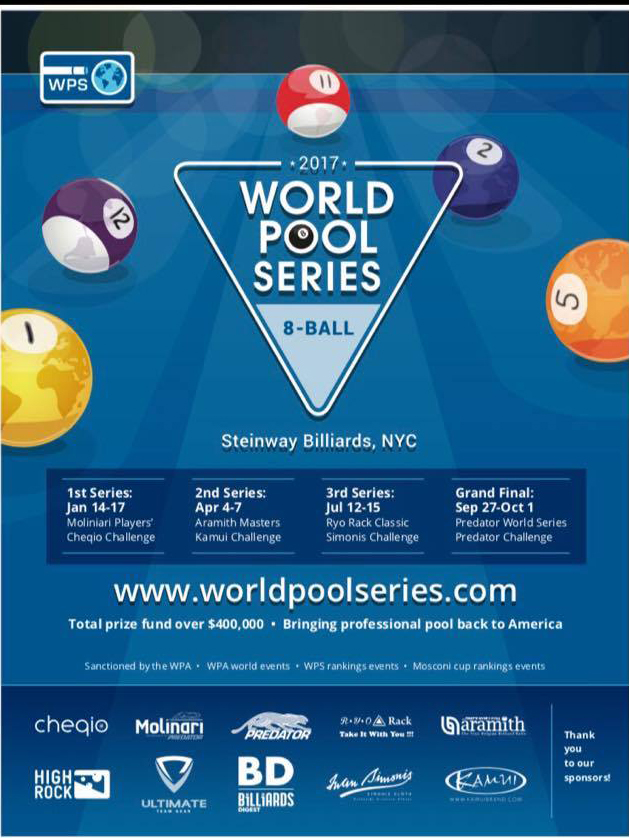 Inaugural Molinari Players Championship Supports the BEF!
Story by Alison M. Fischer
January 10, 2017 (Denver, CO): For many of the world's top pool pros, the 2017 tournament calendar will kick off with an exciting new event in New York City-the World Pool Series (WPS). Founded by world-renowned touring pro Darren Appleton, the series will get underway with its inaugural event at Steinway Billiards in Astoria, NY on January 14-17. The event's impressive lineup features acclaimed players including Thorsten Hohmann, Johnny Archer, Dennis Orcollo, Karen Corr, Mika Immonen, Ralf Souquet, Alex Pagulayan, and many others.
Along with his ambitions to bring more top-caliber competition to life in the U.S. with this series, Appleton also aspires to support junior players and programs through his efforts. At this inaugural event, the WPS will have a number of great items up for auction, and 20% of the auction's proceeds will go to the Billiard Education Foundation.
"It's our goal to bring professional pool back to America, and encourage kids and amateurs to progress and see that there is a future for the next generation to have ambition to be a professional and make a career from playing pool. Helping the Billiard Education Foundation is the least we can do. In future, once we are established, we will do more to encourage kids to take up pool," Appleton explained.
Attendees of the WPS at Steinway Billiards will be able to show their support for the BEF and the future of pool by bidding on a series of exclusive items. For more information on the World Pool Series, visit them on the web at WorldPoolSeries.com and on Facebook at Facebook.com/WorldPoolSeries.
About the World Pool Series
8-Ball is the most recognized and most participated discipline of pool around the world. The World Pool Series: 8-Ball is designed for players and fans worldwide. My hopes for these events is that it will elevate the profession of pool to the level it should be and I will personally put forth all my efforts to do so!
About the Billiard Education Foundation (BEF)
The BEF was formed in 1993 as a 501(c)(3) nonprofit charity committed to promoting a lifelong love of pool and building the next generation of players through youth programs and academic scholarships. Visit billiardeducation.org or call (303) 926-1039 to learn more about junior billiard programs in your area