2017 Music City Open 9-Ball Championships Nashville, Tennessee
by Steve McDonald, Tournament Director
It was the 30th annual Music City Open at JOB Billiards Club in Nashville, TN held January 11-15, 2017. The event was sponsored by Budweiser, Alex Brick Custom Cues, Diamond Billiard Products, Simonis Cloth, The Accu-Rack by Outsville, and Rockin' Ray Hansen's poolactiontv.com. Rockin' Ray, Scott, and Schwartz covered all the action this year via live streaming on poolactiontv.com. Check out his site at poolactiontv.com.
Tournament Directors Steve McDonald and Bob Hunt had a very busy weekend, as a waiting list crowd showed up. Director Bob Hunt rode his motorcycle to the event from Memphis. Bob recently rode across country and was awarded the coveted "Iron Butt" Award. Congrats Bob!! A full field of 128 open division players and a field of 41 ladies division players convened at JOB's for the competition that was held on 7-foot Diamond Smart Tables with Simonis 860 Cloth.
Action got kicked-off Wednesday night with a 9-ball, race-to-7, single elimination mini tournament. A full field of 64 players entered this event and Nick Hickerson got off to a great start as he topped the field with a win after placing second last year in this mini. Second place went to Sean King.
The main tournament format is 9-ball, winner breaks, double elimination, race-to-11 in the Open Division and race-to-7 in the Ladies Division. This tournament has always been a full double elimination format, and this year, as usual, the Open went the full two rounds. There were a lot of break and runs too this year with the Accu-Rack by Outsville. Fans sure enjoyed seeing all the run outs!!
Jonathan Hennessee,1st – Skyler Woodward, 2nd
In the open division, past champion, Jonathan Hennessee, came from the one loss side to double dip last year's winner Skyler Woodward in the finals. Roberto Gomez came in third and Shane Winters finished fourth for the second year in a row. In the ladies division, Allison Hardwick went undefeated thru the entire tournament to beat Jessica Mollinet in the final with Lisa Porter, who also played in the open division, finishing third and Birmingham's Robin Parker taking fourth.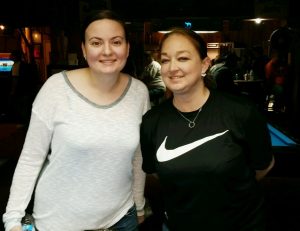 Ladies Division 1st -Allison Hardwick–Jessica Mollinet 2nd
On Saturday night, it was the JOB's legendary Midnight Madness event. This is always an action packed event, and the crowd loves it. This year we had 8 top players in this single elimination format, race-to-11. It is a $500 entry fee, winner take all!! This year's winner was Skyler Woodward to take home the $4,000 prize.
A beautiful $2,000 Alex Brick Custom Cue, one of the last that Alex made, was raffled off and given away just before the finals. The lucky winner was Shane Little from Cleveland, TN and he was present to collect his cue.
On a sad note, we lost former Music City Open Champion, Scotty Townsend, in a tragic motorcycle accident back in December. He was always a colorful character and sure added an upbeat tune to any tournament he was in. I personally loved to see him come to the table with only one cue, no break cues or jump cues, and believe me"¦..he was always a formidable opponent. Scotty will be missed by all.
Tournament Payouts
Open Division – 128 Players- $6000 Added
1st            Jonathan Hennessee    $4,000
2nd            Skyler Woodward    $2,600
3rd            Roberto Gomez        $1,700
4th            Shane Winters        $1,100
5th/6th            Shane McMinn / John Gabriel    $780 ea
7th/8th            Sean King / Daniel McKenney     $470 ea
Nick Hickerson / David Anderson
Chuck Raulston / Bobby McGrath     $275 ea
Taylor Anderson / Josh Oneal           $190 ea
17-24         $130 ea
25-32       $100 ea
Ladies Division – 41 Players – $1000 Added
1st            Allison Hardwick       $1,000
2nd            Jessica Mollinet       $695
3rd            Lisa Porter                 $380
4th            Robin Parker              $275
5th/6th            Michelle Hicks / Sharon Miller    $210 ea
7 th /8th Beverly Cook / Brenda Anderson         $175 ea
9-12            Erin King / Heather Middleton
Kathy Sanders / Michelle Dunn            $85 ea
 Mini Tournament – 64 players
1st            Nick Hickerson         $550
2nd            Sean King                $350
3rd/4th    Lee Alford / Lee Uhles    $190 ea
5-8          Jonathan Hennessee / Shane Winters
Skyler Woodward / Robert Frost    $80 ea
Midnight Madness – 8 players   Winner-take-all
1st            Skyler Woodward      $4,000
2nd            Roberto Gomez        $0