Juszczyszyn wins 2nd Annual Gotham City Billiards 9-Ball Pro Classic-2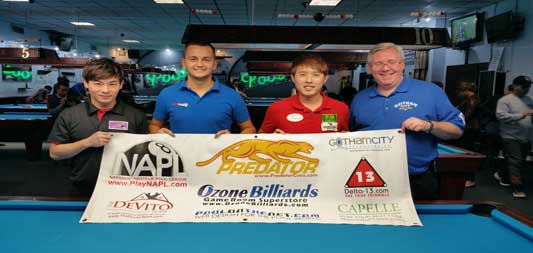 Caption for picture: Hsu, Kai Lun, Konrad Juszczyszyn, Kevin Cheng and Gotham City Billiards Owner Kevin Buckley
Juszczyszyn wins 2nd Annual Gotham City Billiards 9-Ball Pro Classic-2
By AZ staff
They literally came from all over the world, many of them in-country to prepare for the 41st Annual US Open 9-Ball Championships in about a week (Oct. 16-22). Some of them arrived not knowing a thing about the $15,000-added, Mosconi Cup ranking event known as the 2nd Annual Gotham City Billiards 9-Ball Pro Classic, held over the weekend of October 8-11. They communicated at the last minute with tour director Tony Robles, who had a few slots left open and was able to accommodate them. The event drew a full field of 64 and in the end, it was won by a Polish competitor, who was among those who knew nothing about it before they got here.
To facilitate a reader's ability to follow his exploits in the words ahead, his last name (Juszczyszyn) is pronounced 'Yuse-CHIS-chin;' first name, Konrad and he went undefeated through the field, downing the defending US Open 9-Ball Champion, Yu-Hsuan (Kevin) Cheng, twice.
As the event wound down to its final 16 players, they included three former US Open champions (Earl Strickland, Ralf Souquet, and Yu-Hsuan Cheng), eight players who finished among the top 25 in last year's Open, and the Gotham City Classic's defending champion, Mike Dechaine. Oh yeah, and the new guy who was on his way to winning it all.
Juszczyszyn advanced to face Dechaine in a winners' side semifinal as Cheng squared off against Hsu-Kai Lun (5th in last year's Open) in the other. Juszczyszyn and Dechaine locked up in a double hill battle that eventually sent Dechaine packing to the loss side. Cheng and Lun came within a game of double hill before Cheng finished it 10-8. In something of an epic battle, Juszczyszyn and Cheng fought back and forth to double hill before Juszczyszyn prevailed to sit in the hot seat.
Over on the loss side, where the tie for 13th place went to Souquet, Warren Kiamco, Jayson Shaw, and Mieszko Fortunski, Dechaine picked up Lee Van Corteza, who'd eliminated Thorsten Hohmann in the 9/12 matches, double hill, and John Morra in the 7/8 slots, 10-5. Hsu-Kai Lun drew Strickland, who'd defeated Roberto Gomez 10-4 and Dennis Orcollo, double hill.
Lun defeated Strickland 10-7, and in the quarterfinals, faced Dechaine, who'd finished Corteza 10-3. Though he would be down 2-6 in the middle stages of the quarterfinal, Lun fought back to eliminate Dechaine 10-7.
Countrymen Lun and Cheng, both from Chinese Tapei, battled fiercely in the semifinal that went double hill. Eventually, though, it was Cheng earning rights to a re-match against Juszczyszyn in the hot seat.
From the opening rack, the race-to-13 final between Juszczyszyn and Cheng set a repeating pattern. Cheng would win a single match, and then Juszczyszyn would respond by winning two. They did this six times, and with Cheng breaking at the start, it led to the match's only tie at 2-2. From there, that pattern spelled doom for Cheng, as it kept widening the gap between them.
The pattern broke in the final rack, with Juszczyszyn on the hill at 12-6, having completed his turn at the pattern with two in a row. At the table, wanting to put the 8-ball in the side pocket to move on to the 9-ball and win his seventh game, Cheng watched the cue ball travel a little further than he'd anticipated, leaving him up-table and off to the left a little. It was a thin cut. Cheng stroked firmly and the 8-ball dropped. But so did the cue ball in the far right corner. Juszczyszyn finished it, chalking up his first 'three in a row' to claim the event title.
Tour director Tony Robles, and the staff and commentators on AZBTv, which streamed the event all weekend, had high praise for Kevin and Isabel Buckley, the owners of Gotham City Billiards, who, in addition to providing the money-added, stayed 'on the hop' all weekend, adjusting room temperatures and responding to any and all issues that might in any way affect their guests. Robles also thanked sponsors the National Pool League (NAPL), Predator Cues, Ozone Billiards, PoolOnTheNet.com, The DeVito Team, Billiards Press.com (Phil Cappelle), AZBilliards, and Billiards Digest.
1st $10,000
2nd $6,000
3rd   $4,000
4th   $2,500
5/6th $1,500
7/8th $1,000
9/12th $550
13/16th $325