2013 PartyPoker.net Mosconi Cup
Wednesday – Day Three-LINE UP
SCOTCH DOUBLES – Earl Strickland & Dennis Hatch Vs. Darren Appleton & Ralf Souquet
Day Three – Europe continues the domination 6-3 moving closer to the finish 9-2

SINGLES MATCH -Earl Strickland Vs. Karl Boyes- Boyes takes down Earl 6-4- Team Europe is one match away from winning the 20th Mosconi Cup

SCOTCH DOUBLES – Dennis Hatch & Rodney Morris Vs. Mika Immonen & Niels Feijen 6-4- Team Europe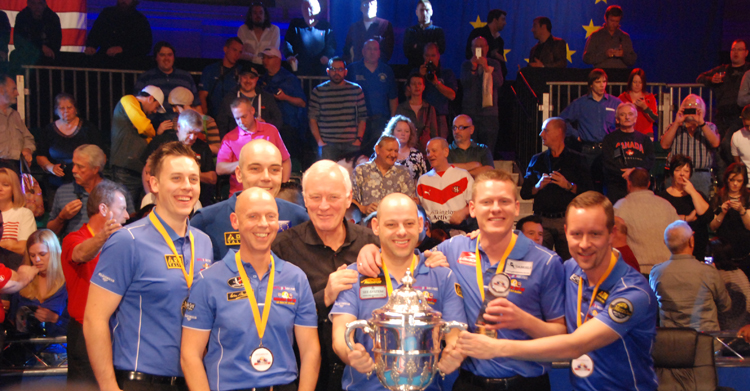 http://www.youtube.com/watch?v=EbZBnTsiQdE&feature=youtu.be
Final 9-Ball being made by Team Europe
All matches are a race to 6
Tuesday – Day Two-LINE UP

SCOTCH DOUBLES – Johnny Archer & Rodney Morris Vs. Karl Boyes & Niels Feijen
Europe continues their domination taking the opening match of Day two 6-4
SINGLES MATCH – Dennis Hatch Vs. Ralf Souquet.  Hatch after being up 4-1 loses to Souquet 5-6 in hill-hill match and bleeding continues with Team Europe 7-0.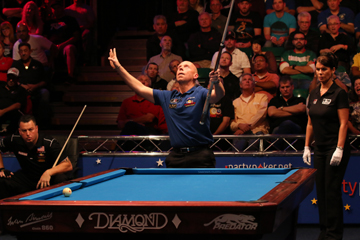 Souquet wins 5-6 in hill-hill
CLICK ON THIS LINK TO SEE THE 9 BALL BEING MADE
http://www.youtube.com/watch?v=b5KVwzqTfpQ&feature=youtu.be
SCOTCH DOUBLES –Earl Strickland & Shane Van Boening Vs. Darren Appleton & Mika Immonen
U.S.A. Finally gets on the board winning the hill hill match 6-5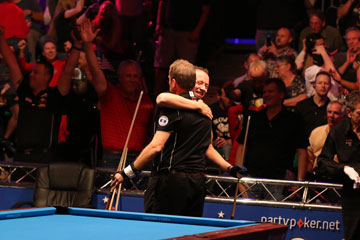 Team Europe  leads  7-1 Race to 11.
SINGLES MATCH -Johnny Archer Vs Niels Feijen
Niels Feijen puts Team Europe  up 8-1.
SCOTCH DOUBLES – Rodney Morris & Shane Van Boening Vs. Mika Immonen & Karl Boyes
Another hill-hill match but this time it was team U.S.A. taking the match. 6-5
Going into day three-It is still team Europe leading 8-2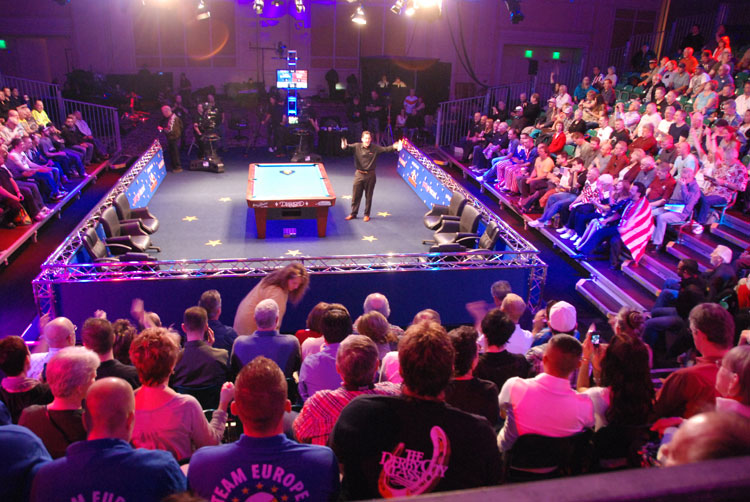 Photo's by Ricky Bryant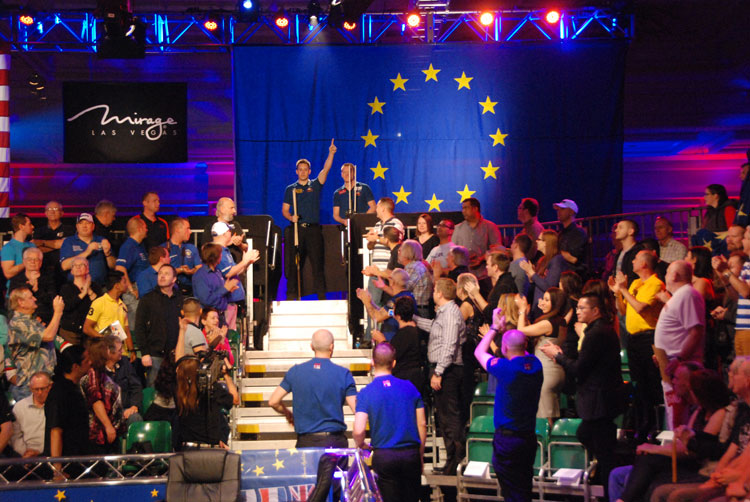 TEAM EUROPE created the biggest first day lead in PartyPoker.net Mosconi Cup history as they won all five matches at the Mirage Hotel in Las Vegas to establish a 5-0 lead and give the USA a huge mountain to climb.
USA 0-5 Europe
USA 3-6 Europe
Morris/ Strickland 3-6 Appleton /Boyes
Shane Van Boening 5-6 Mika Immonen
Archer /Hatch 3-6 Feijen/ Souquet
Rodney Morris 4-6 Darren Appleton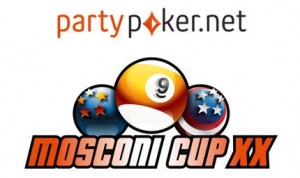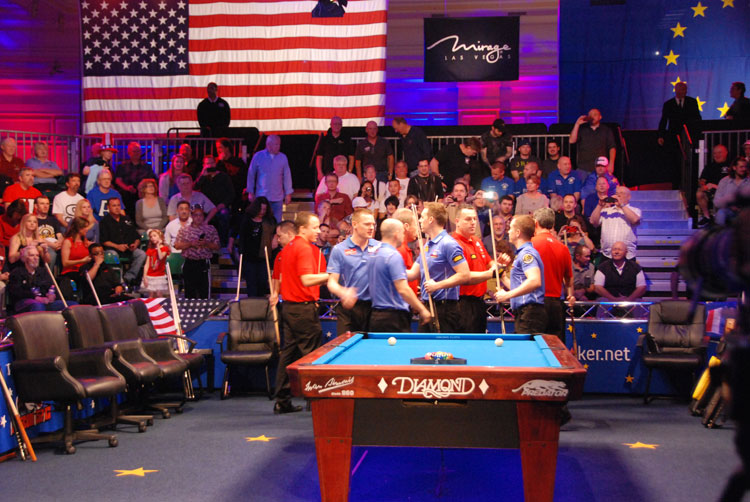 The Teams
Europe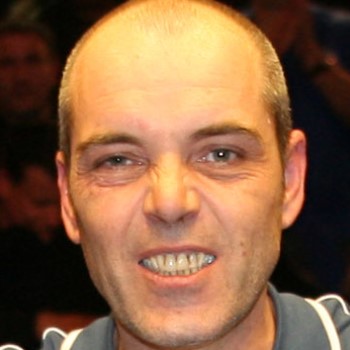 Johan Ruijsink  (Captain)
1. Ralf Souquet (Germany) 15 appearances, 75 matches, 45 wins. Age: 45  Nickname: The Kaiser
2. Mika Immonen (Finland) 14 appearances, 70 matches, 37 wins. Age: 40  Nickname: The Iceman
3. Niels Feijen (Holland) 8 appearances, 37 matches, 22 wins. Age: 36  Nickname: Terminator
4. Darren Appleton (England) 4 appearances, 20 matches, 9 wins. Age: 35 Nickname: Dynamite
5. Karl Boyes (England) 1appearance, 5 matches, 4 wins. Age: 31 Nickname: Guapo
U.S.A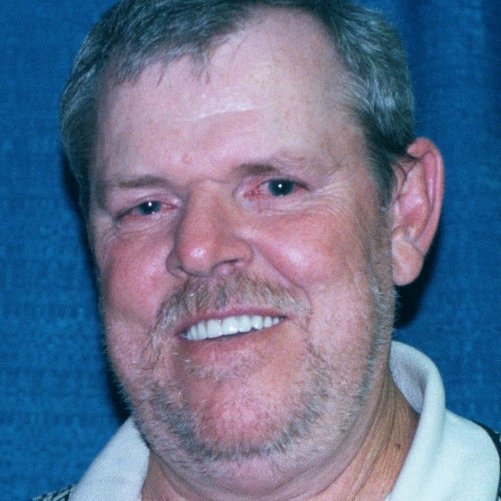 Vice Captain-Buddy Hall
1. Johnny Archer  – Captain – (Georgia) 16 appearances, 79 matches, 44 wins. Age: 45  Nickname: The Scorpion
2. Earl Strickland (North Carolina) 13 appearances, 60 matches, 39 wins.Age: 52  Nickname: The Pearl
3. Rodney Morris (Hawaii) 8 appearances, 40 matches, 21 wins. Age: 43 Nickname: Rocket
4. Shane Van Boening (South Dakota) 6 appearances, 31 matches, 15 wins. Age: 30  Nickname: South Dakota Kid
5. Dennis Hatch (New York) 3 appearances, 15 matches, 9 wins. Age: 42 Nickname: The Hatchetman