The Rushville Billiard Club – A Labor of Love
The Rushville Billiard Club – A Labor of Love
In a couple of ways, the Rushville Billiard Club and the competition taking place there these days reminds us veteran pool players of a long-ago past in another small, sleepy southern Illinois town: the famed jamboree at George and Paulie Jansco's Johnston City Show Bar in the '60s and '70s. The action there was unarguably top-notch, exciting, and nonstop; everyone who was "into" the sport seemed to be there (or wished that they were). But beyond that, most similarities between the two competitive venues come to a screeching halt.
The self-proclaimed hustlers' convention at the Show Bar drew nearly every sharper, conman, gambler, and proposition specialist in pool. All the action was not always exactly what it seemed, if you follow me. A love of money was often the driving force; pool was merely a means to an end in far too many cases. (Not all"¦ but in very many.)
Mayor Carson Klitz
But in Rushville, a slightly smaller Illinois town (population 3162) located about 180 miles northwest of Johnston City, the situation could hardly be more different today. In January, 2013, the Rushville Billiard Club (RBC), a private facility owned by local businessman Steve Jones, was the site of an inaugural 10-player three-cushion billiard tournament. That event was selflessly promoted by eight-time U.S. three-cushion champion George Ashby. Strong player interest – and Ashby's determination — led to a follow-up event in January, 2014, with the field expanded to 18 players. It may not have been glaringly obvious to everyone at the time"¦ but the ball was rolling in Rushville, to coin a phrase.
Inspired by the events' success, an informal but dedicated group of three-cushion players, supporters, and fans slowly but surely joined with Ashby to assist in continuing the promotion of first-class competition in the sport that is famously known for honesty, gentlemanly behavior, and good sportsmanship. And that truly describes the action taking place at the RBC these days. It's a class act.
The continuing effort led to an expanded schedule of three tournaments in 2015, starting with another 18-player test in January, and followed in May and October with 25- and 30-player events, respectively. The unofficial coalition of fan/player support continued to grow during the year, nurturing and improving upon the superb standards previously established by tournament director and host Ashby. Throughout 2015, additional assistance was received from a variety of sources, such as Dale Saunders (computerized tournament software), Gary Eake (marketing and promotion), cash from Los Charros Restaurant and Green Gables Motel, plus additional donations from players and fans too numerous to list individually. Industry figures Schuler Cues by Noel Mendoza (two donated raffle cues), and Paul Frankel's Professor Q-Ball Publications (naming sponsor) also joined the growing roster of supporters during 2015.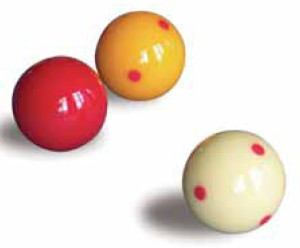 But the gold standard in fan support and enthusiasm – and one certainly worthy of individual mention – is that exemplified by Rushville's own Mayor Carson Klitz. This three-cushion billiard lover personally donated $1000 cash to each of the three 2015 events at the Rushville Billiard Club. The former judge, who served on the bench for nearly two decades before retiring, and then won the mayoral race by a better than 3-to-1 vote margin, has been enjoying three-cushion billiards as a player and fan since Mr. Jones and Mr. Ashby joined forces to help the RBC become a reality. Did the mayor play billiards prior to that, I asked? "No," he quickly replied, "we had no place to play. But now one of my goals is to make Rushville the "Midwest's 3-Cushion Billiard Capital."
You're not the only one, Mr. Mayor! And with the continued support of volunteers, players, and fans like yourself, the "Rushville team" may very well reach that goal. The effort definitely deserves success.
By Bruce Venzke
The Rushville Billiard Club 3-C Tournament Results
(winner / runner-up)
January 18-20, 2013: 10 players. George Ashby / Lupe Cruz.
January 10-12, 2014: 18 players. Lupe Cruz / Fred Lamers.
January 23-25, 2015: 18 players. Adrian Viguera / Fred Lamers.
May 29-31, 2015:         25 players. Miguel Torres / Lupe Cruz.
October 16-18, 2015:   30 players. Hugo Patino / Mazin Shooni.