2015 ACSISA Open Artistic Pool Championship A Resounding Success!!
2015 ACSISA Open Artistic Pool Championship A Resounding Success!!
The 2015 ACSISA Open Artistic Pool Artistic Pool Championship finished after 3 days of exciting
competition from March 20-22, 2015 in the beautiful New Orleans Ballroom at the historic Pheasant
Run Resort in St. Charles, Illinois. This event was held in conjunction with the ACS (American Cue
Sports IL State Association) Tournament. There were 23 Artistic Pool Playing Artists from North
America competing for 9 separate titles (1 overall + 8 discipline champions) plus WPA World Artistic
Pool Professional ranking points.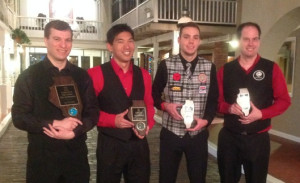 Top 4 Players (L To R):
Andy Segal, Tim Chin, Steve Markle, Jamey Gray
Nine competitive sessions were conducted with the final session showcasing the top 6 scoring
players (after the 1st 6 disciplines). This magnetic session was highly competitive with the top 3
players being separated by only 8 points. Andy Segal won the overall championship, tying the record
of 277 points, which was set by Nick Nikolaidis of Quebec, Canada at the 2014 WPA World Artistic
Pool Championship. Second place went to Tim Chin with a score of 270 while Steve Markle took
third place with a score of 269. (Complete results and other Artistic Pool Worldwide sport items are
available at the new WPA Artistic Pool Division website – www.wpa-apd.com)
Players came to the event with a wide range of experiences ranging from elite players through
players attending their first WPA World Artistic Pool ranking event – Ben Zeman (WI), Brian Pauley
(OH), Andrew Sozio (NJ), and Kevin Brown (SC).
Artistic Pool focuses on specific cueing challenges skillfully performed under 8 discipline categories.
The discipline title winners are as follows: 1) Trick / Fancy Shots – Mark Dimick, 2) Special Arts –
William DeYonker, 3) Draw Shots – Andy Segal, 4) Follow Shots – Curtis Robertson, 5) Bank / Kick
Shots – Will DeYonker, 6) Stroke Shots – Mark Dimick, 7) Jump Shots – Jamie Moody, and 8) Masse
Shots – Dan Hosier. 39 of the 40 shots / challenges were scored under the standard Degree of
Difficulty (D.O.D) process in which players receive 3 attempts on each challenge with a full D.O.D.
point value earned if the challenge is made on the 1st attempt, 1 point less if made on the 2nd
attempt, and 2 points less if made on the 3rd attempt. A special scoring system was used for the
other challenge.
There were several perfect discipline scores (40 points) during the competition as follows: Special
Arts – Will DeYonker & Jamey Gray, Follow – Curtis Robertson, Jeremiah Owens & Tom Kinzel, Jump
– Jamie Moody & Tim Chin.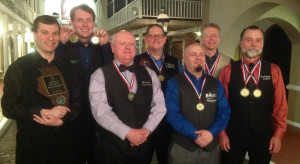 Discipline / Sportsmanship / Rising Star Player Names (L to R):
Andy Segal, William DeYonker, Curtis Robertson, Ben Zeman, Jamie Moody, Dan Hosier, Mark Dimick
Two awards were also presented for special recognition. A Sportsmanship Recipient voted on by the
players was awarded to Ben Zeman. The Rising Star Recipient Award was presented to Dan Hosier
as the highest scoring player based on designated factors of eligibility.
Contributions by several organizations and individuals helped make this an extremely successful
event. We would like to thank the ACSISA (American Cue Sports Illinois State Association) for the
following: primary financial support ($2500), the venue (in association with Pheasant Run Resort),
tables / lights (in association with John Stitch), custom ACS IL State awards for the top 4 places, and
associated provisions to make the event a total success. Direct sponsors were ACSISA (Dan Taylor,
Cecil Messer, and the ACSISA board), Tom and Marty Rossman of Dr. Cue Promotions for discipline
/ sportsmanship medals, and Tim Chin for sponsoring the Rising Star Award. Lori Owens and Susie
Robertson donated their service time as the final round scorekeepers. TVMike.TV provided video
streaming services with commentary by Jason Lynch for the final round of play. Photo services were
courtesy of Brenda Lee and Karolina Quigley.
Our worldwide audience enjoyed the stream. We are grateful for the general hospitality services of
Pheasant Run Resort and special venue help services by Dr. Phil and other members of John Stitch
staffing.
Dr. Cue Promotions (Tom and Marty Rossman), plus Mark Dimick and Curtis Robertson provided
direction services for the event. Thanks are also due the WPA APD committee members for their
administrative help, players, fans, and special guests that performed various duties, plus each valued
performer that entertained a large audience during the Saturday night media / fan / sponsor
appreciation experience!!
The 2015 ACSISA Open Artistic Pool Championship was recognized / documented by the WPA
Artistic Pool Division as a 100% world ranking event under the WPA umbrella for the growing and
internationally recognized sport of Artistic Pool.
Approved for release by: WPA Artistic Pool Division
Website: www.wpa-apd.com
Facebook: www.facebook.com/artisticpoolworldwide