Professor-Q-Ball 3-Cushion Fall event at Rushville Illinois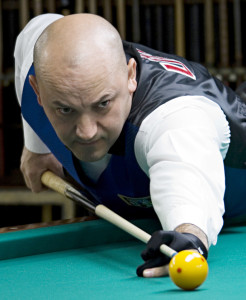 Hugo Patino wins the Professor-Q-Ball 3-Cushion Fall event at Rushville Illinois

FINAL TEN – Here are results  of the Finals.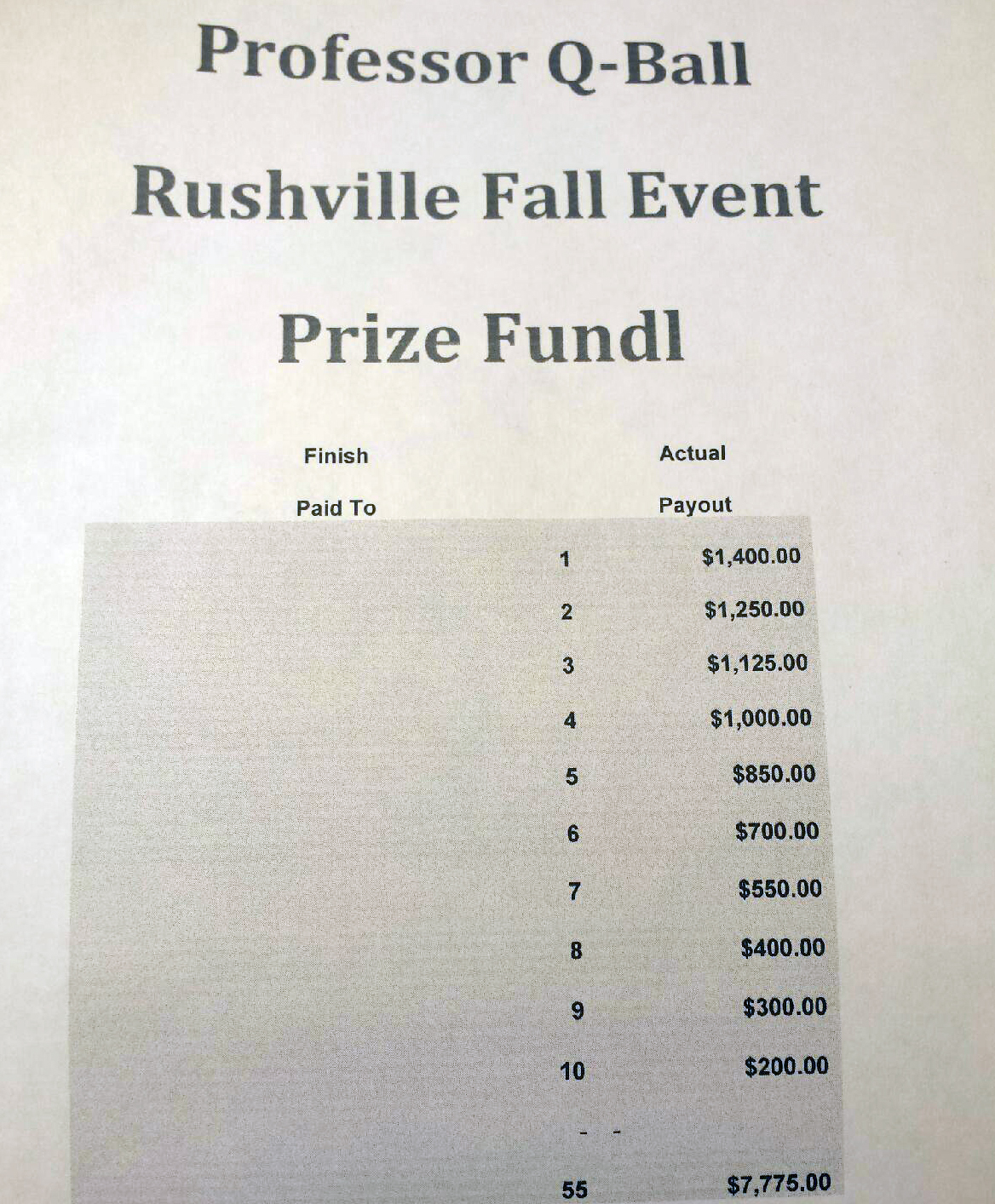 Action was Hot and Heavy as 32 strong 3-C players duke it out in Rushville IL
To see Prelims Charts click on this link
That makes 3 former National Champions entered.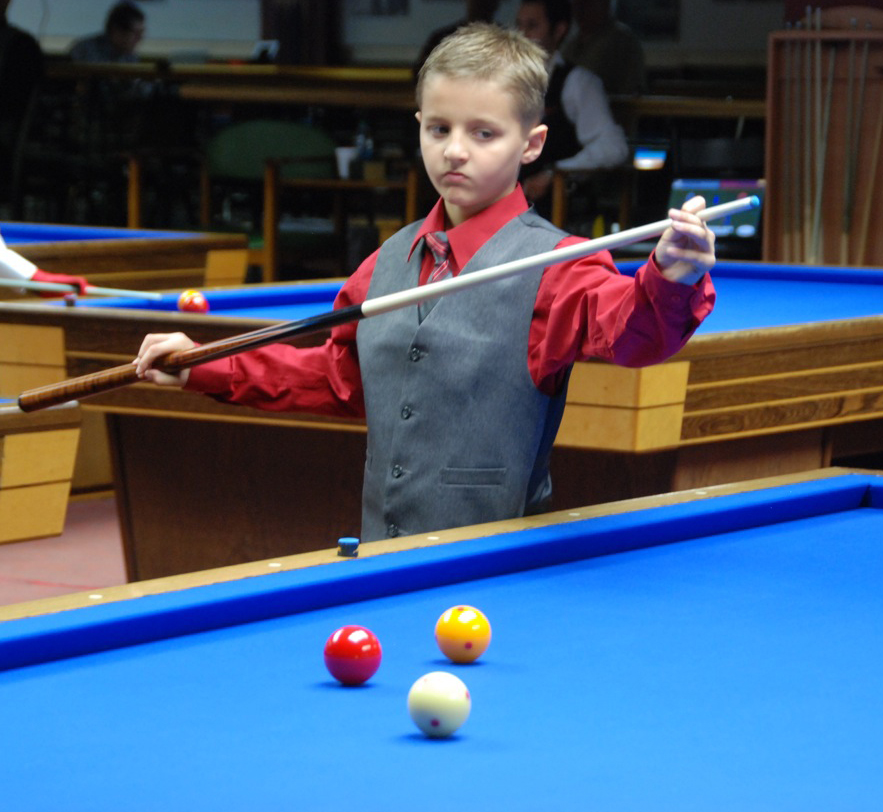 Luca Tomassetti will be playing in the Professor-Q-Ball's Rushville up coming Tournament event.
Luca, is a 3 cushion player who loves the game and is only 12 year's old. He started playing three-cushion billiards not too long ago. Thanks to Dennis Deickmen and Yura (Nothing but Billiards) sponsoring him to play in this event.
More Exciting New! Tournament is now full with 30 players.

Special thanks to Noel Mendoza on contributing a Schuler Cue to be raffled at the event.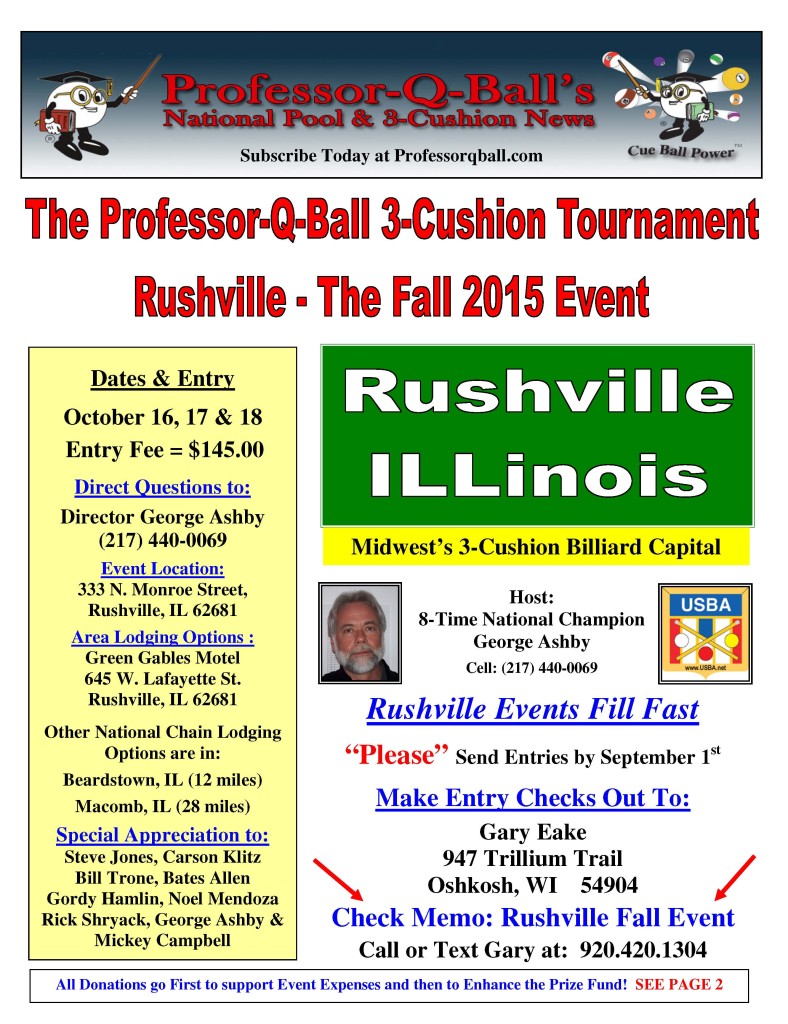 RUSHVILLE BILLIARDS: Rushville Billiards is a privately owned club. The building is owned and maintained by Mr. Steve Jones of Rushville. To the amazement of many The Rushville Billiard Club features five (5) billiard tables. It would be difficult to find a major city (or state?) with this many tables collectively, other than the east or west coast.
EQUIPMENT: Three SAM heated slate tables, two Brunswick unheated with European rubber. Rushville Billiard Club also features four A.E. Schmidt 9 ft. pool tables, one 12 Ft. snooker table and two Valley bar tables. All tables feature Simonis cloth. George Ashby, a former multi-titled National Champion and owner of The Pool Table Doctor and Ashby Painting of Murrayville, IL meticulously maintains all table setup.
RUSHVILLE ILLINOIS: Rushville Illinois is a small mid-western town with a population or approximately 3,200. Several Local Pool and Billiard players support the club, including Mayor Carson Klitz. As billiard tournaments go, Rushville is reasonably convenient to MIDWEST Billiard Enthusiasts in or near thefollowing locations:
Minneapolis–Milwaukee–Madison–Grand Rapids–South Bend–Indianapolis–Rockford–Chicago
Des Moines–Marshalltown–Dubuque–Kansas City–St. Louis–Memphis–Nashville–Louisville
Quad-Cities (Despite its name, the region includes five main cities, Rock Island, Moline, East Moline Illinois,and Davenport and Bettendorf, Iowa)