Torbjörn Blomdahl is king of the hills in Porto
Torbjörn Blomdahl is king of the hills in Porto
Posted by Frits BAKKER on July 12, 2015
© Harry van Nijlen/kozoom.com
World Cup in Porto with the winner Torbjörn Blomdahl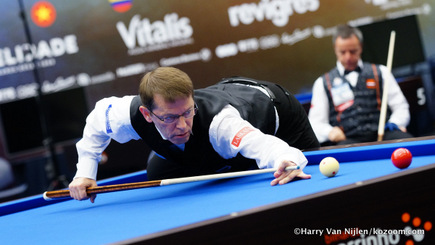 PORTO – The most seasoned of the four players on the final day turned out to be the winner of the event. Torbjörn Blomdahl (52) won his 43d World Cup in Porto, Portugal, and solidified his nr. 1 position on the world ranking, where he now leads Dick Jaspers by 120 points. Eddy Merckx, Sung-Won Choi and Frédéric Caudron follow at a respectable distance. Blomdahl was treated to a thunderous applause as he climbed the rostrum and accepted the trophy from FC Porto's president.
The Swede supremacy on the closing day was remarkable, but that had a lot to do with his opponents inability to produce their best. He cruised past Dick Jaspers in the semi and Hyung Bum Hwang in the final with the air of a champion. His illustrative comment after the final: ,,The toughest match of this tournament was the one against Rui Manuel Costa, my teammate from FC Porto."
The Swede was never really in trouble, in his other matches: Jérémy Bury (40-29 in 14), Birol Uymaz (40-24 in 23) and certainly Dick Jaspers (40-25 in 16) and Hung Bum Hwang (40-13 in 18) were no threat at all.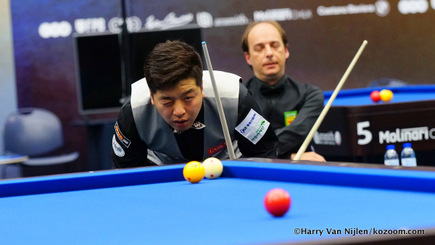 The tournament looked to be headed for a clash between the two top Porto players, after Blomdahl had eliminated Jaspers with remarkable ease. The dream final in the Dragao sports arena was not to be though, because Korean Hyung Bum Hwang proved to be a stumbling block for local hero Dani Sanchez. The Swedish world nr. 1 had predicted a final between himself and Sanchez, because how could 32-year old Hwang, with just two years experience in World Cups, hold his own against Sanchez who had the crowd behind him?
Hung Bum Hwang focussed on the position, Dani closes his eyes.
Hwang was mostly remembered as the congenial player who had almost made the final last year in Hurghada, but completely choked against Marco Zanetti. ,,I had four match points and missed all of them", he said looking back at that painful moment in his young career. But this time the Korean was able to produce the goods, on his way to the final. First, against Vietnamese veteran Anh Vu Duong, who had a 37-33 lead but was beaten by Hwang's closing run of seven, Duong missing in the equalizing inning.
This Sunday afternoon, Dani Sánchez crossed paths with the Korean, who is married, has one child and for years was one of the anonymous Korean players because participating in World Cups was too expensive. His rapid improvements made him stand out, and he improved his ranking in national events. Was he in with a realistic chance of beating Dani Sánchez, who had played at such a high level for days, producing high run after high run?
It looked like a mismatch, but as he had been against Jean Paul de Bruijn, a slow start made Sánchez vulnerable (20-4 after 7). The defining moment of the match came when Sánchez had made up his deficit and had taken a small (24-22) lead. Hwang was at the table, he made a fluke and followed it with twelve good points: 35-24 and Sánchez on the back foot. It proved too much: Sánchez made a five and four more in the equalizer, for a 40-33 final score in favor of Hwang (19 innings). The Spaniard will have to wait some more, before he can end his long World Cup drought. His last one dates back to 2011, in Matoshinos, also organized by FC Porto, where he beat Caudron in the final.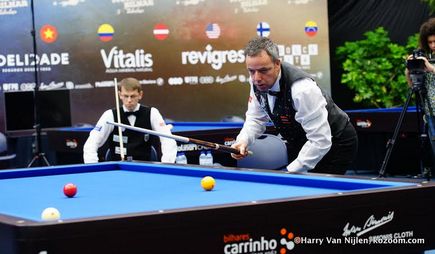 Dick Jaspers lost to Blomdahl and couldn't fire up the match at all
The other semi between Torbjörn Blomdahl and Dick Jaspers did not live up to the high expectations. The Swede beat his opponent, the title holder in Porto, in a superior and one-sided match on the early Sunday morning. ,,I took much to long to find my game", said Jaspers, who gave Blomdahl all credit for his better start (20-2 after four innings). Jaspers was in his thirteenth inning when he first made a little run of five, and at that time Blomdahl was in the home stretch.
,,I had trouble making my last few points", was Blomdahl's comment later. ,,Maybe it had something to do with the added pressure that is always there when I play Jaspers." Dick admitted that he wasn't properly focused: ,,I admire Torbjörn, that he can show up at the table at 10 in the morning, this motivated and sharp." Blomdahl smiled: ,,I have a son who is up at six every day. That is when I get up, so ten AM is not early for me."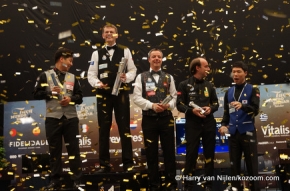 1 Torbjörn Blomdahl 2.000-9
2 Hung Bum Hwang 1.453-13
3 Dani Sánchez 2.390-12
3 Dick Jaspers 1.790-12
5 Jung-Han Heo 2.000-14
6 Birol Uymaz 1.650-16
7 Ruben Legazpi 1.418-9
8 Anh Vu Duong 1.206-10
9 Choong-Bok Lee 1.931-10
10 Jean Paul de Bruijn 1.750-9
11 Jae Ho Cho 1.583-7
12 Pedro Piedrabuena 1.526-6
13 Eddy Leppens 1.481-8
14 Marco Zanetti 1.388-8
15 Rui Manuel Costa 1.365-10
16 Jae Guen Kim 1.305-9
17 Jérémy Bury 2.071-8
18 Tayfun Tasdemir 2.000-6
19 Frédéric Caudron 1.823-10
20 Carlos Crespo 1.809-11
Rankings World Cup in Porto:
1) Torbjörn Blomdahl 417 of 443
2) Dick Jaspers 322
3) Eddy Merckx 265
4) Sung-Won Choï 255
5) Frédéric Caudron 229
6) Dani Sánchez 204
7) Marco Zanetti 198
8) Hyung Bum Hwang 172
9) Roland Forthomme 160
10) Tayfun Tasdemir 159
11) Dong Koong Kang 158
12) Jean-Paul de Bruijn 156
13) Nikos Polychronopoulos 149
14) Jae Ho Cho 147
15) Haeng-Jik Kim 146
16) Sameh Sidhom 138
17) Choong Bok Lee 137
18) Jung-Han Heo 133
19) Jérémy Bury 132
20) Tran Quyet Chien 125
21) Murat Naci Coklu 120
22) Adnan Yüksel 119
23) Nguyen Quoc Nguyen 118
24) Eddy Leppens 117
25) Pedro Piedrabuena 116
26) Riad Nady 113
27) Cho Chi Yeon 106
28) Henry Diaz 104
29) Filippos Kasidokostas 103
30) Ruben Legazpi 100.