Tennessee Junior State 9-Ball Champions Crowned
May 20, 2015 (Denver, CO): The Tennessee Junior State 9-Ball Championships concluded on Saturday 11, 2015. Boys 18 and under goes to Dakota Harris and boys 14 and under goes to Eric Roberts. Great shooting guys..the boys are Vegas bound for the 2015 BEF Junior National 9-Ball Championships.
Crossville Family Billiards will be raising monies over the next few weeks to offset their travel expenses.
18 & Under Division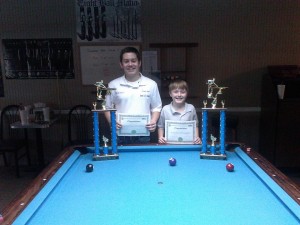 1st Place
Dakota Harris, age 15
Bledsoe, TN
Trophy, Paid Entry to 2015 BEF Jr Nationals, Other prizes
2nd Place
Hunter Bumpus, age 18
Murfressboro, TN
3rd Place
Darren Bowman, age 16
Crossville, TN
14 & Under Division
1st Place
Eric Roberts, age 12
Crossville, TN
Trophy, Paid Entry to 2015 BEF Jr Nationals, Other prizes
2nd Place
Gage Barham, age 13
Ripley, TN
3rd Place
Blaise Stokes, age 13
Crossville, TN