Esparza Makes Her Mark on the Gulf Coast Tour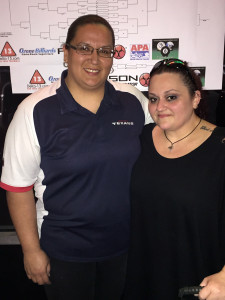 Natalie Esparza (left), Terry Petrosino
Esparza Makes Her Mark on the Gulf Coast Tour
It was an amazing run for Natalie Esparza as she went undefeated, taking down the best of the best in Texas female amateur billiard competition this past Saturday at the second Gulf Coast Tour stop of the year held at the new Bogies West in Houston, Texas. The Gulf Coast Tour, a WPBA sanctioned regional tour, drew a whopping 29 women to the one-day 9-ball event, the largest field to date for the fledgling regional tour and a perfect opportunity for local league player Natalie Esparza to prove, she's got skills. Esparza secured the first major win of her pool playing career, besting former BCA Champion Terry Petrosino in the finals, 7-5. Esparza began her 2015 season with a 7th-8th finish, and after this, moves to #1 in the rankings. This year marks her first year on the Gulf Coast Tour, certain not to be her last.
On Saturday, March 7th, 2015, Gulf Coast players from across Texas flocked to Bogies West to compete for prize money and WPBA Regional Tour points. Former tour champion, Belinda Lee, fought her way to the hot seat with wins over Karen Reilly, 7-1, Tam Trinh, 7-3, Terry Petrosino, 7-3, and Jennifer Yo, 7-4. Esparza defeated Sara Bork, 7-6, Gail Roles, 7-4, Kim Pierce and Robyn Petrosino by the same score, 7-5. On the one loss side, after losing her first round to R. Petrosino, 7-6, Liz Mitchel took out Regine Flores, 5-1, Jo Losoya, 5-0, and Tiffany Mundie, 5-1, but fell to Pierce, 5-1. Tam Trinh overcame Jillian Nickerson, 5-2, while Ricki Casper eliminated Gail Roles, 5-1. After losing her first round to newcomer Jo Losoya, Kim Jenkins eliminated Bonnie Mason,5-3, Terri Resendez, 5-3, and D'Andrea McQuirter, 5-1, before she was eliminated by T. Petrosino, 5-1. The one loss side saw Trinh fall to Pierce, 5-0, and Petrosino oust Casper, 5-1. Teeing off in 5th-6th position, it was Pierce v Yo, and the elder Petrosino v daughter, Robyn. Back on the east side, Esparza made quick work of Lee, sending her west, 7-3, while Pierce defeated Yo, and T. Petrosino eliminated R. Petrosino, by the same score, 5-2. Petrosino overcame Pierce and Lee to meet Esparza in the finals. Petrosino launched a courageous battle for first, but fell to a motivated Esparza in the first and final set, 7-5.
The Gulf Coast Tour would like to welcome its newest 2015 WPBA Members: Terry Petrosino, Robyn Petrosino, Jillian Nickerson, Tam Trinh, Regine Flores, Deb Benavides, Francis Marron, Diana Cardona, Kim Jenkins, Jo Losoya, and D'Andrea McQuirter.
Payouts:
1st Natalie Esparza $415
2nd Terry Petrosino $280
3rd Belinda Lee $170
4th Kim Pierce $90
5th-6th Jennifer Yo, Robyn Petrosino $30ea.
In its third year, the WPBA sanctioned Gulf Coast Women's Regional Tour is sponsored by Delta-13 Rack, www.delta-13.com and the APA of North Harris County, www.facebook.com/apanorthharriscounty. The tour would like to thank Bogies West and General Manager Stephanie Verron and her entire staff for hosting a first-rate event, along with Ricki Casper for assistance with tournament direction.
The next Gulf Coast Tour Event will be Saturday, May 16th, at Ariana's, 13802 Homestead Rd., Houston, Texas. For more information on the Gulf Coast Women's Regional Tour, visit www.facebook.com/gulfcoasttour.
The Gulf Coast Tour is searching for sponsorship, whether it be presenting, title, or product sponsor. Interested parties should contact Kimberly Newsome at lonestartour@gmail.com.
The Gulf Coast Women's Regional Tour is one of (14) WPBA (Women's Professional Billiard Association) Regional Tours. To find a tour in your area, or start a tour of your own, visit www.wpba.com.