Winner of free ACS Nationals 9-ball singles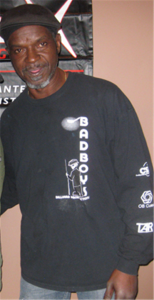 Winner of free ACS Nationals 9-ball singles entry Mike Wilder
The A-side was completed with semifinalist winners Mike Dunklin (Normal, IL) upending Greg Mitchell (Decatur, IL) 5-3 and Chris Austin (Sailor Springs, IL) blanking Dave Miller (Decatur, IL) 5-0. Dunklin then claimed the hot seat with a 5-2 decision over Austin.
On the B-side at the 5-6th place mark, Greg Mitchell eliminated defending champion Mike Wilder 5-3, while Billy Smith ended Dave Miller's day by the same 5-3 margin. Mitchell then ended Smith's run at 4th place by a 5-3 margin, and in turn, Greg Mitchell was eliminated at 3rd place 5-3 by Chris Austin. The tourney finals went two sets, as Chris Austin clipped Mike Dunklin 5-4 in the first set, but Dunklin prevailed for the title in the deciding set, 5-4!
As Mike Wilder was the highest-finishing ACS member in the event, he qualified for a free 9-Ball singles entry into the 2015 ACS Nationals at the Tropicana Las Vegas – courtesy of the ACS. The ACS wishes to thank sponsors Rawhyde Cues, Championship Billiard Fabric and Nick Varner Signature Cases for their support in donating "Value-In-Kind" product for this and all stops on the Rawhyde All American Tour. Sponsorship opportunities and tour stop openings are still available for the 2014/2015 All American Tour by contacting the ACS.
The Tour moves one state west on Saturday, February 21, with a handicapped $500-added 9-Ball Tourney at 2nd Avenue Corner Pocket (contact 319-366-0979) in Cedar Rapids, IA Further information, entry details and schedules for the 2014/2015 Rawhyde Cues All American Tour are available at www.americancuesports.org.
Final Results:
1st    Mike Dunklin (Normal, IL)  $614
2nd   Chris Austin (Sailor Springs, IL)  $257
3rd    Greg Mitchell (Decatur, IL)  $97
4th    Billy Smith (Bluffs, IL)  $54
5th    Mike Wilder (Decatur, IL)  $35 + Free Singles entry to ACS Nationals
6th    Dave Miller (Decatur, IL)  $35