Behind the Eight: High School Billiards
It's hard to believe that the high school billiards program here in Dallas, Texas has completed it 8th year of competition. The program started back in late September of 2001 when everyone was still in shock from the tragic day of 9/11
Reflecting back I can remember being excited about the idea of high school students being introduced to the ancient sport of billiards or what others call "pool". After doing some research I had realized that there has never really been an attempt by the billiard industry to seriously implement high school billiard programs in the U.S. Why do I say this? Because in 2001 there were no programs anywhere in the country except for a sole P.E. program in California that offered billiards to only one high school.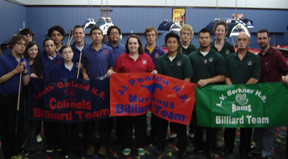 This was extremely puzzling since billiards has been around in the U.S. for centuries. There had to be a reason why billiards was never offered to the students at the very least as an after school club. I felt high school billiards was truly "behind the eight ball", a well known phrase in and out of the pool world with the literal meaning- to be in a very bad position or situation. Why, why, why?
Of course many would argue that the social stigma of the smoky poolrooms, alcohol and the hustling for billiards not being seriously considered as a legitimate sport worthy of high school consideration. But wait; in 1998 the International Olympic Committee had recognized billiards as a true legitimate sport. So I had to ask why wouldn't the schools accept it if the Olympics had?  The truth was no one had ever seriously approached the schools and convinced them that it could be a great after school sports alternative. We had to change this.
If you look at any other high school sport in the U.S. i.e. golf, tennis, football, basketball, baseball, etc., you will notice that there is a grassroots of young players, dedicated and trained coaches and instructors, safe and clean practice and competitive facilities, wide industry support, and the opportunity for a student to advance their skills to the professional level.
The big picture of why high school billiards was not yet in the schools was definitely emerging. Billiards as an industry was and still is not even close to the other sports in promoting youth billiards. Youth billiards was totally ignored in the U.S.  There were many obstacles to overcome in 2001. There was no track record, information, testimonials or anybody with experience to assist in developing this program. It all had to be built from the ground up.
Fast forwarding to today many of the barriers of starting a high school program have been overcome. There are now a few dozen high school and junior high school programs that have emerged in the U.S. from the credibility, experience, and knowledge gained from those eight years in Dallas, Texas.
Here in Dallas we are very proud of our eight year history. This 2008- 2009 school year was an exceptional banner year.
This past season's highlights- teacher/sponsors for the first time in the programs history have played on their respective teams during competition as active participants.  The teachers were very competitive but had fun with their team. This is the only high school sport where the coach gets to compete with the team. A completely novel idea that was extremely successful.
The Rowlett H.S. Eagles won their 6th championship in eight years (2002, 2003, 2005 ,2006 , 2007, 2009)-consisting of four year player veterans Chad Swoveland (9th – 12th) and Darrius Patton (9th – 12th), Travis Hodge, Cameron Bishop, Marco Arista, Trevor Campbell, and their proud teacher sponsor and team competitor Jeffrey Pilcher.  This has been a feat since there have been 13 high schools that have participated in the program since 2001.
The four year veteran (9th – 12th) and 4-time BEF Junior National contender from the Rockwall H.S. Yellowjackets, Trey McMullen, was awarded the 2009 BETTER H.S. Billiard Program boys MVP award and Chris Anderson from the Wylie H.S. Pirates with runner-up MVP. Elizabeth Kensinger from the North Garland H.S. Raiders won the girls MVP and Taylor Johnson from the Wylie H.S. Pirates with runner-up MVP.
Also from Rockwall H.S. we are very proud of, Nicole Redmond, a Librarian and the teacher sponsor of the Yellowjackets billiard team for her being awarded the "Rockwall H.S. Teacher of Year". Mrs. Redmond had gotten approval and had installed a billiard table in the library at the school (yes the library). The principal loved the idea.
We are proud of this year's 2009 teacher MVP player of the year with the South Garland H.S. Colonels, Sean Duffey. Mr. Duffey was one of the pioneer high school billiard students in 2001-2003 that graduated from Rockwall H.S. and competed at the 2003 BCA Junior National at the University of Michigan. Mr. Duffey graduated from college with a degree in Education and has now become a South Garland H.S. teacher sponsor since 2007. His dedication and hard work has been an inspiration to his team players. The 2009 Teacher MVP runner-up was awarded to Patrick Englert from the Wylie H.S. Pirates.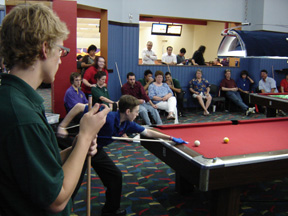 This year the Dallas based high school billiard program has selected six students to compete at the 2009 BEF Junior Nationals to be held at the Illinois State University. These students i.e; Trey McMullen- Rockwall H.S. Yellowjackets, Chad Swoveland- Rowlett H.S. Eagles, Chris Anderson- Wylie H.S. Pirates, Elizabeth Kensinger- North Garland Raiders, Caitlyn Shuping- JJ Pearce H.S. Mustangs, and Taylor Johnson- Wylie H.S. Pirates.
In closing I do admit there is still a lot of work to be done and problems still to be solved for high school billiards to really expand. The billiard industry needs to wake-up and support this new endeavor. Momentum is now on our side and we must work even harder to continue the progress made with billiards in school. After all who would really benefit from a nation wide billiards in school program?
The obvious answer is everyone in the billiard industry- the retail stores, leagues, professional players and above all the schools and students. The question is no longer how or when do we do this"¦rather it is where do we do this?  So in 2009, is high school billiards still "behind the eight ball"? In my humble opinion no, however, it is still a tough shot"¦ but one that can be made.
The information and forms that we have used and developed over the last eight years have been used by the Billiard Education Foundation (BEF) to assist others in their quest and passion to start a school program in their area. The Program Directors guide can be obtained through the BEF by contacting Laura Smith at www.billiardeducation.org.
Earl Munson- is a Dallas area BEF H.S. Program Director, BCA Certified Instructor, BEF Junior National Tournament Director, and BEF Education Committee- Chairman and he can be contacted at emunson@betterplaybilliards.org or 972-757-8384 for information or assistance.