Douglas Pitts Wins Omega Billiards Tour 2014 Season Finale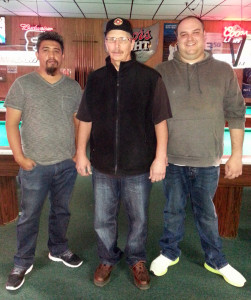 Picture caption: Crispian Ng (3rd), Douglas Pitts (1st) and Greg Sandifer (2nd).
On the weekend of November 8-9, Douglas Pitts found himself in the winner's circle of the $4,300-added 2014 Season Finale of the Omega Billiards Tour held at Rusty's Billiards in Arlington, Texas.
Seventy four players competed in the event and it was a full weekend of prizes because it was the Season Finale.
Nick Conner became the Tour Champion as he ended up the season ranked first on the Predator Player Points Tracker. Nick won a Predator Sport 4×8 Case, BK3 Break Cue, and Sport Playing Cue, Plus free entries to 2015 Omega Tour stops.   Tony Sulsar finished a great season placing second in the rankings and he received a Predator Sport 4×8 Case, BK3 Break Cue and Air 2 Jump Cue. Crispian Ng filled out the third spot and he received a Predator Sport 4×8 Case and BK3 Break Cue. Fourth through ninth place ranked players each received a free entry into the BCAPL 2015 Nationals tournament. Those players are Barry Emerson, Daniel Herring, Mike Voelkering, Jeff Franklin, Jersey Jack Lynch and Steve Raynes.
A HUGE congrats to all these players who fought hard all year to get in the top ten!
Poison also donated two Poison Break cues that were raffled off during the Finale. Surmin Omerovic and Tracie Voelkering won the two break cues. At each stop, the Poison Break Cue contest was held and every player drawn was given a ticket and kept throughout the season. Over $6,000 was given away during the Poison Break contests for 2014!
Also raffled off was a beautiful OB Cue! Jeff Swinger was the proud winner!
One final cue raffle was a donated $1,800 Wallace custom cue. Everyone loved the cue and bought raffle tickets throughout the last few stops to get a chance at it. The cue raised and extra $1,300 that was added to the Season Finale making the total $4,300 added! The cue was won by Buddy Hall who played in our September stop. The cue was eventually sold to Omega Tour player Ricky Ferguson who had bought the most tickets for the raffle!
After a Saturday full of prizes, there was still competing going on on the pool tables. By Sunday afternoon, Crispian Ng would get by Denny Sneed 7-4 and then squeak by Jeremy Jones 7-7. Douglas Pitts also had a nail biter barely defeating Amos Bush 7-7 to then defeat Dylan Weinheimer to find a spot against Crispian to see who would wait in the hotseat.
On the one-loss side, Jeff Franklin and Greg Sandifer (2014 newly-crowned ACS Texas State champ) were making a tear through the one loss side. Greg defeated Marc Brown, Steve Raynes, Amos Bush and Jeff Georges. Jeff Franklin defeated Daniel Herring, Denny Sneed, Chris Ferguson, and Dylan Weinheimer. Greg would win over Jeff Franklin 7-4 to make it to the semi-finals.
Crispian had a great match with Douglas Pitts for the hotseat but Doug prevailed 7-5. Crispian then had his hands full again with another tough but great match against Greg Sandifer, but Greg prevailed 7-5 to win a spot in the finals with Douglas Pitts. Douglas kept the tight ropes on though and won his first Omega Tour stop with a 7-4 win! Douglas Pitts would win $1,550 for his first place finish!
Congrat's to 9th- 12th place finishers Richard Parrilla (highest finish yet), Amos Bush, Carl Bodeker, and Denny Sneed ($175). 7th/8th was filled by the always tough Jeff Georges and Chris Ferguson ($300). 5th/6th was captured by Dylan Weinheimer and Jeremy Jones ($400). Jeff Franklin placed 4th and earned $500, Crispian placed 3rd for $650 and Greg placed 2nd earning $960.
Congratulations to ALL the players! It's been a GREAT year, but it would not be possible without all the fans, supporters, players, and pool rooms!
A HUGE thank you goes out to our sponsors Predator Cues, Poison Break Cues, BCAPL/CSI, and Lucasi and Players Cues. We would also like to give a big thanks to our additional sponsors, Wallace Custom Cues, OB Cues, Irving Ink and Thread, Pro Billiard Service, AZBilliards.com, and BilliardsPress.com.
Tour Director Melinda Bailey would like to thank Rusty's Billiards owners and staff for their awesome hospitality all weekend! A big thank you also goes out to Michael Hoang, main sponsor of the Tour and owner of Omega Billiards Supply in Hurst, TX. Michael and Omega Billiards Supply are well known for the huge booths at many of the large tournaments across the country.
Next season for 2015 there will be nine (9) stops, each $1,500 added, and also a guaranteed $4,500-added Season Finale.   Pool is alive and thriving in Texas!  Check out the website for more details on how to get involved in the Dallas-Fort Worth area pool tour.
http://www.omegabilliardstour.com/
Complete Payouts (does not include players auction): 
Place, Name, Prize Fund

1  Douglas Pitts $1,550
2 Greg Sandifer $960,
3 Crispian Ng $650,
4 Jeff Franklin $500,
5/6 Dylan Weinheimer and Jeremy Jones $400,
7/8 Georges and Chris Ferguson $300,
9-12 Richard Parrilla, Amos Bush, Carl Bodeker, and Denny Sneed $175
13-16 Lonnie Rozelle, Daniel Herring, William Howard, Steve Raynes $100
17-24 Ed Redman, Steve Collins, Marc Brown, Michael Vaught, Cody Wright Josh Horne, Coleman Derryberry, Linh Nguyen $45