2014 PartyPoker World Pool Masters Day 1
Mixed fortunes for Mosconi stars
Daniele Corrieri (ITA) 8-4 Niels Feijen (HOL)
Nick Ekonomopoulos (GRE) 8-4Thorsten Hohmann (GER)
Alex Pagulayan (CAN) 8-6 Darren Appleton (ENG)
THERE WERE first round defeats for 2014 European Mosconi Cup team mates Niels Feijen and Darren Appleton at the 2014 PartyPoker World Pool Masters while fellow team member Nikos Ekonomopoulos recorded a fine win over Thorsten Hohmann at the Portland Centre, Nottingham, England.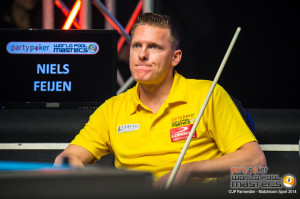 Niels Feijen crashed out of as the 21st annual invitational event got underway as the Dutchman was beaten 8-4 by Italian danger man Daniele Corrieri.
The break conditions employed at the Masters saw the three point rule scrapped and no balls tapped into place. That meant the players needed to hit the pack hard in order to give themselves every chance. The European No.8 from Rome looked focused throughout while World Champion Feijen made too many errors when it looked like momentum was shifting in his favour.
Corrieri said, "It was a tense match and it was one of the toughest draws I could have had to play the defending champion and it gives me a lot of confidence going forward.
"Perhaps Niels didn't quite get the hang of the break and I was able to make balls on the break, and when it is a short race with winner breaks you can take advantage of your chances."
Nikos Ekonomopoulos ran into a 5-0 lead against Thorsten Hohmann in the winner breaks format before he left a 1/9 combo escaping from a safety which Hohmann speared in the get on the scoreboard. The German ran the next to reduce arrears and then came as close as possible to scratching without the white dropping as his positional shot to the 9 ball just stayed out. That enabled him to take that rack for 3-5.
The Greek took the next following a safety exchange but a dry break in the next allowed Hohmann to take the score to 3-6. He failed to make a ball off his next break to allow Ekonomopoulos to run out to reach the hill and when he spotted a 3/9 combination in the 12th rack, it was all over.
"I played well at the start of the match but at 5-0 I didn't make a ball on the break. It is winner breaks so you can't be relaxed because your opponent can come back quickly. Thorsten Hohmann is a World champion so 5-0 is nothing, you must take every chance to win," said the Greek.
In the final match of the evening, Alex Pagulayan appeared to be regaining some of the spirit which made him one of the world's feared players. He claimed a hard fought encounter over Darren Appleton to advance to the second round as he looks to repeat his Masters win of 2008.
"It was a tough match and I can't believe I pulled it off, I was so nervous and I felt a lot of pressure," said Pagulayan.
"It was cold out there and I usually struggle when I feel pressure and it is cold. But I kept playing hard.
"The break is crucial, it is 50% of the game but I am not surprised the top seeds have been knocked out because the standard is high and it is short races.
"I kept myself calm and even though I was nervous I told myself 'Hey, you're 'The Lion', keep playing hard'.
"I might have looked relaxed but I was finding the best way to handle the pressure, so talking to people and involving the crowd in the game helps me to relax a little bit."
Play continues tomorrow afternoon with three more first round matches.
Saturday afternoon 13.00
Karol Skowerski (POL) (8) Wang Can (CHI)
Dennis Orcollo (PHI) (3) Chris Melling (ENG)
Shane Van Boening (USA) (2) James Georgiadis (AUS)
Saturday evening 18.00
Karl Boyes (ENG) (6) Waleed Majid (QAT)
Mika Immonen (FIN) (7) Mark Gray (ENG)
Quarter Final 1
Sunday afternoon 13.00
Quarter Final 2
Quarter Final 3
Quarter Final 4
Sunday evening 18.00
Semi Final 1
Semi Final 2
The Final
The Masters will once again sport a $20,000 top prize, and the event will be produced by Matchroom Sport Television who will be making 15 x 1 hour programmes of the tournament for international syndication.
The 2014 PARTYPOKER World Pool Masters is sponsored by PartyPoker.com, one of the world's leading online poker sites. The Official Table is by Diamond Billiards; Cloth is supplied by Iwan Simonis; the Official Balls are Super Aramith and Predator is the Official Cue, Chalk and Rest.
Luke Riches, Matchroom Sport: luke.riches@matchroom.com
Notes: Matchroom Sport are one of the world's leading producers of televised sport and are responsible for over 1,000 hours of original programming across a range of sports. Based in the UK and chaired by charismatic founder Barry Hearn, the World Pool Masters is one of a stable of pool events that include the World Cup of Pool and the Mosconi Cup.