Dick Jaspers is back at the top winning World Cup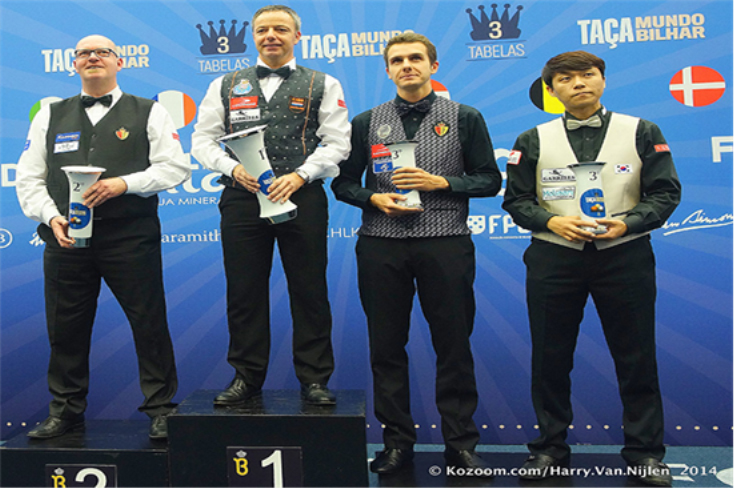 © Harry van Nijlen/Kozoom
By Frits Baker of Kozoom
Dick Jaspers on the podium with Roland Forthomme, Peter Ceulemans and Sung-Won Choi
PORTO – After three seasons without a major victory, Dutchman Dick Jaspers is back at the top. In the Portuguese port city Porto he won the final on Sundayafternoon, against Belgian Roland Forthomme. For Jaspers, it was the 20th victory in a World Cup. The Dutch champion lived emotional moments in the full and lively billiard arena. ,,I had to wait a long time for this, and I am overjoyed." His win took Jaspers to the third place on the world ranking, behind Frédéric Caudron and Torbjörn Blomdahl.
His run in this World Cup started with a win over Pierre Soumagne (France), then he beat Ryujji Umeda (Japan), Quyet Chien Tran (Vietnam), Sung-Won Choi (Zuid Korea) and finally the Belgian lion Forthomme. The tournament was given a tremendous climax, when both players had their chances to win it. Roland Forthomme had the better start and was in the lead until the interval. The Belgian, who had earlier eliminated two countrymen (Caudron and Ceulemans) missed his oportunity at 38-34. Jaspers had the stronger nerves, and ended the match with a winning run of four.
Dick Jaspers was in the final of a World Cup for the 36th time. The last win for him was Suwon, four years ago, when he beat Filippos Kasidokostas in the final. The crown on his glory years was the World title in Lima 2011, but from then on successes were few and far between. ,,I never stopped believing, because I kept playing top averages everywhere", he said, a happy man supported by his fellow members of the FC Porto club.
The final was a clash of two styles, the technically gifted, cautious Jaspers against the explosive Forthomme. In this tournament, the Belgian had performed heroic comebacks after the interval on several occasions. He did it against Greek Nikos Polychronopoulos and again in the semifinal against Peter Ceulemans, when he was trailing 22-5 after 8 innings to win 40-31 in 20. Dick Jaspers performed majestically in his semifinal against Sung Won Choi: his run of nine from 14-12 to lead 23-12 was the intro to a classy win: 40-26 in 15.
The FC Porto stronghold, with a billiard arena that held hundreds of fans, ready to applaud every point made by the grand masters, was more than ready for a climax to a week of matches. Dick Jaspers, under the highest of tension, could not produce the level of play he had shown earlier tin the week against Soumagne (3.333 average) and Choi (2.666), because the encounter with Forthomme developed into a tactical and defensive battle. Relief was overwhelming, when he had produced the final carom.
The three-time world champion smiled his widest smile, raised his cue in the air, and celebrated the win with the crowd for minutes. Roland Forthomme could not add a third to his two World Cup victories, both even older than the one by Jaspers. The Belgian won in Hurghada 2005 (final against Caudron) and in Volos 2006 (final against Blomdahl). The Belgian can't possibly get closer without winning than he did today in Porto.
The final rankings with averages:
1 Dick Jaspers 1.923
2 Roland Forthomme 1.825
3 Sung-Won Choi 1.678
4 Peter Ceulemans 1.589
5 Sani Sánchez 2.234
6 Quyet Chien Tran 1.818
7 Murat Naci Coklu 1.765
8 Torbjörn Blomdahl 1.486
9 Eddy Leppens 1.789
10 Nikos Polychronopoulos 1.744
11 Quoc Nguyen Nguyen 1.648
12 Koong Kang Dong 1.340
Semih Sayginer finished fourteenth with 1.298.
The new world ranking (not yet officially):
1 Frédéric Caudron, 439 points
2 Torbjörn Blomdahl, 384
3 Dick Jaspers, 323
4 Filippos Kasidokostas, 289
5 Sung-Won Choi, 277
6 Eddy Merckx, 274
7 Marco Zanetti, 261
8 Kyung-Roul Kim, 254
9 Dong Koong Kang, 233
10 Jae Ho Cho, 223
11 Tayfun Tasdemir 222
12 Dani Sánchez 216.