Darren Appleton -AMERICAN 14.1 STRAIGHT POOL CHAMPIONSHIP
AMERICAN 14.1 STRAIGHT POOL CHAMPIONSHIP
DIAMOND BILLIARDS, Midlothian, VA
Sep 12-14, 2014
Players began arriving into the Richmond area from as far away as the Netherlands and California as early as Thursday evening Aug 11th for the Tenth Annual AMERICAN 14.1 STRAIGHT POOL CHAMPIONSHIP (formerly the Maryland Open 14.1 Championship). This event has become an integral part of the fall pool calendar on the east coast and one of the most prestigious Straight Pool Tournaments of the year in the U.S. After four years at the venerable Big Daddy's in Glen Burnie, MD and 2013 hosted by Top Hat Cue Club, Parkville, Md., this year's 10th annual tournament moved south to beautiful DIAMOND BILLIARDS, Midlothian, VA owned by truly magnificent hosts, Tom & Cynthia Dorsey, and located just west of Richmond. Previously the American Straight Pool title has been won by some rather impressive names, even to those unfamiliar with 14.1   . . . .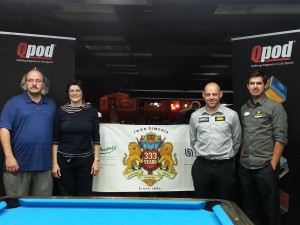 Darren Appleton 150 defeated Karen Corr 28, Sep 14, 2014
Thorsten Hohmann 150 defeated Johnny Archer 111, Sep 16, 2013
John Schmidt 150 defeated Thorsten Hohmann 21. Aug 18, 2012
Johnny Archer 150 defeated John Schmidt 74. July 24, 2011
Danny Harriman 150 defeated Shaun Wilkie 94. June 20, 2010
Danny Harriman 150 defeated Dave Daya 28. June 28, 2009
Bob Maidhof 150 defeated Danny Barouty 140. July 12, 2008
Mika Immonen 150 defeated Mike Davis 59. June 10, 2007
Ed Hodan 150 defeated Danny Barouty 89. Nov 19, 2006
Ryan McCreesh 150 defeated David Hunt 67. Aug 8, 2005
This year a 40 player field of the top Straight Pool players in the country arrived in Virginia for Friday afternoon warm-ups, check out the equipment of 11 Brunswick Gold Crowns and 3 Diamond tables, recently covered with new Simonis 760 cloth. Players were anxious to get in a few hours of practice, as competition this year would be fierce among one of the strongest fields ever.
Local tournament players once again congregated to mix with out of town pros many of whom had come long distances to play. Most know one another well and this makes for an enjoyable weekend of friendship, camaraderie and challenging Straight Pool all tied together. Festivities this year got off to a gentle start on Friday evening with two opening rounds of the seven round robin sessions over the first two days. The 40 player round robin is then pared down to 24 before the sparks began to fly on Sunday in single elimination. The round robin format is a nice chance for new comers and lesser known players to visit and share cordiality and play with great champions such as Bob Maidhof, Johnny Archer, Mika Immonen, Huidji See, Karen Corr, Darren Appleton, Mike Davis, Danny Barouty, Brandon Shuff, Mike Dechaine and others in the sterling field.
Gerda Hofstatter and Jeanette Lee, two highly popular great lady players who have been loyal past participants in the competition were absent due to their hectic schedules. In past years both the Black Widow and Gerda were able to make it through to the Sunday elimination round. This year they left the task to the sole lady player, the great transplanted Irish star, Karen Corr. And did Miss Corr ever live up to the task . . . oh boy! Or should we say Oh Girl! The American 14.1 tournament has made a concerted effort to attract top lady players, and hopes to continue to do so. Unfortunately few of the best women have strayed from their long time devotion to Nine Ball to gain the needed proficiency at the classic game of Straight Pool, but founder and longtime tournament Chmn., Peter Burrows, hopes to change that. The ladies need to take up the challenges of 14.1. Let's get more room owners encouraging 14.1 and particularly ladies to play in their 14.1 leagues. The American 14.1 Straight Pool Championship may not be a glitzy and large event, but in its own quiet way it has become a chance for the best straight pool players to meet and play with one another in a well-designed tournament under quite ideal conditions. Prize money has grown as has the field of world class players.
Format this year followed the tried & true plan of previous years with a 40 player field, 8 balanced flights of 5 players each in the initial two day Round Robin session. Everyone playing four 100 point matches vs. the others in their bracket with the top 3 players in each flight advancing to the Sunday single elimination round. The 8 flight winners were rewarded with a first round bye in the Sunday knockout session.  All 24 who advance through the round robin on Friday & Saturday are seeded 1-24 going in to Sunday, based on W-L and ball differential. A $100. award was given to the No. #1 seed the venerable Tom Walter of Great Neck, NY. Karen Corr won the $100. High Run prize for Fri-Sat. with an 81 ball run. The first of her many long runs during the tournament. Steve Matthieu won the $100. HR prize for those who did not advance to Sunday with a 71 ball run. There was also a blind draw among the 16 players who did not advance to Sunday; a refund of their $300 tournament entry fee, which was won by old time NJ player, Don Polo. Congratulation to lucky Mr. Polo!
Peter Burrows and Director, Megan Fort, always welcomes the opportunity for players to voice their opinions of format, rules and anything else on their mind. Peter seeks feedback to make this a "players friendly" tournament. Some of these elements are a polished dress code, player integrity with all ball fouls, and no time clock, always a debate. He notes. . .
"We honestly believe that players do play at their own pace, and generally that is a constant one. There will always be discrepancies and fluctuations, but a given player in my experience usually plays the way they play. I have watched top 14.1 players for more than six decades since first seeing Mosconi & Crane play at the old Bensingers room on Randolph Street in Chicago in the late 1940s. Pool players play at the pace they play at and the rhythm and tempo of one player's game is what it is. I just don't believe in a shot clock in Straight Pool. The game at this world class level is cerebral and players need time to think and analyze and I want to recognize that. Some situations lend themselves to more rapid disposal of a rack, but others do not. It you want a time clock play chess."
"There will always be a match here and there that is drawn out, and this year was no exception, with a few matches on the tight Diamond tables taking an unusual 2+ hours. But this is an exception and will happen in this most imaginative of games. Everyone is not a John Schmidt, Luc Salvas or Machine Gun Lou Butera!" Tournament Director, Peter Burrows, believes that most 14.1 players understand this. No time clock.
Peter goes on to note that playing under the classic "all ball fouls" requires a greater emphasis on player integrity which has been so widely adopted with great success in golf . . .
"Why do we need a white glove referee at every table?   Nice, classic of course, but simply not practical. Golf rules are many times more complex than pool but the Royal & Ancient rules are well known and players honestly adhere to them. Pool can do the same. And while we're at it, let's dress the part. So the American 14.1 Straight Pool Championship is a dress code tournament following the format of other world class events. The dressier the better, what's wrong with that? Pool guys . . . and ladies . . . are handsome folks . . . let's look the part! Dress up our game. My gosh, we've got the Black Widow, Ms. Jeanette Lee the most stunning gal on the planet plus just a terrific player and advocate for our sport . . . and impeccably attired many time World Champion Thorsten Hohmann, although not playing this year, Jeanette & Toasty have been a regulars in our past tournaments, beating all of us like a drum, let's follow their lead and look sharp!"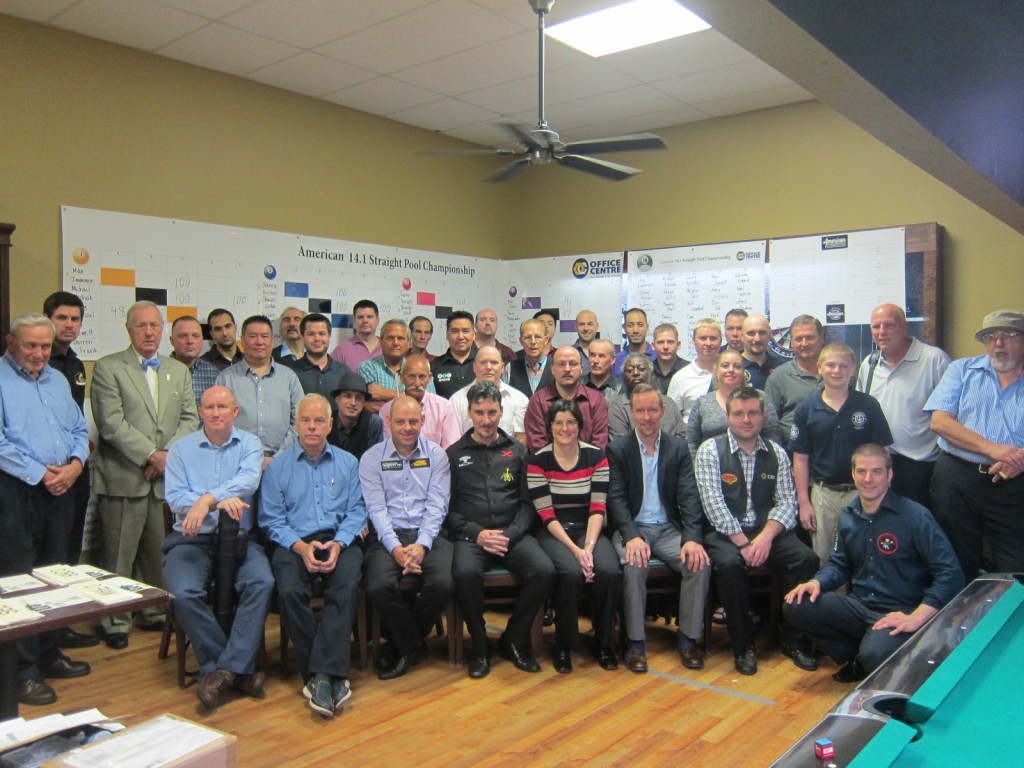 This is especially true given today's live streaming of pool matches. All three days were covered extensively thanks to Cynthia & Tom Dorsey and Jerry Tarantola's NYCGrind with their live stream. Many of the top players and some locals provided insightful commentary thanks to Shaun Wilkie, Tom Walter, Andy Lincoln, Michael Frank and others who sat in the live-stream booth for a spell.
As noted the tournament format was a two day Round Robin of eight flights, five players in each playing 4 matches to 100 points. The old fashioned straight pool format which tournament chairman Peter Burrows believes is not only fairest to the players, allowing them to play a maximum number of matches, but also a format which is ideal for spectators. They can watch their favorite locals or a top pro all day long, with no fear that they are going to get quickly eliminated in a one and done tournament. From the players perspective they can get warmed up, familiar with the equipment and there is no tedious winners' side delay which occurs in drawn out double elimination tournaments. Non-stop action involving everyone from dawn to dusk is a key positive in the round robin format!
Friday & Saturday consisted of seven rounds with each player playing four matches and three rounds free for a "break" and some lunch, featuring the finest of food offered by Diamond Billiards proprietors, Cynthia & Tom Dorsey and their wonderful staff. The tough match scheduling and table assignments were meticulously managed by Tournament Director, the ebullient Megan Fort!
Each of the flights was balanced with top players, those likely expected to advance, usually playing their toughest opponents in the later rounds after having a chance to play a few games and get used to the tables and atmosphere. For this year's draw the top eight players were set, as were the bottom eight amateurs. The middle 24 players were blind drawn into the different flights. Fair and simple. Strong local and regional players always surprise the front runners, and it never fails a dark horse has a great day at the expense of one of the favorites. Strong players, BD writer Bob Jewett and NYCGrind Jerry Tarantola both played extremely well during the round robin and were among the 24 who advanced to Sunday at the expense of higher seeds Larry Kressel & Steve Matthieu. Others advancing to the single elimination knockout were the predictable higher seeds.
The Round Robin generally went according to odds with the pros and strong national players pulling away in a field which included a dozen world class Straight Pool advocates. The top eight Seeds for the Single elimination each received a 1st round bye: 1) Tom Walter, 2) newcomer Jason Klatt, 3) recent World 14.1 Champion and 2x World 9 Ball Champion Darren Appleton, 4) local pro Brandon Shuff, 5) Kevin Clark, 6) Hall of Famers Johnny Archer & 7) Mika Immonen, and 8) New England's great young pro, Mike Dechaine. While each got to sit out the first round on Sunday as reward for winning their flight, the 9th thru 24th players were seeded playing one another in the Sunday opening round, 9 vs. 24, 8 vs. 23, etc.
In the Sunday single elimination opening two rounds . . .
9) Corr 125 def. 24) Noe 84 to advance to play 8) Dechaine whom she shocked in half a dozen innings 125 to -2.
10) Bob Maidhof great player and Drexeline Billiards longtime owner def. 23) Alan Duty 125-72 and went on to lose to 7) Mika Immonen 125-31.
11) Huidji See def. NYCGrind's 22) Jerry T. who had a great tournament 125-65; Hooch then moved on defeating 6) Johnny Archer 125-110. to advance to the quarter finals.
12) Shaun Wilkie def. 21) NY star Mike Yednak 125-67 before losing to 5) Kevin Clark 125-94
13) DannyBarouty venerable NY great now living in Calif. lost to young first time house pro 20) Danny Mastermaker 125-15. Danny then faced 4) Brandon Shuff losing 125-38.
14) talented player & 14.1 guru Bob Jewett who had also come all the way from Calif. lost to NY room owner 19) Holden Chin, playing for the first time 125-57. Holden moved on to the formidable task of facing 3) Darren Appleton, and the 2014 World Champion came out on top 125-21.
15) Dr. Bob Madenjian, another who had a terrific tournament, put down his stethoscope and defeated 18) Jeff Crawford 125-40. Bob then went on to lose to surprisingly strong new 14.1 player 2) Jason Klatt 125-96.
16) always tough Mike Davis, back on the circuit once more, bested new 14.1 player 17) Sean Morgan in a hard fought close match 125-120. Mike advanced to lose to 1) seed Tom Walter 125-68.
Of the eight top seeds only two were knocked from the quarter finals: 8) Mike Dechaine & 6) Johnny Archer. And so the stage was set for the four quarter final matches . . .
1) Tom Walter lost to 9) Karen Corr 150-122
2) Jason Klatt defeated 7) Mika Immonen150-88
3) Appleton beat 11) Huidji See 150-62
4) Shuff was knocked out by 5) Clark 150-75
Semi finals:
9) Karen Corr continued her mastery of 14.1 in a come from behind win against 5) Kevin Clark after Kevin missed the 150th ball, allowing Karen back to the table where she ran out winning 150-149!
3) Darren Appleton put on another clinic against stout and terrific young player, 2) Jason Klatt 150-50.
Finals. After a long day and many tough matches 9) Karen finally ran out of gas and succumbed to the great World Champion, and now American 14.1 Champion, 3) Darren Appleton 150-28. In this final match of the tournament both Karen and Darren put on a safety battle as I have not seen in decades. If you want to see a half dozen truly masterful safeties watch the NYCGrind tape. Leading 40-1 Appleton at the table with his cue ball buried in the pocket down at the far end . . . . they began a battle of safeties which was truly extraordinary. Watch it. Darren ends up with the tiniest fraction of a ball to shoot from down on the far rail, between two obstructing balls, nails it and goes on to build an insurmountable lead. A championship shot by a real champ. Just a great match. Congratulations to the World & American Champion, Darren Appleton, and to our great runner up and only lady in the field, Karen Corr, who played all three days like the true champion that she is.
Huidji See had the 2013 tournament high run of 144, and once again this year walked away with the $100 prize with a run of 83. His opponent remarked . . . . . .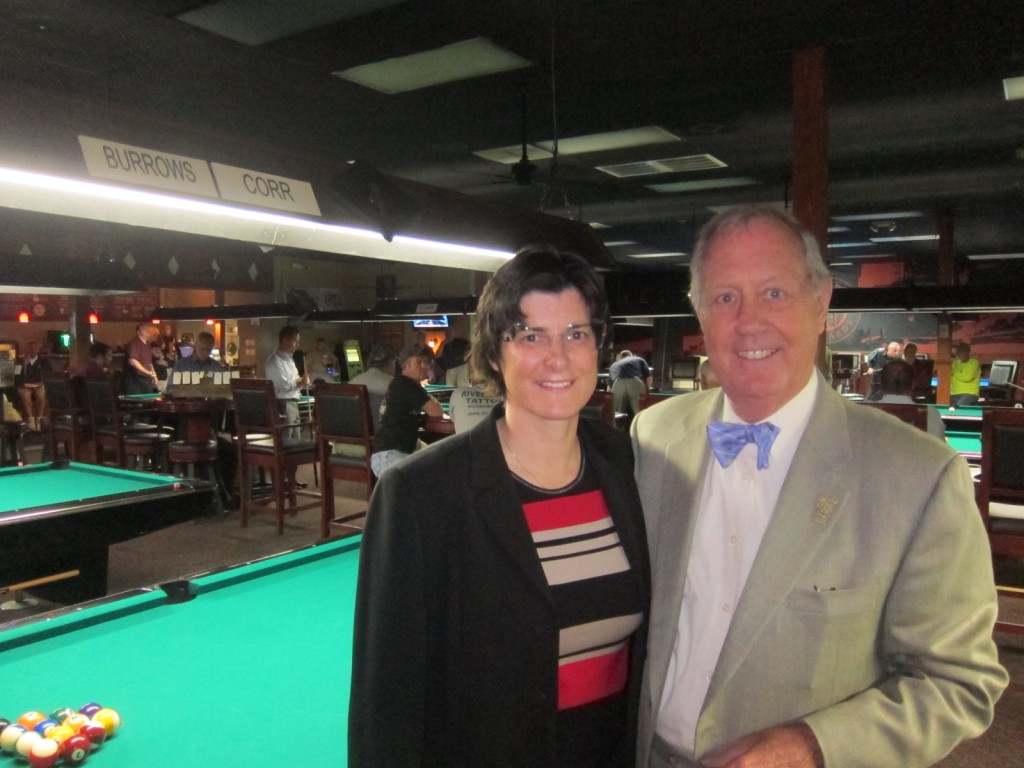 Karen Corr and Peter Burrows
Just so many terrific matches by many of the world's greatest players in the modern era. All who watched would surely agree. Congratulations and a tip of the old fedora to everyone who helped make this year's 10th annual American 14.1 Straight Pool Championship a huge success. And we wish to again thank our many dedicated sponsors, including Ivan Lee and Simonis Cloth and Aramith Balls, George Hart of Long Beach, CA, Qpod, Nathan Sulinski, Bob Jewett, San Jose, CA, Peter & Sandy Sears, Madison, WI, Rebecca Burrows & Erik Addington, NYC, and Michael Frank and our entire tournament committee, and all of our many generous sponsors. Our deepest thanks and appreciation to outstanding and gracious room owners Cynthia & Tom Dorsey and their entire staff at Diamond Billiards. What a beautiful job they did as hosts for the tournament. Superlative in every way! Thank you! Finally we must give thanks to the dozen top pros for their continued patronage of our tournament, for without them we would not have a chance to witness their magnificent skills in this beautiful and historic game of 14.1. Their time and schedules are valued and each one made a yeoman effort to come to Virginia and play. God willing we hope to see everyone back again next year, October 2015, the weekend before the fall U.S. Open.
Peter Burrows, Chairman
2014 American 14.1 Straight Pool Championship
410-757-3488
peterpool@comcast.net