USBA Open Tour at U.S. Billiards Houston, TX
Preliminary Charts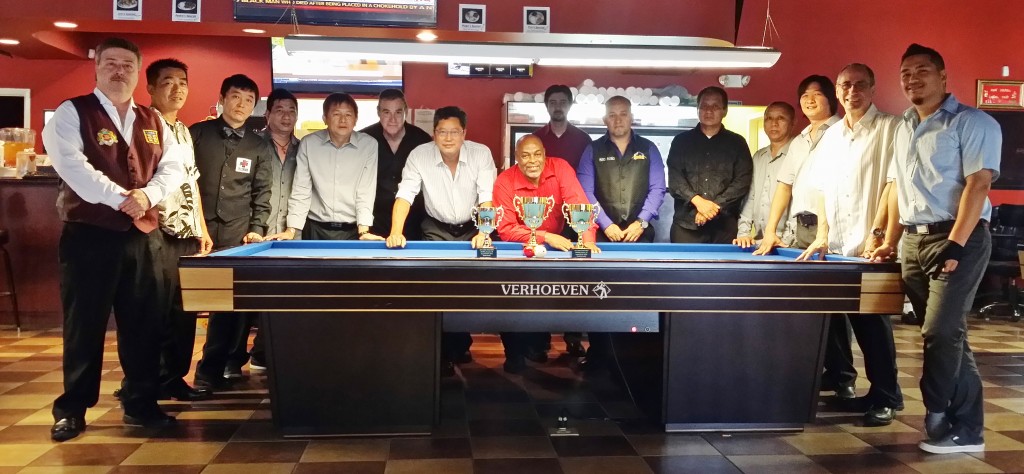 Patino Unbeaten in Finals at US Bida Open Tournament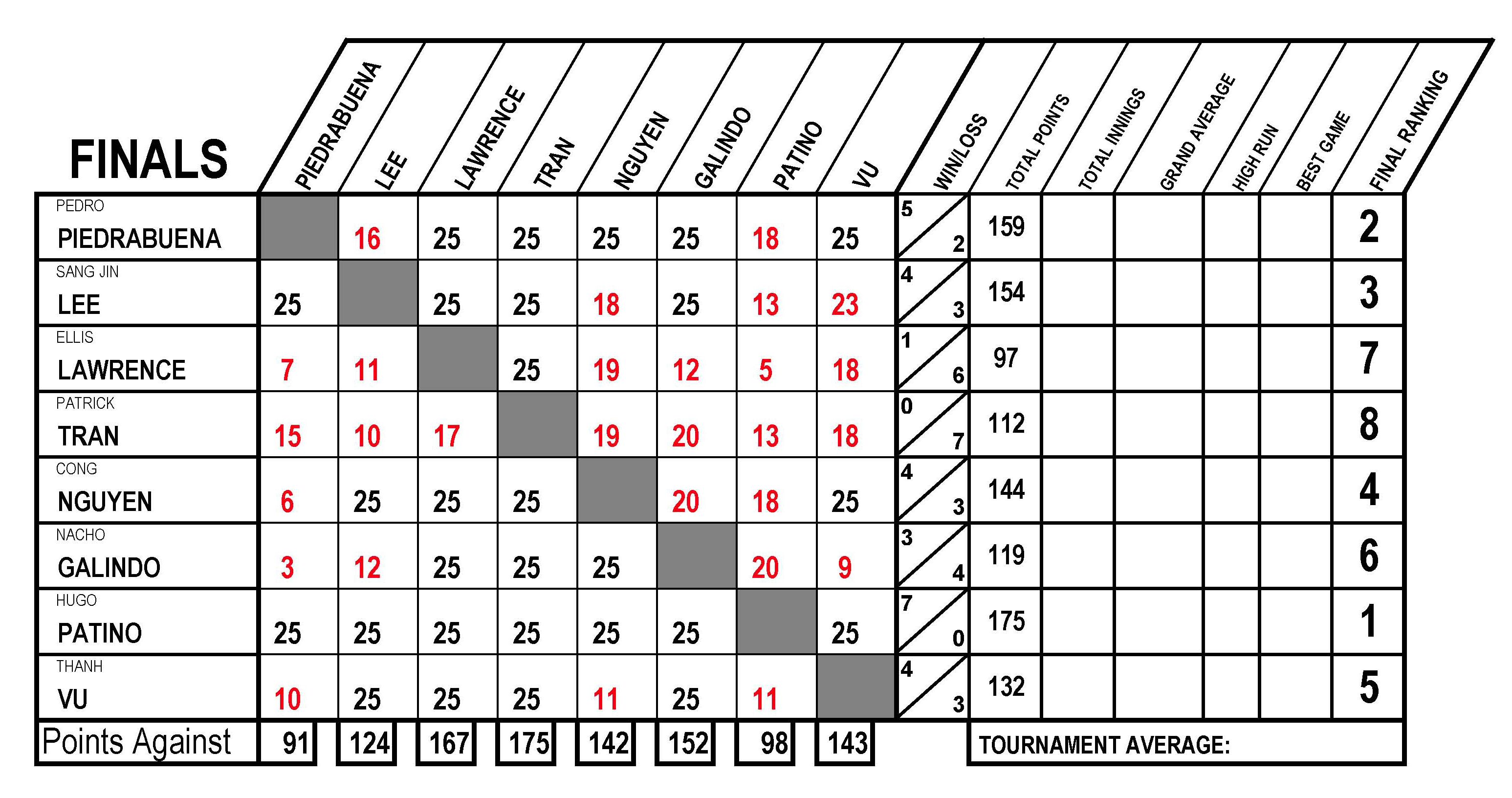 Patino Unbeaten in Finals at US Bida Open Tournament
Piedrabuena 2nd and Lee 3rd in Competitive Event
Seventeen players assembled in Houston Texas at US Bida for the USBA Tour Open tournament held August 22-24. Current US Champion Pedro Piedrabuena topped the group of A players which included former US Champion Hugo Patino, Sang Jin Lee from New York, and local Houston players Cong Nguyen and Thanh Vu. USBA President Jim Shovak entered in the A group as well. The eleven B players included Ellis Lawrence and Jim Bishop who traveled to Houston to play, as well as nine local players including room owners Tim Nguyen, Patrick Tran and Quang Tran along with Dung Ngo, Minh Lam, Nacho Galindo, Kiet Nguyen, Lan Vo and Doug Deitel.
Pedro and Hugo were seeded into separate flights along with the other A players which led to some excitement and surprises in the prelimnary rounds. The field was divided into the A flight of 9 and B flight of 8 for round robin play. No surprise in flight A was Piedrabuena toppping the flight with a perfect 8-0 record. The remainder of the field battled fiercely with Galindo beating Vu and Shovak, as did Dung Ngo. At 5-3 both Patrick Tran and Dung Ngo moved on to the finals. Vu with 178 total points was awarded the fourth spot ahead of Galindo. Unfortunately Ngo was unable to continue play, so Galindo ended up moving on as the fourth finalist from the group.
The B flight had some real drama as all three A players felt the sting of loss to the hungry group of B challengers. Patino dropped three games as did Cong Nguyen. Lee only lost one to Ellis Lawrence to win the flight at 6-1. With that win against Lee, Lawrence clinched clear second with only losses to Patino and Cong Nguyen. The third and fourth spot were awarded to Cong Nguyen and Hugo Patino respectively. Despite a great win against Patino, Lan Vo just missed out having suffered a crushing loss to Lee early on. His total points were not enough and the final eight were decided.
The finals were set up with 8 players in round robin, and had five of the A players and three from the B entries. That is where Patino found his rhythm after his rocky preliminary round, and with strong consistent play came out on top round after round. Going in to the final two rounds Piedrabuena and Patino were both undefeated. That is where lightning struck and Lee, playing hard, beat Pedro to deliver his first loss of the tournament. It would prove to be a costly one. Patino continued his winning ways to set up the final match. Pedro and Hugo together again. A familiar sight to many who follow US Billiards. And like so many games in the past it was hard fought. But this time Hugo would prevail, making great shots, playing strong defense, and winning to go undefeated and clear first in the finals.
Houston is one of the premier Billiard cities in the country. There are dozens of rooms in town with carom tables and overall more than forty top of the line ten foot heated tables from Verhoeven, Chevillotte and Gabriels. US Bida is one of the premier spots in the city to play, with eight Verhoeven tables, a warm friendly atmosphere, and great food as well. Tim Nguyen was a gracious host ensuring the players had the best playing conditions and enjoyed every moment. We look forward to many more tournaments at US Bida and in the city of Houston.